Who with his racing bike or Gravel bike on big or small Bikepacking tour want to go, needed panniers to be Racer or Gravel bike. Since racing bikes usually don't have a luggage rack, you need other bags that work without a pre-assembled construction. If you dig through forums and google, you will find that most people see road bike bags as Bikepacking bags describe. It's fashionable and new German. In this article I will go into my selection and would also like to show a few alternatives.
Bikepacking is a type of bike tour where you carry all your gear on the bike instead of using a support vehicle. It's a great way to explore the great outdoors and see new places while also being able to travel light and move around quickly. There are many different ways to set up a bike for bikepacking.
There are different requirements for panniers that apply to almost all users and of course there are also specific wishes from drivers and design-related requirements due to the frame and frame height. There are also various panniers of course in various sizes. Which size you need depends on yours, of course Packing List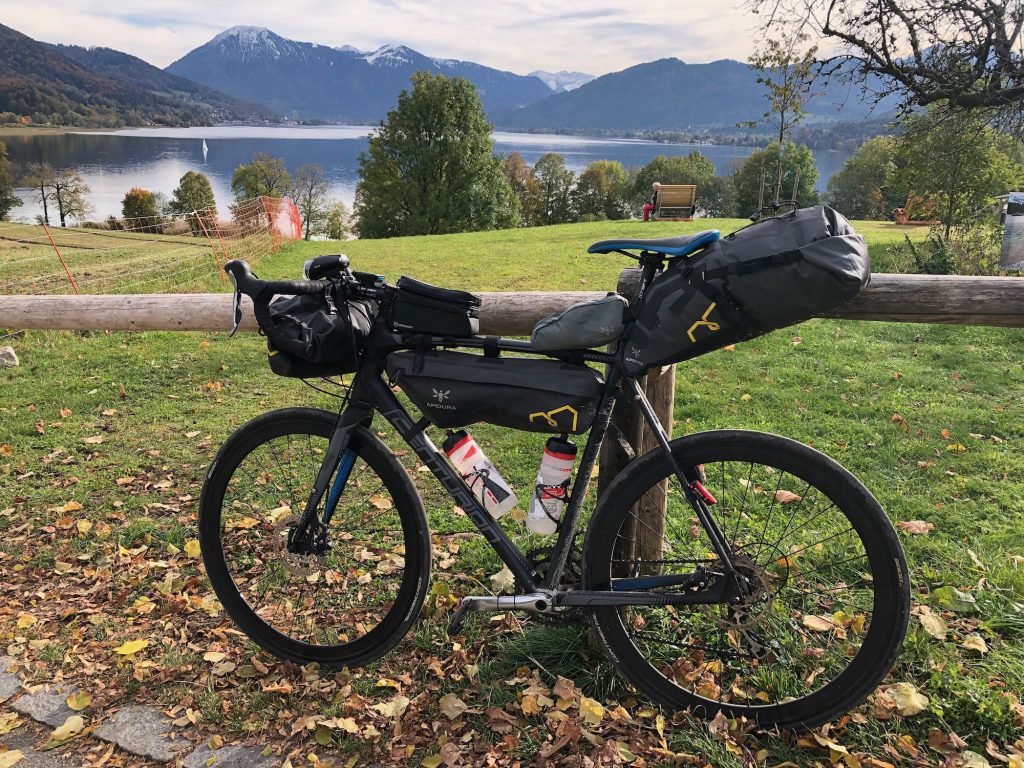 Material requirements for panniers
The requirements for the material for Road bike panniers which must apply to pretty much all drivers are:
Waterproof
Stable and tear-resistant material
Simple and quick mounting options
In addition, you can carbon frame tends to use panniers that are attached to the frame with textile fasteners. There are also bikepacking Bags that come with a small frame and are therefore firmly connected to the frame, I will come to the advantages and disadvantages later. Since I ride carbon, I have bags with one Textile closure.
Panniers at a glance
My standard equipment includes:
Saddle pack
frame pack
Top tube pack
I also take these with me on long journeys
Handlebar pack
Accessory pocket
Purchased last
three food pouches
a pocket to screw under the frame
Road bike pannier details
Saddle pack
The Saddle pack is the bag with the most storage space on a road bike trip. In the photo you can see mine Apidura Expedition with 17 liters storage volume. Apidura is only available in a few specialist shops, but there are now saddle packs from many other manufacturers apart from the big brands. I would very much like to do a test of these cheaper manufacturers, unfortunately it is not so easy to get enough test material as a small blogger. You will definitely find one here large and affordable selection of saddle packs.
As you can see, I ride a saddle pack which is attached to the bike with textile fasteners. I find the bags really practical and they also look good. Who the style factor is not so important, you can also use saddle packs, which are supplied with a frame. These have the great advantage that they do not swing back and forth when driving.
Of course, these constructions are very stable and it is no problem to load something on the bag. These systems have many advantages. So who is not afraid of style police has found a great solution here! But I am very satisfied with my bags from Apidura and they are pretty tight on the bike.
frame pack
My beloved frame pack I ride on long journeys as well as on longer trips or bike marathons.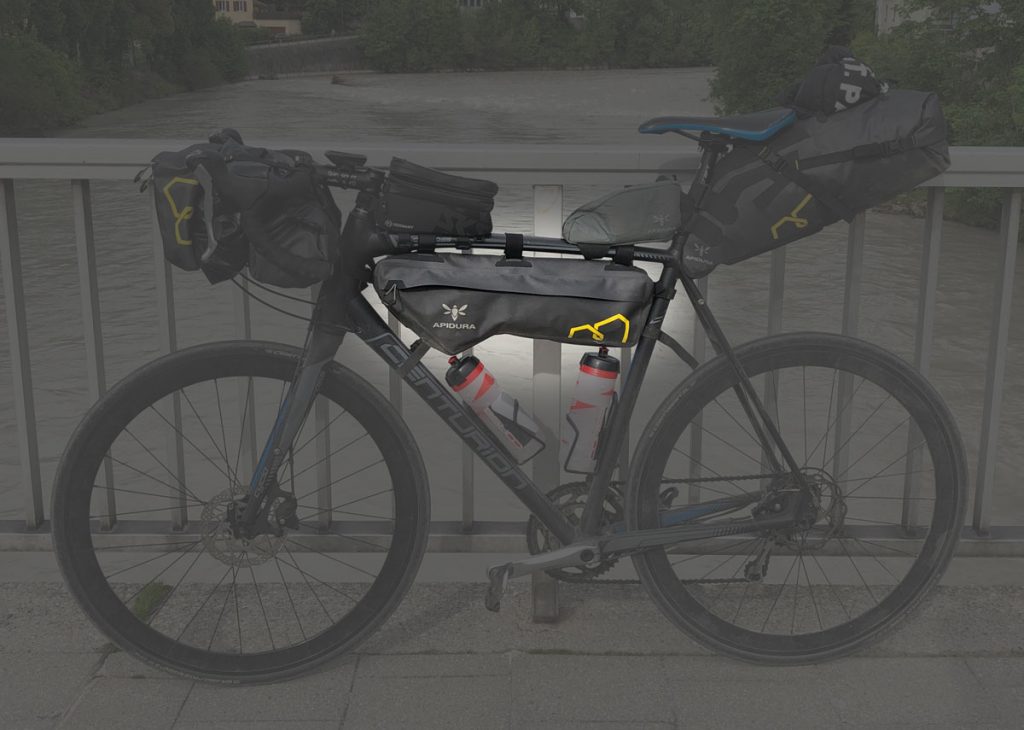 I can really put a lot in the frame pack. From power banks to sunscreen and toothbrushes, I even pack spare tires and inner tubes in there. The big advantage of that frame pack is that you can get anywhere at any time. The bag can be opened from both sides and the zippers can be opened over the entire length. In addition, it nestles well into the frame and is therefore also reasonably streamlined.
What you should pay attention to when buying a frame pack
If you a Buy frame pack you should make sure that it also fits into your frame. In terms of size, the frame packs all fit into any frame, but you should also be able to get your drinking bottles. In the photo you can see how close my drinking bottles are to my frame pack, even though I have a 60cm frame. If you have a smaller frame, you should also use a smaller frame pack.
Top tube pack
In my beloved Top tube pack I always have a tube, an air pump, tire levers and self-adhesive patches. Here in the pictures is the small pocket on the seat post. I've been riding them for several years and always have them with me on my training laps. Here you will find a selection of Top tube packs.
For the next long journey I intend to get a new one Top tube pack from Apidura to buy, here I get a lot more in and no longer need two bags on the top tube, but only one.
Handlebar pack
If I have to take a lot with me and I hope I won't need the tradable pack in the future, I'll take that Tradeable Pack - also known as handlebar roll - With. My tent and air mattress easily fit in here. The roll offers a lot of storage space, but unfortunately also hangs well in the wind. Especially when the wind blows from the front, the role is very noticeable. I still have an accessory pocket on my roll where I keep my wallet and some odds and ends. Quite practical, but I hope to be able to store the small stuff somewhere else in the future.
food pouch
Resisted for a long time and now found it necessary 😉 One food pouch I will definitely get one this season. The Food Pouch fits perfectly into my aerobar / time trial handlebar. I always have my food ready to hand in the future. I might even put two food pouches on the handlebars, because then I could stow an additional bottle of water in one. I've always been afraid of not drinking enough.
Summary
The acquisition of Road bike panniers or Bikepacking bags, is almost as complicated as buying a new racing bike. There is a huge selection on the market from all large and small manufacturers. I have to Apidura grabbed, but of course is also Ortlieb very big in business, but I haven't been able to test them yet.
My tip: Don't buy the first thing that's best, just try it out!
checklist
Does the Saddle Pack wobble too much or does it fit well?
Can I still get my water bottles if I use a frame pack?
Can I still shift and brake despite the handlebars?
I'm really curious if any of you have had good or bad experiences with cheap panniers from the internet and if so, I'm very excited about your reports!