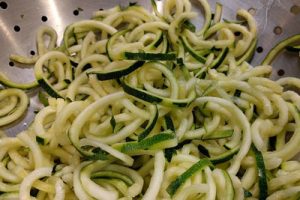 The Low carb zucchini noodles are my absolute favorite among them Low carb recipes. They are really very tasty and also a tasty change for those who do not want to eat low-carb.
Recipe low carb zucchini noodles
ingredients for 4 servings
6 large zucchini
6 large clove(s) of garlic
6 Tbsp olive oil
4 tbsp crème fraîche
4 tablespoons Italian herbs
4 tbsp parmesan (grated)
Step 1:
The ends of the washed zucchini cut off. Then cut the courgettes lengthways into thin, long strips with a julienne slicer and set aside.
Step 2:
The olive oil in a coated pan, meanwhile heat the gloves of garlic peel off and cut into small pieces. Fry the garlic cubes in the oil, but do not let them brown (the garlic will become bitter). Next lower the heat and die zucchini strips add.
Cook the zucchini noodles for 5 to 10 minutes, but don't let them get too mushy
sauce
Add 2 tablespoons of crème fraîche, 2 tablespoons of Italian herbs and 2 tablespoons of grated Parmesan to the pan and stir in briefly. Complete!