My Bikepacking tour from Hamburg to Riva del Garda and back to Füssen took me across Germany, Austria and a bit through Italy. The way back to Füssen took me a second time over the Alps on a different route. Doing this tour was a long-cherished dream of mine, which I was able to fulfill in this early summer.
All alone
Self Supported
14 stages with only what I could transport on my racing bike
A journey that is more than a bike tour and a journey that is more than a purely sporting challenge. Why bikepacking is so easy and why you too Bikepacking tour should go, you will find out in my Bikepacking trip report.
Bikepacking from Hamburg to Riva del Garda
Since I was with my family a few years ago Lake Garda When I was on vacation, it was a dearest wish of mine to ride my racing bike from home to Riva del Garda. Only under my own power and only with what I can transport myself on the racing bike. Roll in from the mountain in Riva del Garda and experience the feeling of having mastered this journey all by yourself.
I can't tell you why this idea manifested itself in my head and why I kept picturing this moment in front of my eyes. There are apparently things you have to do, no matter how crazy they are.
My wife supported me in this thought and said:
If you want to do it, do it now. There are no right moments!
Route planning
My planning started in January. The holiday had to be clarified, I'm also on holiday with my family and luckily my employer also agreed to my plans, so nothing stood in the way of my trip. To be honest, I didn't spend too much time planning it. I had a starting point and I had a goal.
I had roughly planned my route in advance, but I quickly threw it out again. Actually, I only had to worry about special bikepacking bags for my racing bike, here I chose bags from Apidura decided. I will write a post about my equipment and packing list at a later date. I can already say so much:
I only took what I needed with me!
Since I wanted to mix hotel and camping, my equipment also included a tent, sleeping bag and sleeping mat. You can see my packing list here: Bikepacking packing list
My bikepacking racing bike
I own two road bikes. My first road bike is actually a cyclocrosser of Centurion, the entry-level model with Tiagra equipment. My second road bike is a SpeedX Leopard Pro, a carbon aero racer with Ultegra Di2 equipment. I chose my Crosser for my bikepacking tour, mainly because I didn't have to worry about charging my gears during the trip. In addition, the Alu Crosser is simply a bit more robust and the disc brakes are definitely useful in the mountains. With 25mm GP4000 SII, the cyclocrosser is still a brisk vehicle.
Now it should start and I'll take you with me on my journey. With all the right and wrong decisions, with all the advantages and disadvantages of the equipment and of course I would like to share all my experiences with you, maybe you will soon get on your racing bike and experience another adventure!
Stage 1 - Powerful headwind
Hamburg-Lamspringe
My first stage should be a little longer. About 210km to my sister in Lamspringe near the Harz Mountains. I did this route last year in preparation for the MSR300 also ridden before, so I was very relaxed about the long day on the road bike. Of course I had luggage with me this time and not exactly little. All in all, I had about 15kg of luggage with me (incl. bottles and food), but what I noticed most was the handlebar roll plus sleeping bag and small bag, these slopes are pretty intense in the wind.
It starts!
On Sunday morning at 8:30 a.m. I start at home. The moment I set off, I honestly can't believe that I'm going on my bikepacking trip for over two weeks now.
It will also take me a while before I really become aware of what I intend to do.
I have all my stages with me Komoot planned and later synced to my Wahoo Elemnt Bolt, I did that the whole tour and I love Komoot and my Wahoo!
I am the Komoot 100% followed the route on the first day. It went from home through the old Elbe tunnel and then through Wilhelmsburg.
Although I drove to the same destination last year, Komoot took me along a different route this time. On this day I mainly drove east along the A7 through Celle, last year I drove west of the A7 and through Hanover. Even though Hanover is significantly larger than Celle and therefore takes significantly more time, next time I would drive west of the A7 again. In any case, the route is much nicer on the first half.
Until the first break
The first 65 km to the coffee break in Bispingen, the tour went as expected relaxed and very pleasant. After that, however, the wind picked up more and more. Today the wind wanted to please me very strongly from the SSW. It's stupid if you only drive in one direction and the wind is always strong from the front. I wasn't in a hurry though, so I didn't let that distract me much. The handlebar roll and the rest of the luggage definitely hung very well in the wind 💨 I'm convinced I can now draw a wind turbine from behind with my eyes closed!
After 125 km I had reached Celle and it was time for my lunch break. Since I drove right past a Burger King, I stopped in and treated myself to a few burgers. I packed three cheeseburgers in my bag, you never know when you might need a snack. At Celle I left our beautiful heathland behind me and had rather flat and boring plains for the next 50 km until I came to the edge of the Harz mountains and it became a bit more beautiful and better known again.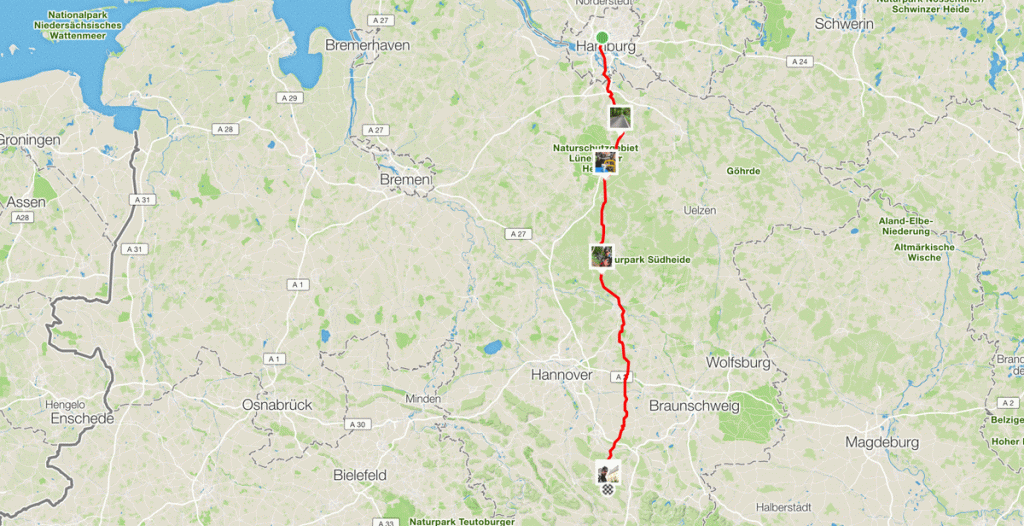 Shortly after 20 p.m. I arrived at my sister's and first enjoyed a beer, then a warm shower and then a comfortable bed.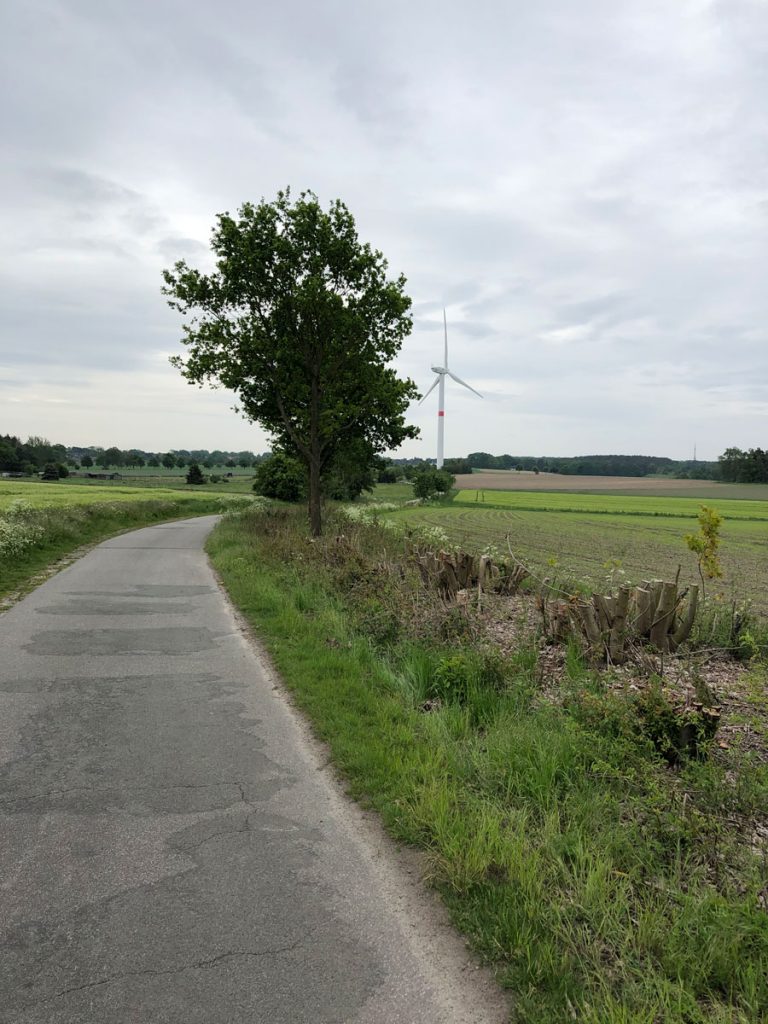 The 210 km weren't as shaky as I expected, actually I was doing very well. But that was a good thing, because it was supposed to continue the next morning.
Stage 2 - With obstacles and three plates
Lambrrange-Eschwege
The next morning I had a roll for breakfast and then stowed away all the things I needed for the night on the bike. I still had some provisions from the day before and so I went out on the road again.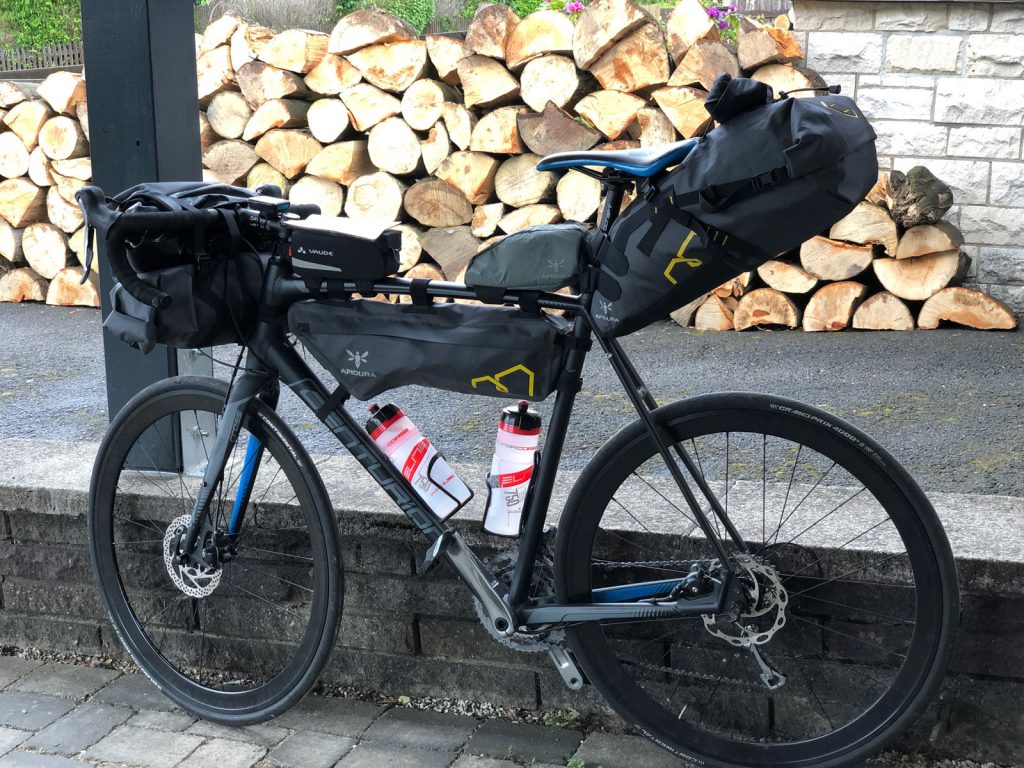 From now on I went on unknown routes, I was curious where I was going Komoot would lead that day long. After I left the town of Lamspringe, I went onto a bike path. As is often the case in Germany, the cycle path here ran on an old one railway line. After the many country roads the day before, I immediately felt at ease. There is hardly anything more beautiful than riding through the countryside on a secluded bike path. It didn't bother me that it was drizzling a bit, I'm not made of sugar.
After about 20 km it was already the first steep climb, so to speak, my first real climb on mine Bikepacking tour and my first climb ever with luggage.
The climb dragged on quite a bit and it appeared to be one of the hardest of the tour, I'd say roughly 10th place. So definitely harder than some climbs in the Alps, but of course you fight your way up there, that's why I'm here.
Flatfoot Alert
At the end of a climb, the descent awaits! At the end of the descent, I noticed that the bike was somehow spongy drove. A look back confirmed my first guess: The rear tire is flat. It's not that bad, I'm well equipped. Luckily there was a park bench around the corner where I could do my repairs. Remove the rear wheel, attach tire levers and off you go. First I took out the inner tube and checked the tire. It already had quite a few cracks, so I changed the tire at the same time. Pull on a new tire and tube, inflate as best you can with the hand pump and then you can continue.
In the meantime it started to rain again, but that can't really shock me. So it went further Göttingen. When I arrived in Göttingen, I first had to strengthen myself and while I had my second breakfast and a coffee, I looked out for a bike shop where I could get a new replacement inner tube and tire. After I had replenished my spare parts store, I pumped up the tire again and set off again in the direction of Eschwege.
Next breakdown
Shortly before leaving Göttingen I had another flat tire 😳 I had only managed half of the planned stage and today I had a flat tire for the second time. A bus stop was in sight and so I headed for it to make the next repair. It started all over again with the hose change. Again, I couldn't identify the source of the error.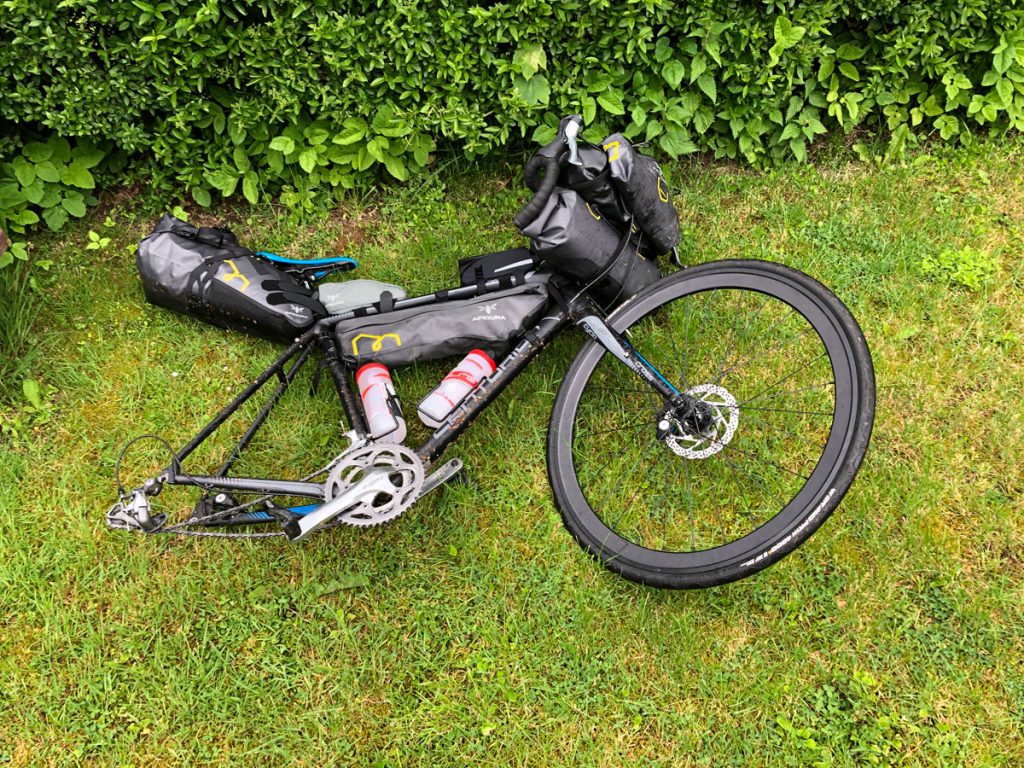 Last mishap of the day
A little more frustrated, we went on and you can already guess that it can't all be a coincidence anymore, after 20 km the next breakdown came 😩 This time I sat down at a construction site because I was on a country road. A gentleman came up to me and verbally entertained me while I inspected the tyre: I couldn't find anything in the tire again. But this time I also inspected the broken hose and this time I also found the hole.
Now I could identify the source of all evil. That rim tape was through in one place and the tube rubbed on the rim. Luckily I had Self-adhesive patches included. I glued a patch to the spot in the rim and hoped that it would hold, I was just now installing my last inner tube.
Following the usual procedure, I got back on and continued. I can anticipate one thing: I didn't have any more records that day.
Mixed route
It went on for me, sometimes nice and sometimes not so nice. Once my route wanted to send me onto a really nasty federal highway. It could be that you were allowed to drive on this road, but I was just scared. I pulled out my iPhone and checked the paths in the area and drove a few kilometers over dirt roads. Rather with 25mm tires through the field than on the main road!
A few more mountains awaited me around Bad Sooden-Allendorf before I went flat along the water to Eschwege. I then drove straight to the hotel I had booked, which was on the outskirts of Eschwege, and treated myself to a nice schnitzel for supper. Afterwards, I found out which bike shop I was going to go to the next day and fell into a well-deserved sleep.
Stage 3 - bike intact, but storm
Eschwege-Heringen
The evening before I checked at the hotel in Eschwege how the weather was supposed to develop over the next few days and decided to move my route a little to the east. Further to the east should mean towards Nuremberg. Because in the west there should still be some thunderstorms and heavy rain. But as the day showed, I couldn't escape the storm by bike fast enough.
But first, after breakfast at the hotel, we went to the bike shop in Eschwege. Luckily, the shop has a rule that customers who are passing through are given preferential treatment. I left my racing bike in the workshop and first went for a coffee and strolled a bit through the old town of Eschwege. On the day before, on the way to the hotel, Eschwege still seemed quite barren to me, but the old town is really impressive and invites you to linger.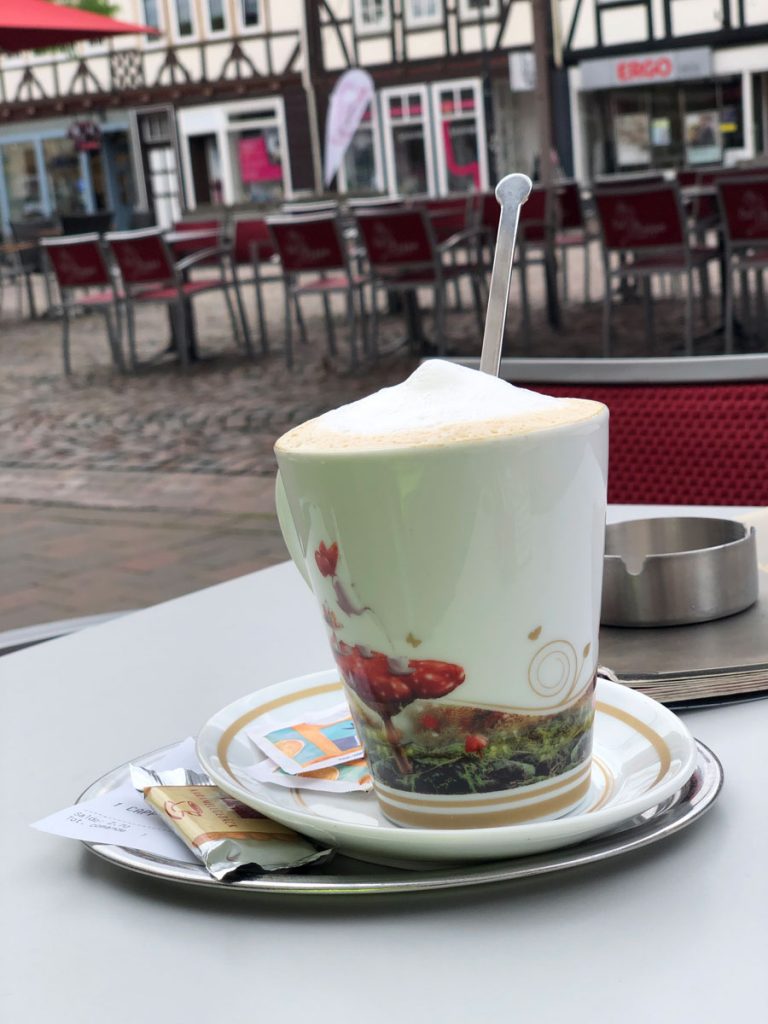 After almost an hour I went back to the bike shop. I refilled my spare parts store and set off. In front of the shop I talked to two other bike travelers and they drove it Werra cycle path. Since my goal today - Yes, I still have plans for this day - was also on the Werra and I thought my route now also takes me along the river.
puff cake! After about 5 km of river, I ended up back on the main road and again one that you don't want to drive on. Now I was finally fed up with effective rod guidance and decided to no longer plan in racing bike mode on Komoot, but in bike mode. Lo and behold, it works.
from now on there were only nice routes for me!

Tip: It is better to plan a trip in the "normal" bike mode on Komoot!
From now on the routes will be planned differently
From now on there were finally beautiful bike paths and small chic villages that I drove through.
Unfortunately the weather report hadn't lied 😩, something was brewing. Thick, heavy clouds, which boded ill, were approaching with impressive speed. Rarely have I seen such a thunderstorm. A loud popping of this kind is rather rare. Of course, the storm also brought rain and a lot of rain, but that wasn't enough. Now it started to hail so badly that the trees on the bike path didn't offer me enough protection. In the hope of finding better shelter, I rode my racing bike a little further and after about 300 m there was a bus stop where I found shelter.
In the shelter of the Zug bus stop, I put on everything I had with me, because of course it had cooled down quite a bit. I had just covered almost 20 km and wasted so much time again. I waited at the bus stop for about 30 minutes until the rain stopped and I set off again.
Luckily there were a few climbs, so I quickly warmed up again. The rain had also stopped completely and I got back into the round step. Many cycle paths followed on roads, until there was almost only gravel afterwards. But the tour was very nice despite the rain and hail and the gravel sections were really fun.
The first night in the tent
My goal today was herring an der Werra, I wanted to camp there for the first time. The weather was also getting better and better and the weather forecast promised improvement for the region. I arrived at the campsite and was greeted warmly. Small, comfortable, very nice boss and my racing bike was allowed to stay in the shed overnight. I drove back into town and bought provisions for the evening and for the next day.
With a beer and a few snacks I made myself comfortable on a bench and simply enjoyed the silence and the time. That was the first night I really calmed down and started to enjoy the journey and free myself from all constraints.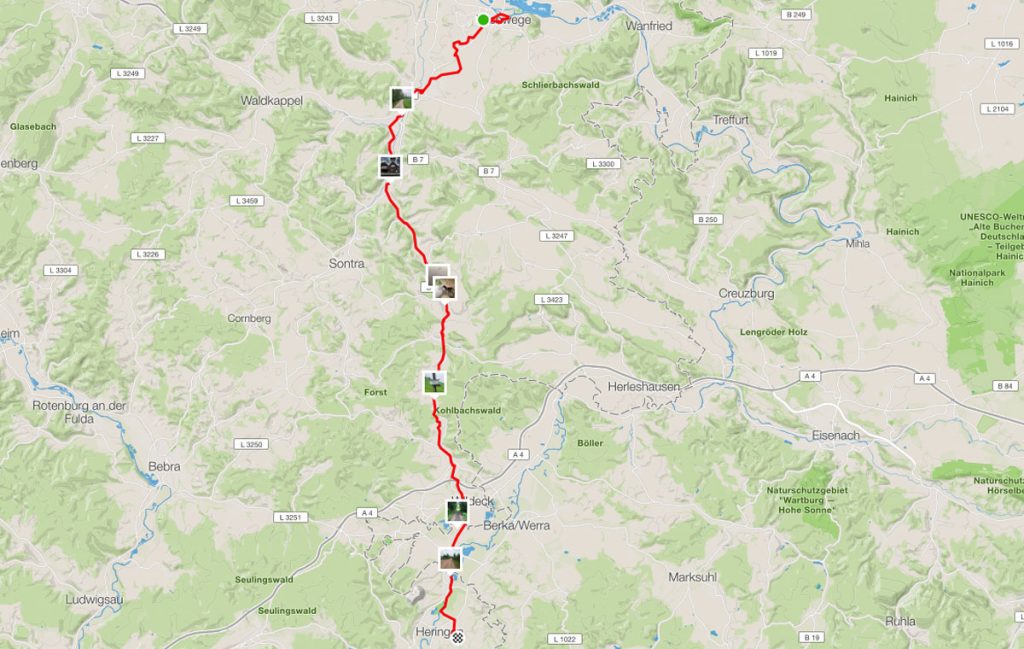 Stage 4 - Now the real fun starts
Heringen - Hofheim in Lower Franconia
As is usually the case when camping, I woke up very early. I then forced myself to lie down for a little longer, but I got up around 7 a.m. and got ready. The night in the tent was not very relaxing. The tent is very small and it was really cold that night, the good weather was yet to come. Luckily there was a warm anteroom in front of the bathrooms on the camping site, so that I could change clothes and pack up all my things while it was warm. Shortly before 9:00 a.m. I was finally ready to leave and set off again.
Due to the cool last few days, the air was rather fresh and I therefore rode long-long plus a rain jacket. When I was out of town, it went straight to a beautiful stream along which a 1a cycle path went, which promised to be a good day.
The first 50 km went gently but steadily uphill. Of course, this condition continued to accompany me for the next few days. That's how it is when you drive south: Upriver always means uphill. My elevation profiles of the stages looked really funny, always very gently up the mountain!
Roller coaster through the Röhn
On this day it went a long way through the Rhön, which I drove on for the first time. The Rhön is beautiful with rivers, mountains and forests. Everything is very mild and pleasing to the eye. I rode various German river cycle paths that day, I can't list them all. I always rode a long way along a river, hopped over a mountain and then landed again along a river on a bike path. It was really perfect and this way of traveling is just awesome.
In between, of course, there was always something Gravel routes, especially when crossing a mountain through the forest. But as I wrote before, I just enjoyed it and the speed didn't matter anymore. You just have to enjoy a trip like this!
The last part of this stage was another 20 km through the forest. I passed a few tree workers who were probably wondering what I was doing with my road bike. The path led me over a small ridge before it went downhill to Hofheim in Lower Franconia. In Hofheim I went to a supermarket again to fill up my provisions for the next day. Afterwards I went to my current accommodation.
Good hotel and good food
In the hotel I first took a shower after I parked my bike in the garage and then I ate something directly in the hotel. Just to mention, the food was awesome: the best and tastiest Cordon Bluethat I have ever eaten.
Nothing cheap from the supermarket, but made in a real kitchen by a real chef.
After the last night in the tent I enjoyed the cozy bed and slept extra early.
Stage 5 - From the low mountain range to the plain
Hofheim in Lower Franconia - Nuremberg
A consequence of mine Route rescheduling was that I will have a little less altitude on my route to Munich. The landscape changed seriously compared to the previous days, I call it: The Bavarian Plain.
The big advantage of staying in a hotel or guesthouse is that you don't have to worry about your breakfast. You must know, I love breakfast! Nothing happens to me without breakfast 😂 So I enjoyed my breakfast at the hotel and then packed my bags again.
I set off again and I had chosen Nuremberg as my destination for today's stage, I had booked a hotel at breakfast. The first 15 km there were still a few mountains to choose from, after that it just got flat. My route led me to a canal, if I remember rightly that Main-Danube Canal. As is often the case with canals, things went very straight on that day.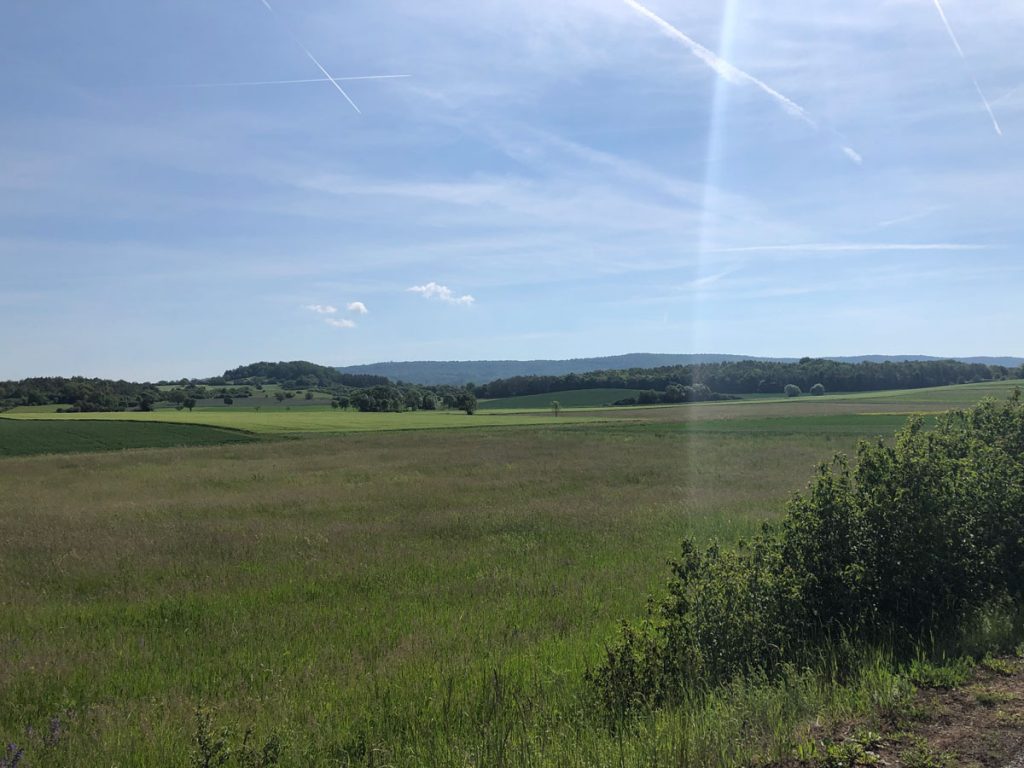 Father's Day
So it was May 30th Ascension / Father's Day, so there was a lot going on on Germany's cycle paths. From families with children to young people who staggered over the bike path. But everything was still within limits and there were no incidents. This day was the first on my trip where it got really warm. The sun shone all day and due to the headwind I wasn't really aware of the sun's rays. But I shouldn't remember that until later.
In Bamberg I took my first real break of the day. I had picked out a café and ended up at Pia's cafe. The Google reviews were consistently positive and I can only confirm this verdict 😋.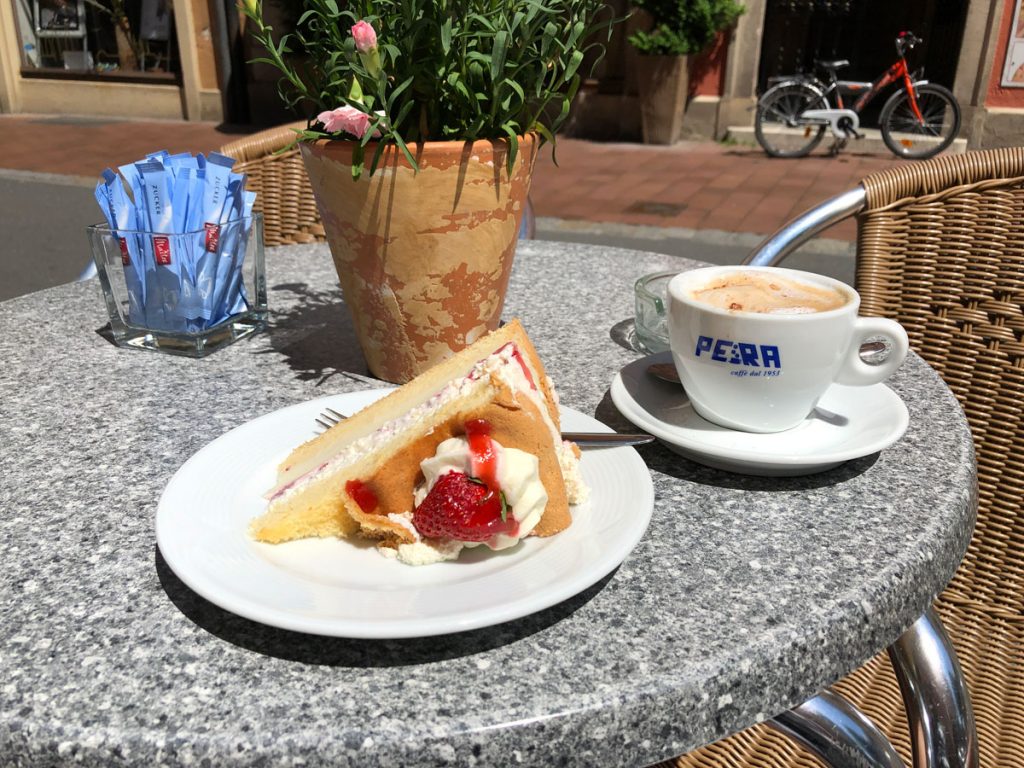 The Bavarian Plain
I had managed almost 50 km and 60 km were still ahead of me. Unfortunately, I have to tell you that I didn't take a single photo on the second half of the stage. We walked along the canal all day. Don't get me wrong, it's great that there are bike lanes along the major canals, but for me it was a bit dull and it was getting hotter and hotter. In the afternoon I arrived at the hotel in Nuremberg. This was the last day I looked for a hotel in a city.
Hotels in the cities are usually more expensive
Hotels in the cities are usually worse
After a day in the saddle, you only go out for a bite to eat
Sightseeing isn't very popular
The small hotels outside are just nicer
Without asking too much, I took my bike up to my room because I really didn't want to leave it outside. I still have the worst shawarma of my life and then lay down on the bunk.
Stage 6 - Continue through the Bavarian lowlands
Nuremberg - Ingolstadt
In the hotel I was in, there was no breakfast due to renovation work, the advantage was gone and I was happy when I was out of there. Google Maps told me where I could find the next bakery and since it was right on my route, nothing stood in the way of a visit. At the bakery, I first treated myself to a small breakfast, typical bikepacking life. Gas stations and bakeries usually have everything you need.
After breakfast we left Nuremberg and where did the journey continue? On a canal 😂 it was somehow clear. It was about 50 - 60 km along the canal, it was a similar picture as the day before: Very long straights on gravel roads, without headphones in the ear it's fine suicidal .
On these first 60 km I only made a short water break at a gas station, I didn't want to get carried away by more.
mountains and valleys
But then it got a little more exciting. From time to time a few mountains could be seen to the right and left and that's when my lunch break came towards me: A small pizza house on the outskirts of a village, perfect! Now there was a delicious one Pizza 🍕 for me and of course another cappuccino, or were there two? In any case, I sat back on my racing bike well strengthened and rode comfortably lonely through a few small valleys.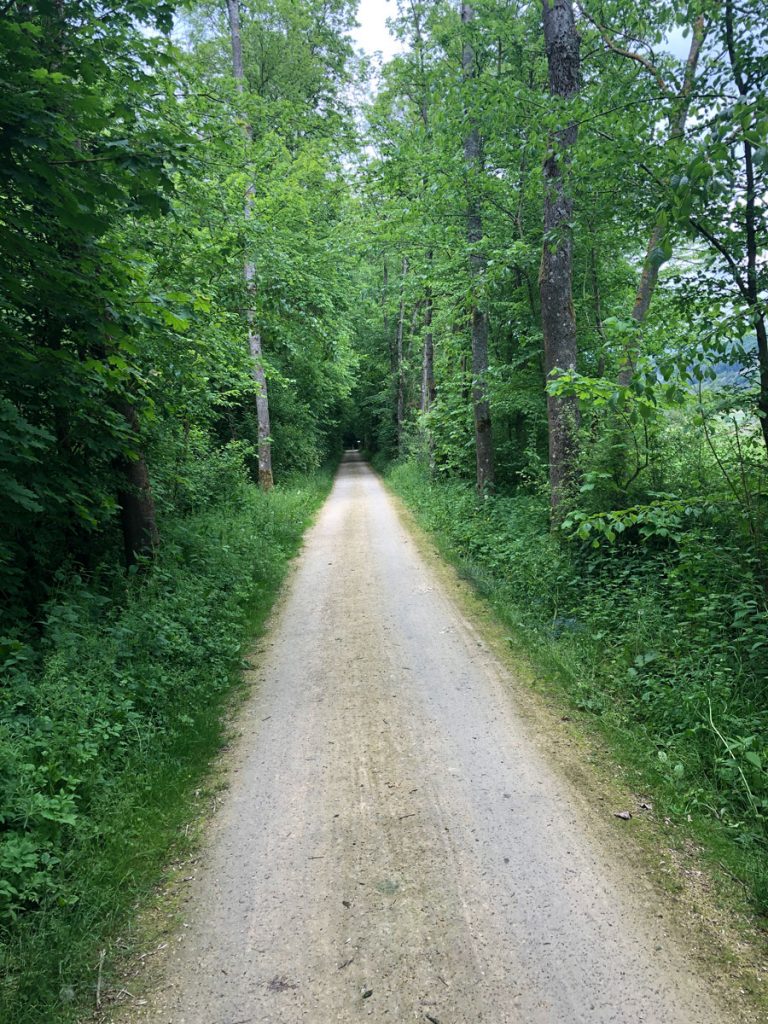 I came to a small place called Kipfenberg, the name promises something exciting. In fact, at the end of the town, it turned into a side street that I had missed at first, and up a pretty steep incline. A few switchbacks and steep rocks later I was on the summit and discovered it Geographical center of Bavaria.
A place like the geographical center of Bavaria would never have been discovered on a car tour. This is just one of the amenities when going on Bikepacking tour is. You discover places that you didn't even know existed!
Ingolstadt I'm coming
It now went a little through forests before we went on a cycle path to the country road for the last 10 kilometers to the campsite. Before Ingolstadt I had constant GPS dropouts and mine Wahoo Element Bolt had problems with navigation. I wonder if that was due to the US military bases in the area. But I still managed well. In Ingolstadt we quickly went to the supermarket and then finally to the campsite.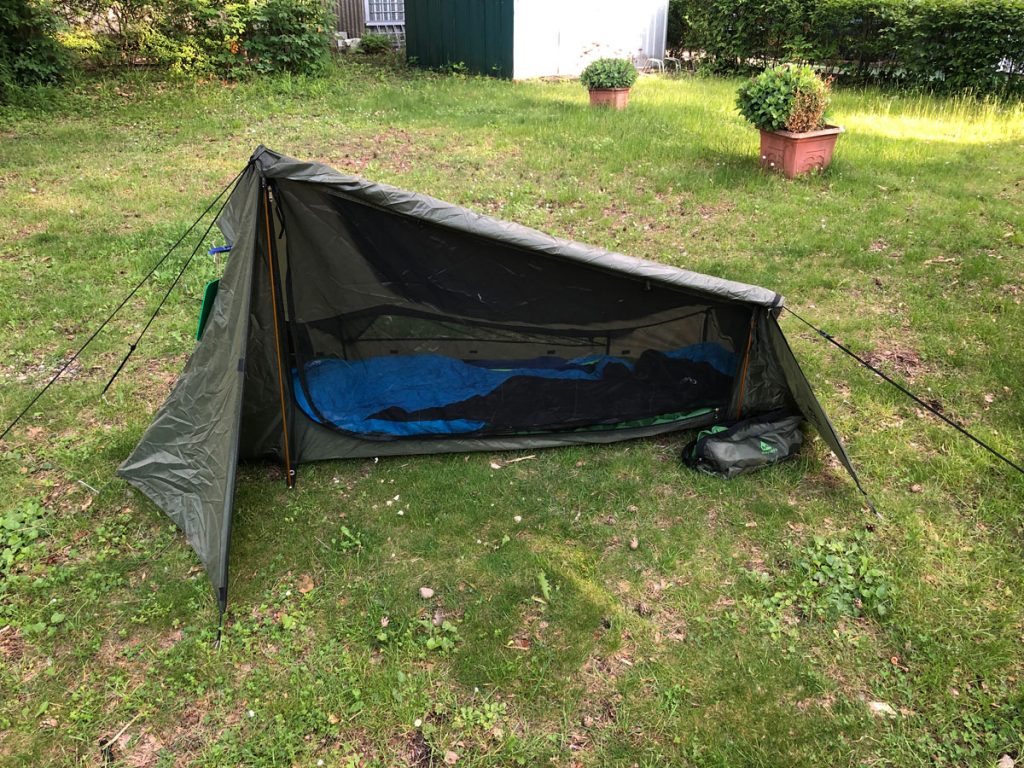 I was at the Auwaldsee campsite in Ingolstadt. The campsite was large, clean and not crowded, but quite expensive at EUR 18 per night.
Stage 7 - Pure willpower
Ingolstadt-Otterloh
From now on it was Kaiserwetter, at a happy 26°C we continued through the Bavarian lowlands. But of course not without a decent breakfast! After I had packed all my belongings back at the campsite, I went to the next bakery, which was linked to a large supermarket. This always kills two birds with one stone on such a bikepacking trip. First there was a delicious Mettbrot and of course a large mug of coffee. The many onions on the Mettbrot, should later turn out to be not so suitable for sports.
It then went quickly out of Ingolstadt and the dreaded Bavarian lowlands continued and I mentally. It was damn hot, flat and not a shadow in sight. I just had to get this stretch of the trail over with today, no matter how exhausted I am and how hot it is.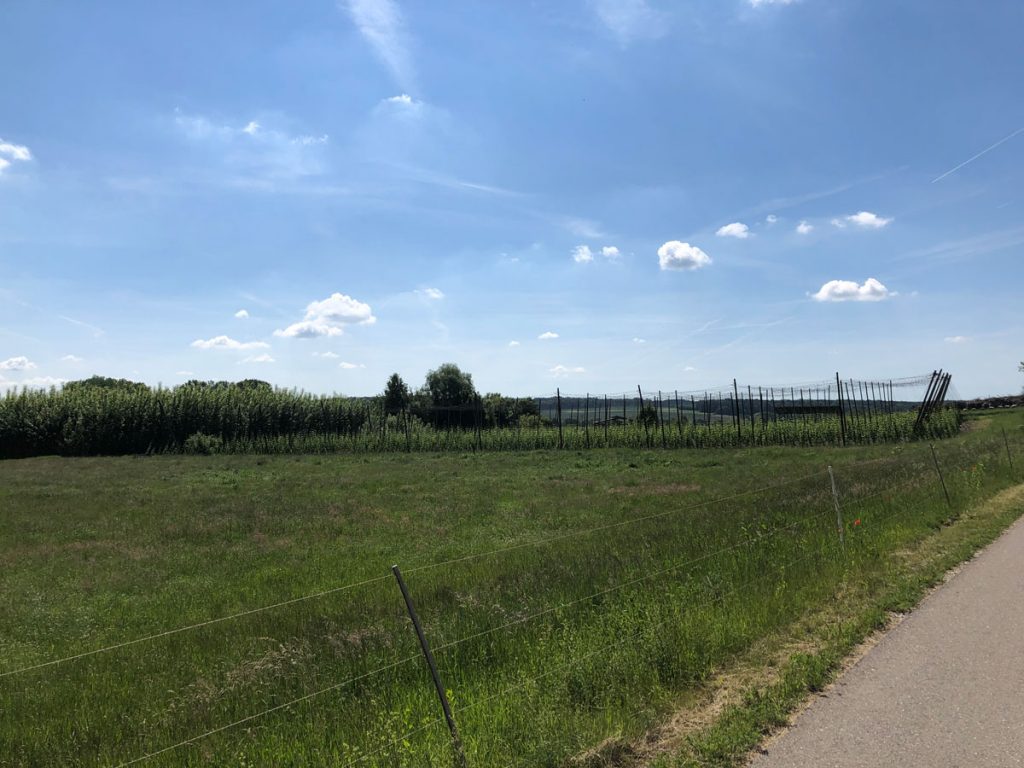 So it was to kick bluntly in front of you. Don't get me wrong, the landscape wasn't ugly, but a large part of Bavaria is flatter than Schleswig-Holstein 😂
Munich takes a lot of time
But I made good progress and after about 60 km I reached the City limits of Munich. Until then, no more photos, no memories. Nothing serious seems to have happened. Of course I made several stops at supermarkets and gas stations. If I remember correctly, I drank about 6L of water that day.
As it is in such a big city, the air stands more than it blows and it felt warmer. I passed some interesting places before I took a longer break in a big burger restaurant (no fast food).
In the burger shop I took a break of about 2 hours, hoping that it would cool down. With success! At 17:00 p.m. I started moving again further south. In between, after the meal, I had already booked a small hotel in the country. Munich stretches quite far south through all the attached suburbs, which is why progress is slow. There were still about 30 km with traffic lights and lots of cars before it became a bit more rural again and my goal for the day came closer.
Pension in Otterloh
I reached my small hotel in Otterloh in the early evening and was glad to be able to cool off a bit in the shower. There were brand new and very nice rooms, really a stroke of luck. After the shower I went downstairs and had something to eat in the hotel's restaurant. I didn't have an appetite for schnitzel or other heavy foods today, it became one Chicken breast salad and of course two big cyclists before we went to the bunk.
That was real willpower today, but from now on it's off to paradise...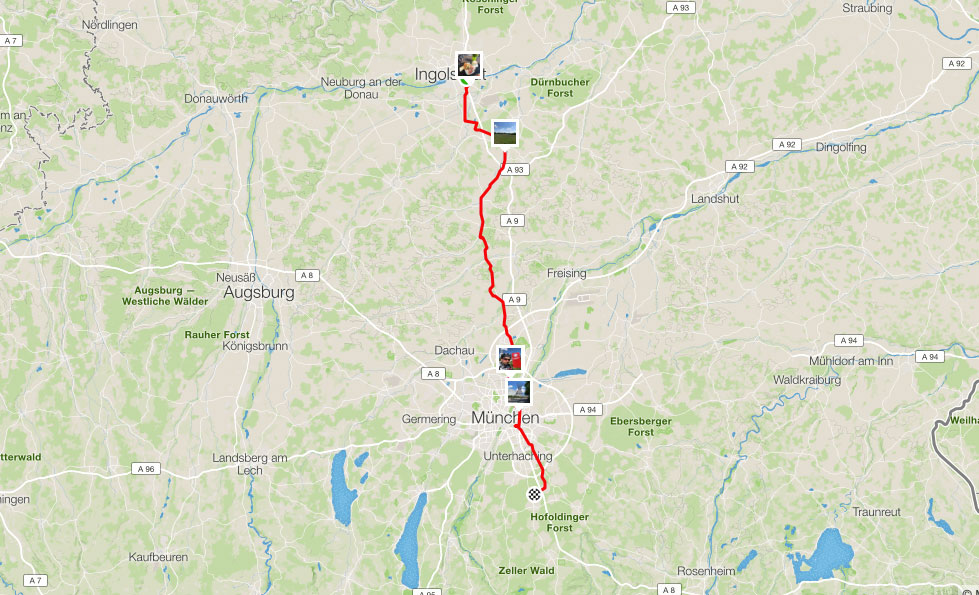 Stage 8 - pleasure trip to the Tegernsee
Otterloh-Tegernsee
After the first seven stages, I got to the point where I needed some rest. Because now I was getting closer and closer to the highlight of my bikepacking tour. I knew I was very close to the Alps now and wanted to be the first Mountain Stage be fresh and rested to be able to enjoy the ride and nature. Already at breakfast I decided that I would only drive about 40 km today in order to be able to really enjoy entering the Alps. For today were already 30°C predicted, which my Wahoo later confirmed.
With such a short stage, it's almost a rest day, you can take your time. So after breakfast I was able to pack my things in peace, check out and load my bike again. It was easy to get on the track and after a few curves I could see them for the first time: The Alps 😍
You probably think I'm crazy now, but the sight alone made me happy and kept me going in a good mood.
We continued through nice little villages that were always on a hill in this region. So it goes along small roads and farm tracks and when it goes uphill you know that another village will come soon. After the first 20 km - so after half the day's stage 😂 I found a very nice pastry shop in a mini place. It seemed to me this was the home of the beautiful and rich who take their kids to riding lessons and then sit down in this nice cafe. It was very nice and quiet in this place, so I lingered for a while.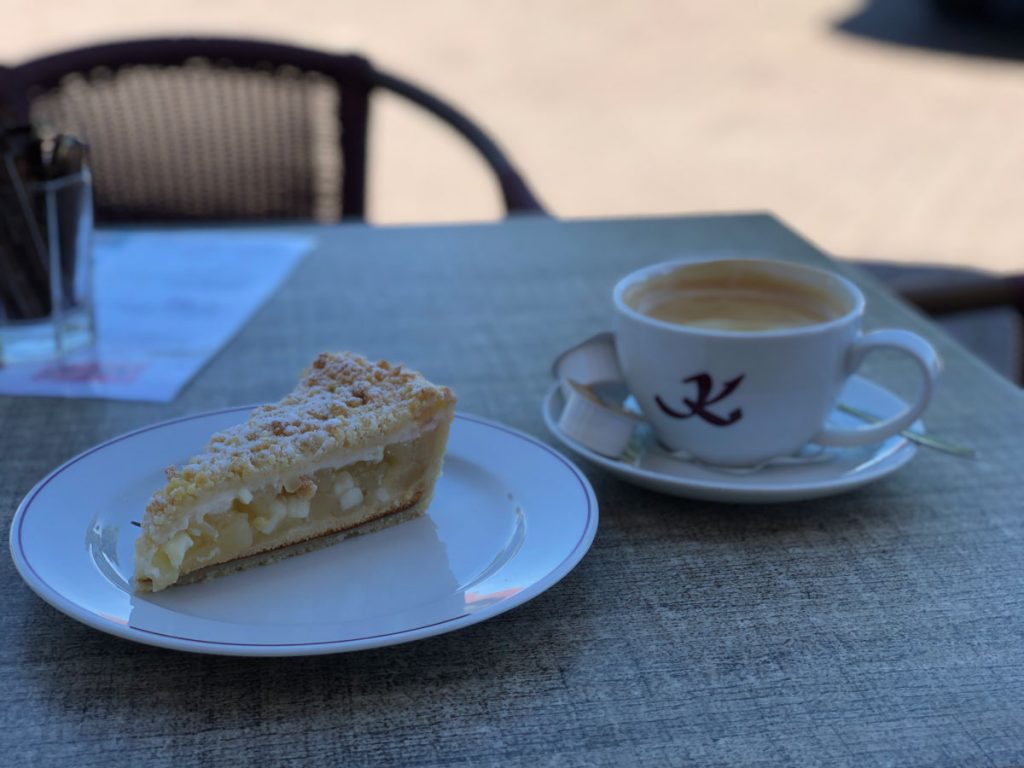 I drive on again and enjoy the varied landscape. Now more forest and smaller climbs are becoming more and more common on my route today, I love it. After a great descent into a valley I come to a mill on a small river, I love these typical buildings in the mountains. At first I just want to drive past and really get the momentum of the descent, but then I think: Who is in a hurry here?
I take my time
I brake and take some photos and try to capture this wonderful feeling I'm having right now. As I write this, I have to say it worked. Just remembering moments like this makes me happy.
After another 7 km the link opens up to me Tegernsee. The feeling I had when I saw the Tegernsee in front of me and the mighty Alps behind the lake was simply unbelievable. Lakes, mountains, forests, rivers and the blue sky draw a picture that invites me to dream.
A cycle path now follows the banks of the Tegernsee. The last 10 km to the campsite are again interrupted by a short break on a bench on the shore. Another bikepacker joins me, he has chosen a gravel bike for his tour. He drives that Lake Constance-Königsee cycle path, this one does not have that many meters of altitude. After a short chat, I continue to the campsite.
Arrived at the campsite and checked in, I go to the tent meadow and unpack my things. Jo, a motorcyclist from near Frankfurt, is camping next to me. Since I used to ride a lot of motorcycles myself, the other two-wheeler riders on the streets are of course also close to my heart. I set up my tent and then take a shower and then wash my clothes.
Advantages at campsites
Campoing places are always very good for washing. A washing machine is available, a drying rack and the sun is burning. In the early evening I go to the campsite restaurant and treat myself to some calories. Jo sits down with me and we have a good chat. He himself lived in Hamburg for a long time and sold fir trees on the corner of the street where I grew up. The world is small! Food, cyclists and off to the tent. I'm so looking forward to the next day and the drive into the Alps that I can hardly sleep.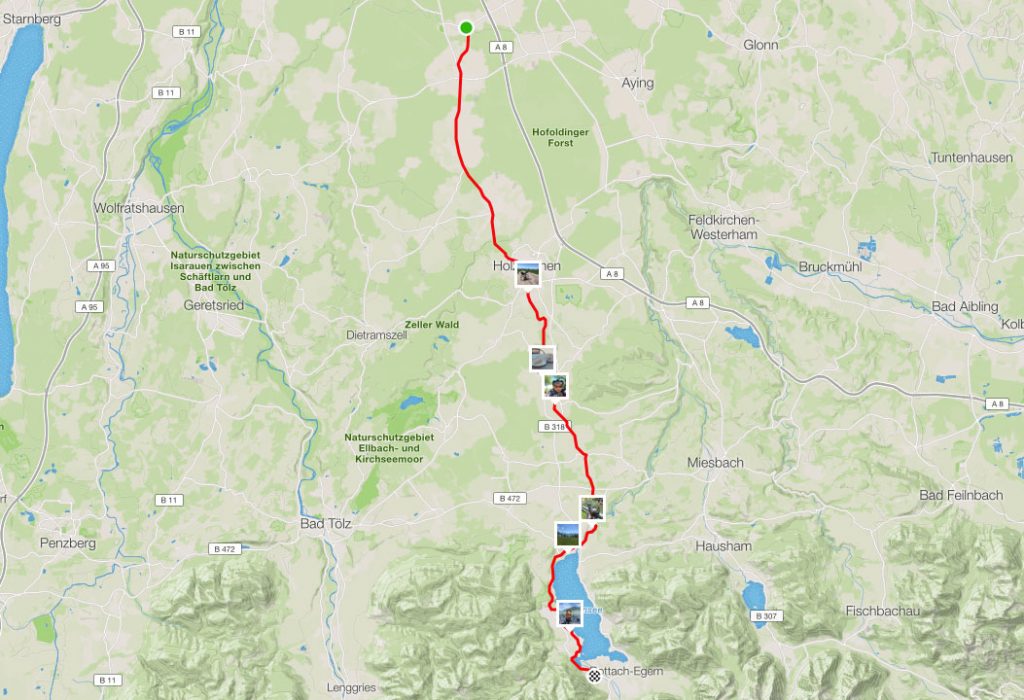 Stage 9 - The Beauty and the Beast
Tegernsee-Innsbruck
As always when camping, I wake up shortly after 6:00 a.m. and force myself to lie down until just before 7:00 a.m. I read them a little more Strava Comments from yesterday and Martin says, now it's going to be really nice, the man has experience too! Same procedure as everyday: Brush your teeth, shower, pack up, leave!
Full of anticipation I drive to the next town to have a reasonable breakfast, unfortunately there is not really much here. A roll and a coffee at the nearest bakery will have to do, quickly buy new sunscreen, rub it in and off you go on one of the most beautiful stages of my bikepacking tour.
One of the most beautiful spots on earth
Shortly behind the village it goes on a gravel path and directly through the forest. It's a narrow valley I drive through and everything seems incredibly calm and peaceful. The profile is flat, the climbs are yet to come. The path leads through a cattle gate and in fact the cows roam free in the forest. Everything becomes totally surreal and magical. I still think to myself: Fuck the Shire, it's beautiful here! That's exactly what I write to my wife and send her a few photos, she just asks what I took 😂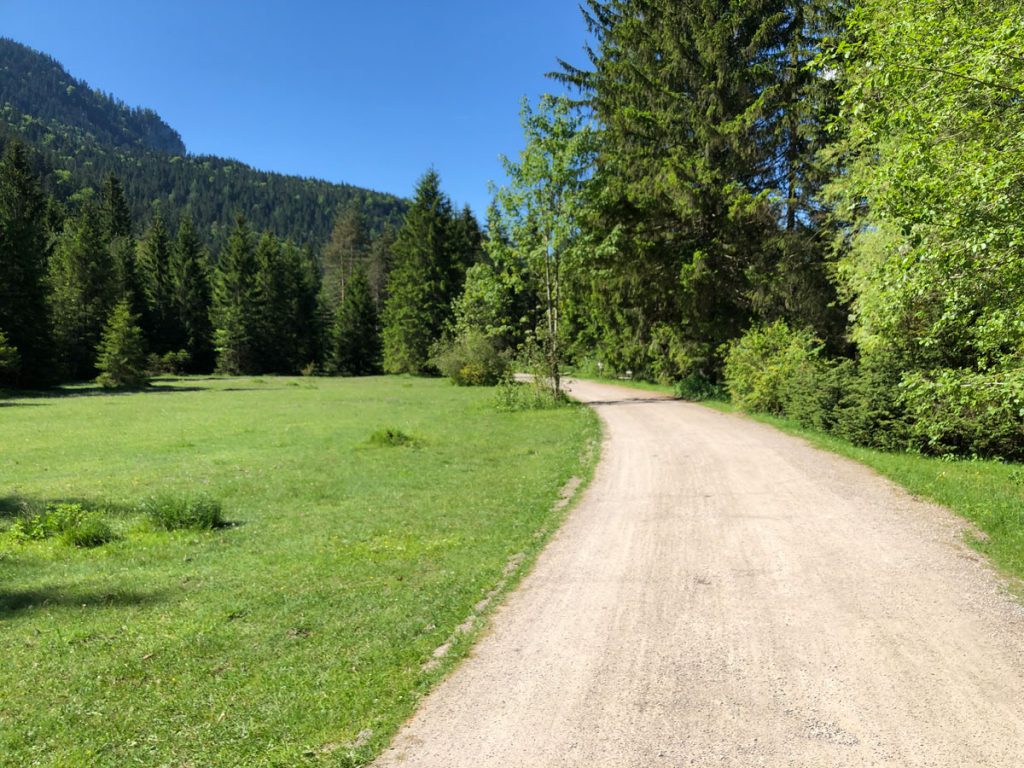 As always, photos just can't capture the magic of the moment, but the memory stays with me.
Over the Achen Pass to Austria
After a few kilometers it's on the country road, fortunately not very busy, everything is very relaxed. I always do very little with a route and its special features in advance and I always like to be surprised. It was quite a bit uphill and quite demanding. At some point, however, I arrived at the crest and saw that I was just Achenpass drove, very nice surprise! The Achenpass is also the national border Tyrol / Austria. My first country border and that with a pass, how could it be any different with a bicycle.
After the pass comes the descent!

old racing cyclist wisdom
Now it was downhill, unfortunately still on the road and then it continued on and on the road, but the traffic was fine and didn't affect my enjoyment. After the next hill I saw a beautiful lake.
The Achensee
The nice thing about not studying your routes meticulously in advance is that you're damn often pleasantly surprised. From the street I was on a beautiful gravel road cleverly and behind the trees a beautiful blue-turquoise opened up: The Achensee.
I'll describe it very quickly: Similar to the Königsee, with steep mountains on the shore and without annoying beaches, only much emptier 😍 To all cyclists, this route past the lake is a dream. I also had to take a break and pause at the Achensee.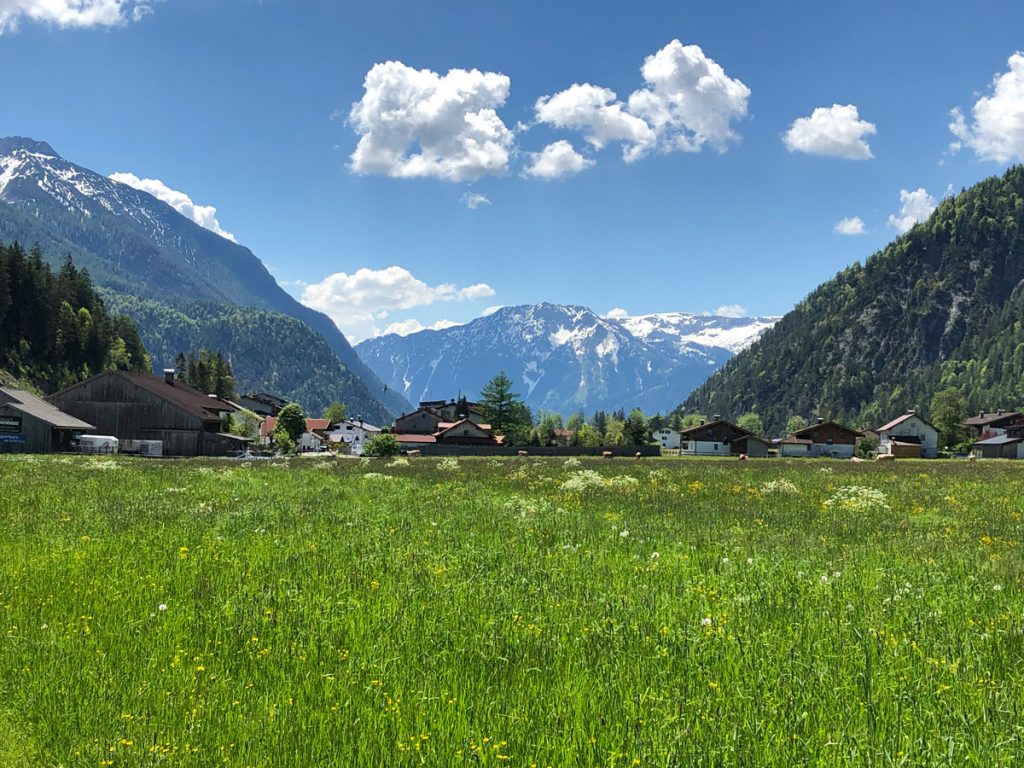 I enjoyed cycling along the hiking trail along the banks of Lake Achensee, about 10 km away you have a beautiful view of the turquoise-blue water. At the end of the lake came another place, not even that small. I looked for a restaurant and treated myself to fried potatoes with fried eggs. Even if I didn't feel like eating warm food because of the heat, after the first pass I needed something decent to eat.
As soon as we started again, we went on one of the steepest descents of the whole tour. From the mountain lake to the valley - from Achensee in the Inn Valley. So it was off in the cauldron. Witch's cauldron because it was getting hotter and hotter. In the valley up to 37°C in the shade. Luckily there is a fountain every few minutes in Austria where you could refill your bottles. In the Inn Valley, the cycle paths often ran along the autobahn, not perfectly, but at least cycle paths. There was hardly any shade in the valley, so I had to take a few breaks under the tree.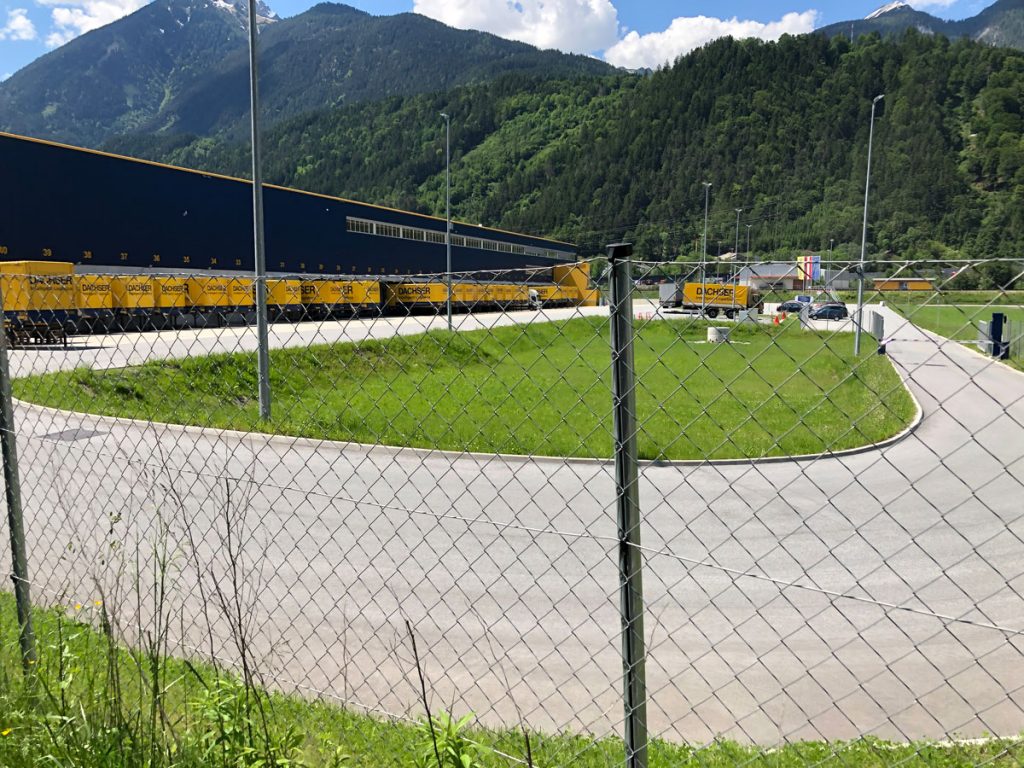 Uphill in Innsbruck
I slowly approached my goal for the day, Igls near Innsbruck. I had booked the bargain of the day on Booking, at EUR 42 I couldn't say no. First, the route I planned with Komoot took me up an adventurous single trail. The laughter came when I got to the top and stood on a soccer field.
This bike path hasn't existed for years, I found out afterwards. Then, of course, it continued uphill until I finally arrived at the hotel. The last 10km were all steep climbs and I found these climbs worse than any of the passes on the tour. The pass roads are at least built for crossing the passes, the normal roads and agricultural paths are not, these often just go straight uphill.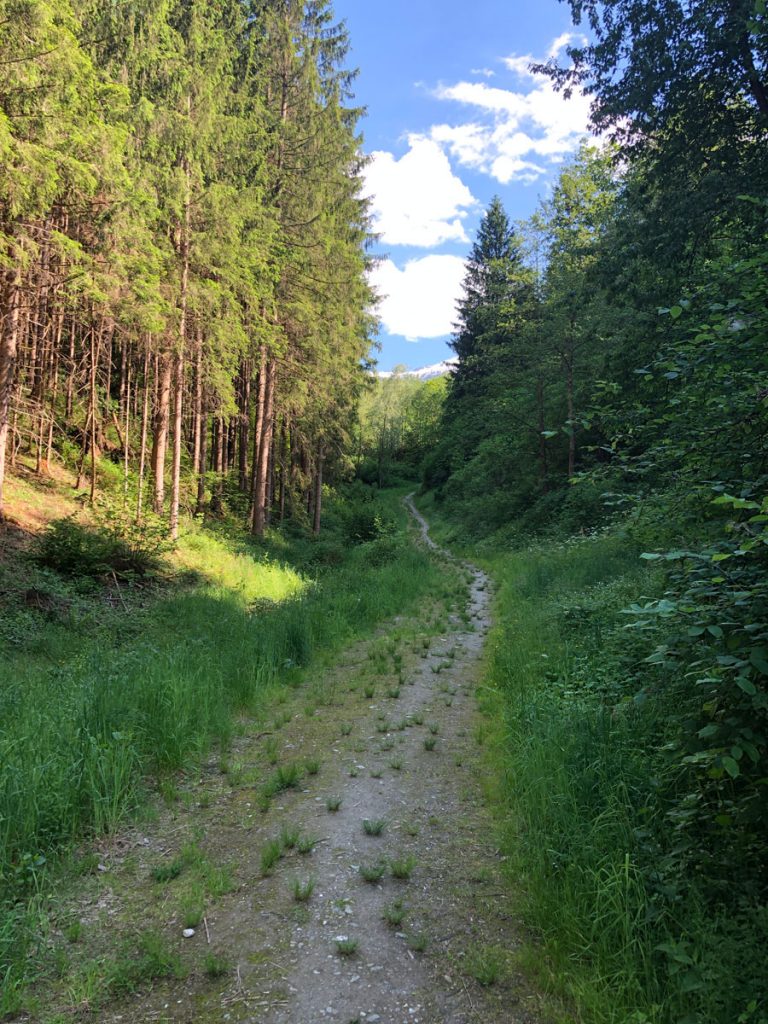 Booked in Sports Hotel Igls, I checked in totally exhausted and went to my room, my racing bike found a place in the garage again. The room was really super comfortable and I had a large balcony with a view of the valley. In the evening I got myself something to eat and relaxed on my balcony. What a stage! So many different types of vegetation and route types in one day that had to be processed first. In any case, I was able to relax very well in the cozy bed.
Stage 10 - South Tyrol, here I come 🚵
Innsbruck - Brixen
After a hearty breakfast from the buffet, I set off again. I stocked up on supplies in a small supermarket in the Innsbruck suburbs and then walked along small roads and farm paths along the mountain in the direction of the Brenner Pass. After the first 15 km I already had 400 hm stand on my Wahoo. Although it took me almost an hour for the first 15 km, I only saw a handful of cars.
Up the burner
Slowly but surely I got up the climb, it was very good that I had taken a break. The next 18 km was going to be a steep climb, with climbs I hadn't expected. Up the Brenner we went the whole time on the country road. Apparently there was no other bike-friendly way Burner up or Komoot just didn't know any alternative.
It took me almost two hours, including a break in the shade of a bridge, to climb the Brenner Pass. When I finally got to the top and was officially allowed to set foot on Italian soil, it was already midday and I took a break in a pizzeria, which I really deserved. Plus, any break from the sun is truly a boon. I love the sun and high temperatures very much, but on such a long climb it really bothered me.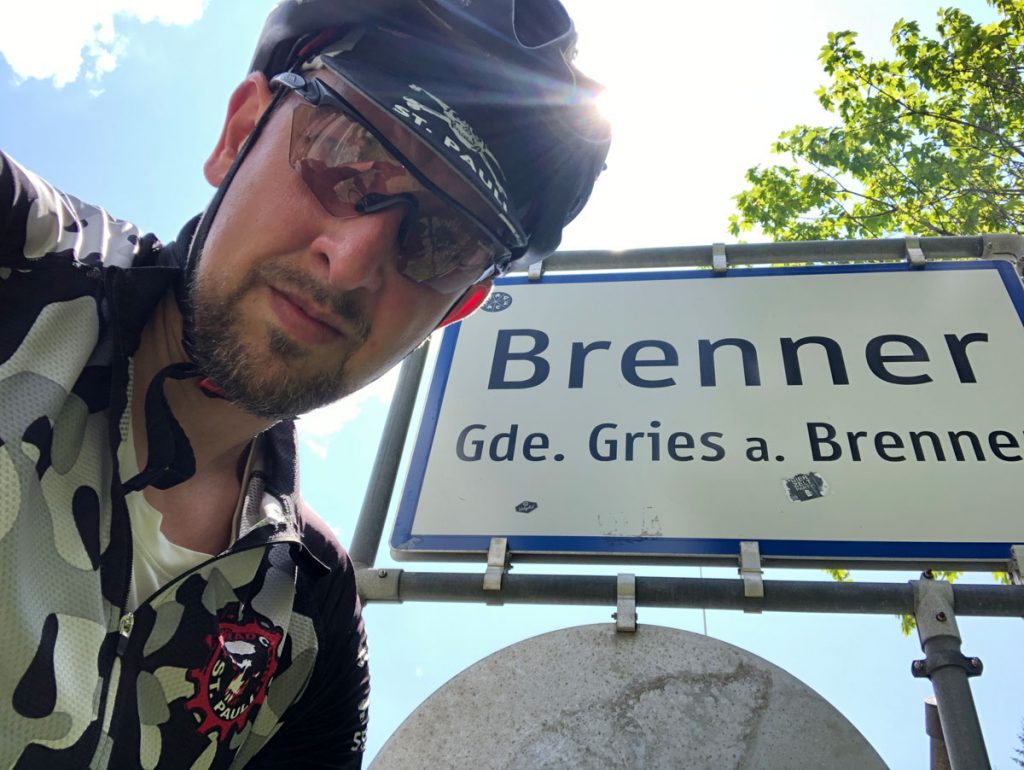 Departure to Vipiteno
I really realized I was in Italy when it was over Gries out and down the slope. I had often heard that there are beautiful cycle paths in Italy, but this was the proof. A completely new and really beautiful cycle path started directly behind the village. The cycle path was still unknown to Komoot and I was a little hesitant about riding the cycle path because it led in a different direction than the original route, but I just thought to myself: It doesn't matter, I can look for accommodation somewhere.
The cycle path ran again on an old railway line, because I drove past a dilapidated train station. The route led 20 km through the middle of the forest before arriving in Vipiteno. On the complete 20 km I met three other cyclists and otherwise enjoyed the peace and quiet in this beautiful landscape. I treated myself to my first in Sterzing Italian cappuccino and refilled my bottles before going into the first South Tyrolean valley direction Brixens went.
I have to admit that my brief visit to Vipiteno doesn't do the city justice. I rolled through the city on my bike and I could have stayed here a little longer, but on such a bikepacking tour you don't do justice to any place you stay.
The beautiful valleys of South Tyrol
Now it went on for me through the Valleys of South Tyrol. After Vipiteno it is a bit wider before heading into the narrow and steep valleys Brixens went.
The valleys before Brixen seemed rather deserted. Many factories were closed and there were not many shops left. This region doesn't seem to be doing so well economically. Luckily, I had well-filled bottles and something to eat in my handlebar bag, so I was able to cover the route easily.
In the late afternoon I arrived in Brixen, the end of today's stage. Brixen is a beautiful little town, which I once again didn't do justice to. However, before I drove to the hotel, I had a cappuccino on Dom Square. Here in South Tyrol everyone speaks German, of course I knew that beforehand, but it was still impressive. Later, when I drove up the hill to the hotel and checked in, Italian was spoken again.
South Tyrol is an impressive piece of earth. It's very different than anywhere else. You are in Italy but the people here speak German and nature is so brutally overwhelming that it cannot be described in words. By the way: Since the Italian border, 98% of it has been on 1a cycle paths through nature, only in a few places the cycle path has rejoined the road. Italy and South Tyrol do something for bike tourism! It's fun that way and I should be seeing a lot more of it over the next few days.
Stage 11 - Riva del Garda here I come
Brixen-Riva del Garda
Already the night before I decided to finally face my goal: Riva del Garda. It's 155 km from Brixen to Riva del Garda. At first I was concerned whether I'd be able to do it after 10 days of continuous cycling over 150 km, but the doubts soon disappeared and the motivation increased more and more. After a quick breakfast in the small inn where I was staying, I packed my bike again and started the second longest stage of my tour. I didn't get to see much of Brixen, before the old town we went back on the cycle path along the river and down the valley.
At every corner and in every small town you were surprised anew. There were many castles and palaces to see and there were also art objects set up again and again along the Italian cycle paths, although of course I didn't read through what it was about or which artist made them, I kept driving towards my destination. Some of the valleys were impressively narrow and the cycle path was partly built right through the mountain. The cycle path either led closely along the rock or you drove through a tunnel. Anyone who has never cycled through South Tyrol does not know how beautiful South Tyrol is!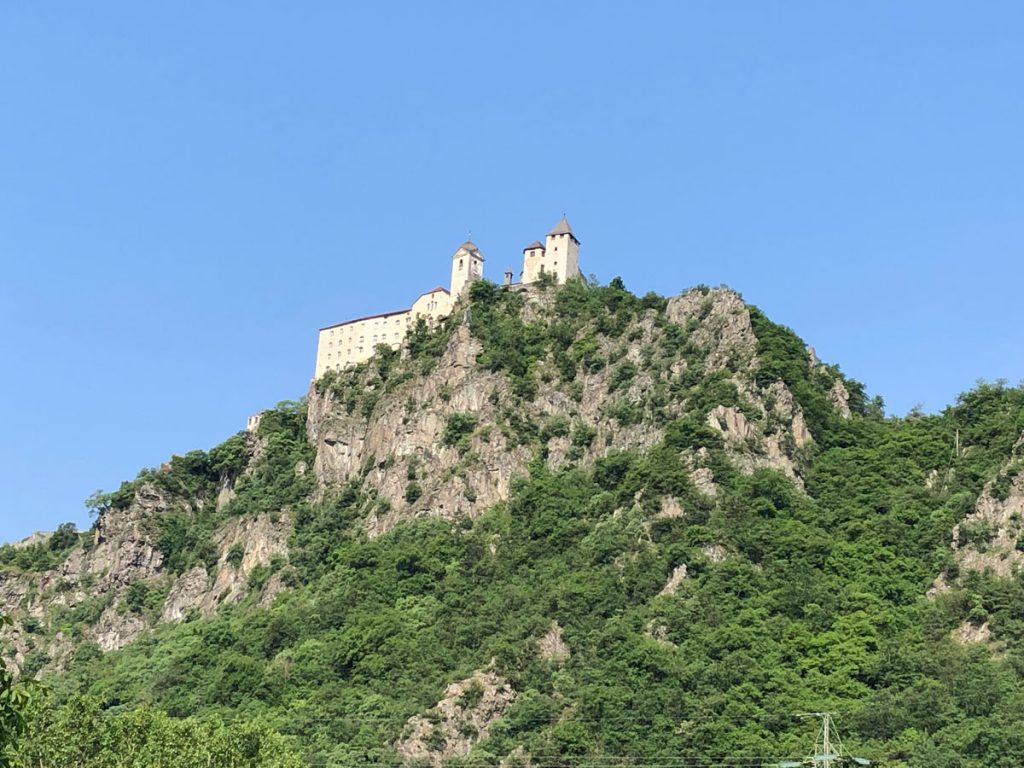 Trento was a bit strenuous
Around Bolzano, after approx. 45 km, the valleys became a little wider again, but no less attractive. The route continued south along the river. About every 20 km there were water points with fresh drinking water where I could refill my bottles. Of course not at every water point, but I took every second one with me.
I was particularly impressed by the bike rest stops on the bike paths. Really awesome! completely off the streets and really only for cyclists, there were rest stops. With food, drink, shady places, air pumps and a small workshop. I wish for something like that in Germany too. Maybe that would boost the booming cycle tourism in Germany even more.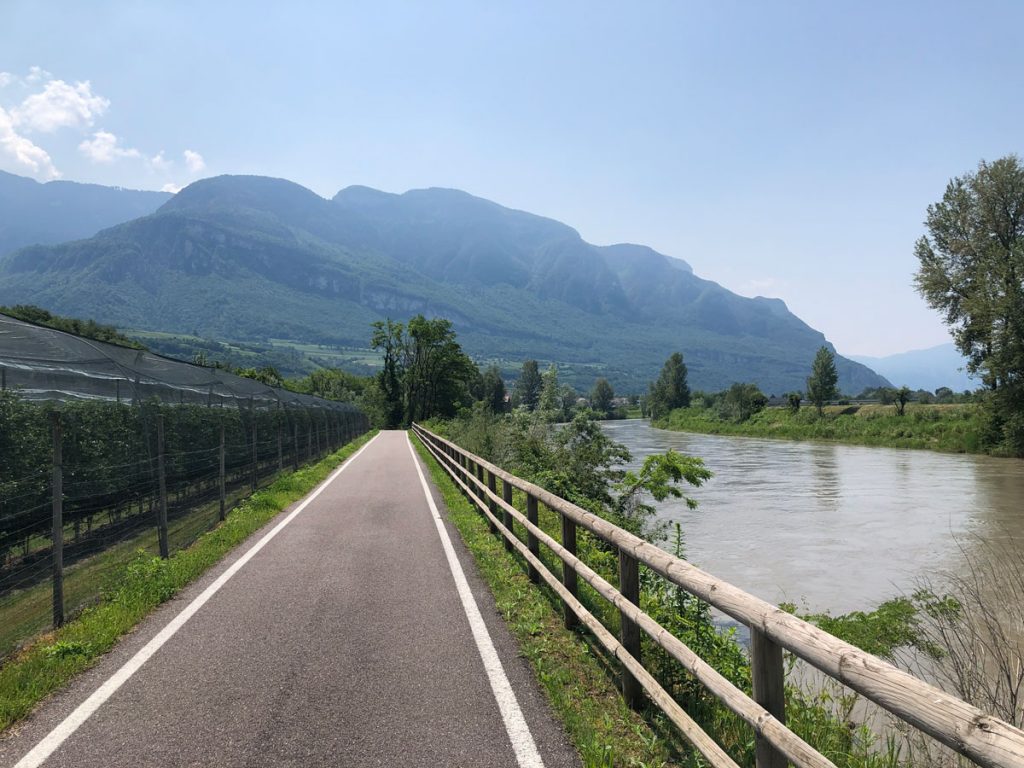 I went further through the valleys Trent. I knew that Trento was only about 50 km away from Riva del Garda. What I didn't know was that I had to bypass Trento due to expressways and that over the mountain. My Wahoo Elemnt Bolt was recording around 37C at this point and I had to go up the vineyard but that's the way I wanted it. In retrospect, of course, I think it's cool to have driven up there and through the vineyards, but at the moment it was really exhausting 😩
Near the center of Trento we went down again towards the city. I just went to a store to buy some Landjäger when it started raining. I didn't want to stay in Trento, so I put on the rain jacket and drove on. hardly a corner away the rain developed into one MEGA thunderstorm with hail, so I quickly went to the nearest store. People were all standing at their windows and filming the storm, so it doesn't seem to have been normal 😂
The store I ended up in was some kind of kiosk or café or something in between. I didn't really get on with English either, but the people there were all very nice and so I stayed for a cappuccino and a chocolate bun from a plastic packet. There was nothing else there, the guests watched TV, drank coffee and smoked in front of the door. Strange but all very nice!
Finally it goes on
When it was just drizzling, I set off again and my sat nav took me back to the river.
I still hadn't eaten anything proper because Trento and the rain had robbed me of so much time. The further south I got, the more Italian it became and the more the long lunch break until 17 p.m. was respected. Every restaurant and every small shop was either completely closed or had no kitchen, only coffee. Somewhere in the middle of nowhere between Trento and Riva del Garda I found a small shop where I got at least one sandwich, that had to be enough for now.
The wind is ahead
It is also notorious that in the afternoon the wind always whips up the entire valley from Lake Garda. I did not know! Wouldn't have changed anything in my plan if I'm honest, the headwind made the ride a little more difficult, but in no way did it reduce the fun and the great feeling I had. Towards the end there were a few more climbs, because you always have to go over the last mountain in front of the lake.
After that I finally saw Lake Garda from the mountain. There was a restaurant right on the street with the best view and there I saw the group of cyclists I had met just across the Austrian border. I sat down with them and we drank a beer together. For her, the tour at Lake Garda was over, for me it was supposed to go on a little longer.
Now it was all downhill for me, in the literal sense of course. There were still 8 km to the hotel, which I rolled off in a relaxed manner. It was a very small hotel, on the outskirts of Riva del Garda, and the landlord I spoke to had hidden my key outside the door. I took my bike to my room, showered and went to eat something. After that I decided to just stay here the next day and take a day off.
So now I had mine St. Pauli Radpirate jersey carried it very far south and was kinda happy and a little bit proud of myself.
Stage 12 - By bus and train to the start of the next stage
Merano - Malles
Before I started the 12th stage, I had a rest day in Riva del Garda. I have to admit that I didn't really do much. The weather wasn't good enough for swimming and I didn't go on another trip, it was a rest day: going for a walk, shopping and relaxing and sleeping a lot. So that I don't have to take the same route back the next day, I asked how I could get away from Riva del Garda in any other way. I wanted to start the next stage in Meran and first had to take the bus and then the train.
The next day I got up on time and had a delicious breakfast, because I didn't have that much time I had already loaded the bike again and appeared at breakfast in full gear.
A bus ride in Italy
I got on my bike and rode to the bus station about 10 minutes away. There I waited for the bus that was supposed to take me to Rovereto, where there was a train station that also had trains. The day before I had already bought a bus ticket and the man at the counter had given me a bus. Another cyclist was waiting with me for the bus, he wanted to go to the train and then go home. The bus came, but unfortunately he didn't want to take any bikes with him 😔 He said we should just ask the next one, great help.
In the meantime, two more drivers had joined them, who also wanted to get to the train and go home. The next bus came and he actually wanted to take us with him, the only catch was: the four wheels had to be put in the luggage compartment together with the luggage of the other travelers. After all, we were allowed to load the bikes ourselves, but to be honest: we really stuffed it, but we really wanted to come along.
So we went by bus Rovereto straight to the train station and I still had about 30 minutes to spare. So I had another cappuccino and then waited for the train that was supposed to take me to Meran. The regional trains in Italy are very spacious and although there were many people on the train, there was no problem with the bicycle. Deutsche Bahn can take an example from that. In Italy you can hang up your bike on the wall, so the bikes don't take up too much space.
Arrived at the starting point
In Merano arrived it was already 14:00 p.m. and I had to eat something first. It was just the market in Meran, so I was able to eat there. 14:30 p.m. and finally I was able to go on the planned track. I had just left Merano when it all started switchbacks up a mountain. It was hot that day reached the thermometer 39°C and it was exhausting. Somehow the incredible nature, the landscape and the mountains always made me so happy and motivated me that I just couldn't be mad at the mountains.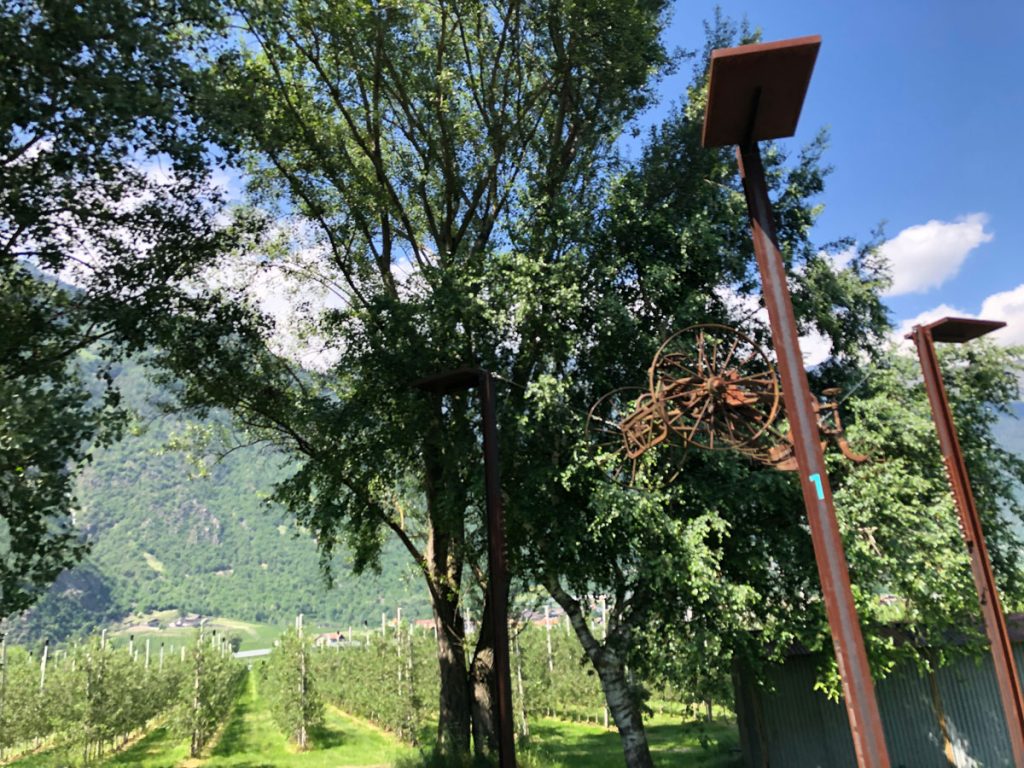 The landscape in this valley was a bit milder than in the valley I passed through on the way to Lake Garda. The valley around Merano around is something milder, for me this word best describes the valley in comparison. The valleys are a bit wider and the mountains don't fall quite as steeply.
Again I come to one of these beautiful bicycle rest stops over and can't resist taking a break. I really would like to see this concept in Germany as well.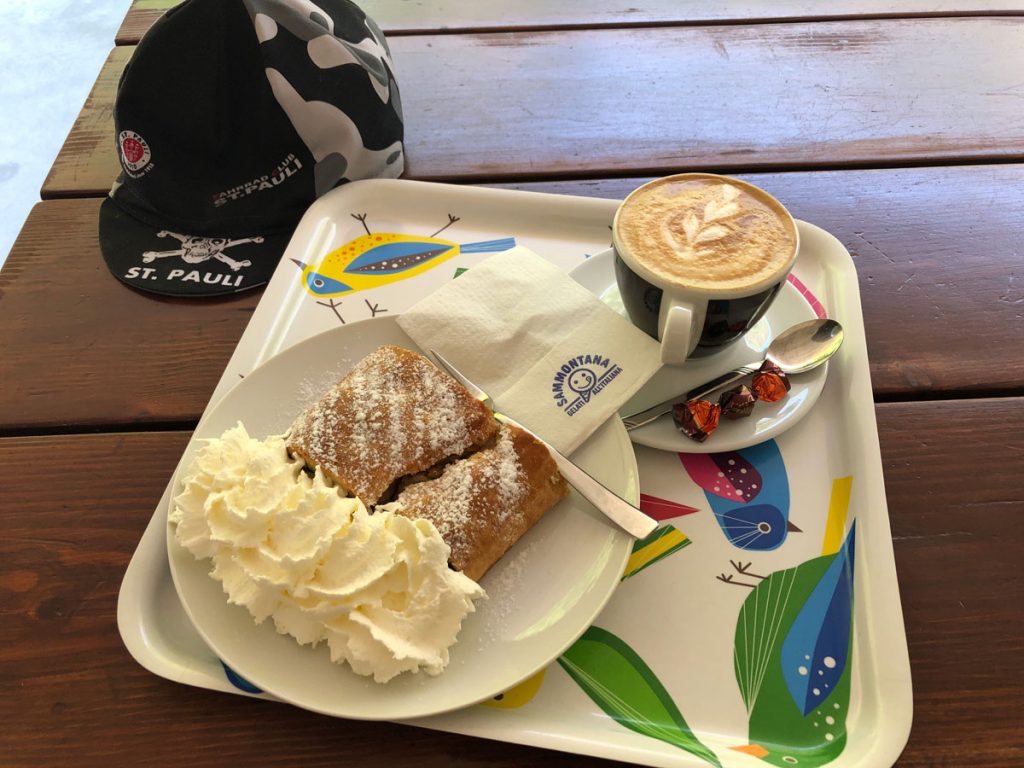 It's going up again
It's hot and getting late, at the moment it's already very muggy and it's starting to rain. I throw my camping plans for today overboard. I'm not really in my trap, probably because I left so late today. I can tell from the mountains and the vegetation that I'm pretty high again. At the end of the day I can see in the elevation profile that it was going uphill all the time. Somehow it goes without saying, I'm on my way north again.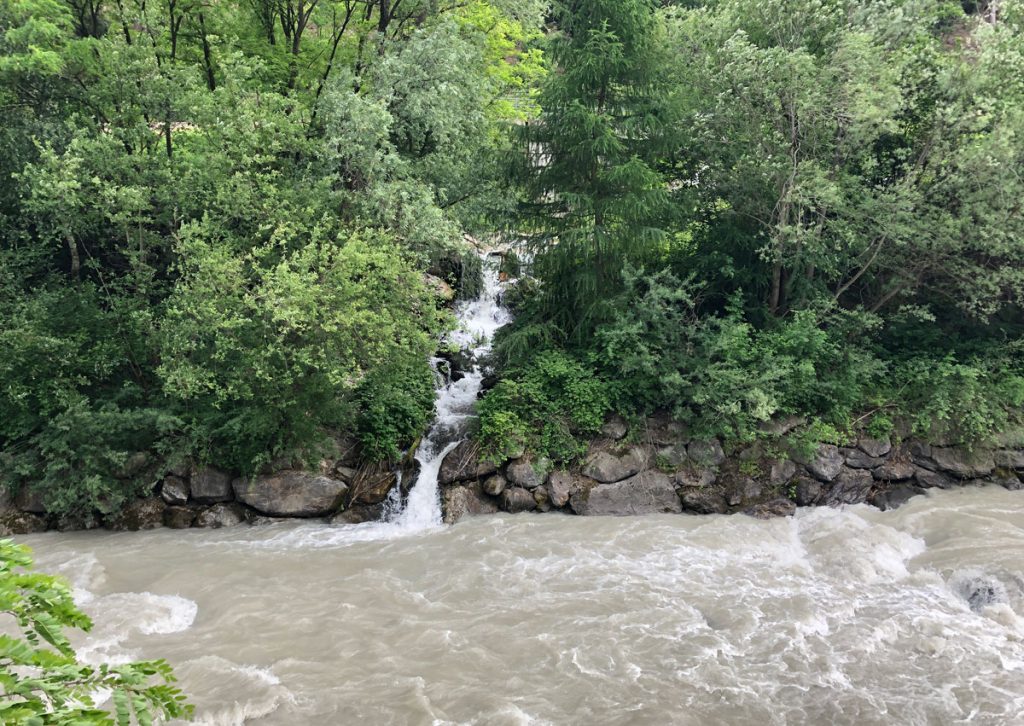 I arrive in Malles around 19:00 p.m. and decide to look for a room for the night. I quickly find what I'm looking for in the small town, eat a little something and fall asleep very quickly. After such a rest day, it was difficult for me to get back into automatic step, but tomorrow is a new day.

Stage 13 - The hardest stage of my journey
Malles-Landeck
Breakfast was at 8 a.m. the next morning, so I was able to start on time again. Upon checking out, I have another remarkable conversation with the innkeeper. I rave a little about my trip and the cycling infrastructure in Italy. The innkeeper gives me a funny look, doesn't answer and ends the call. I had forgotten that South Tyrol isn't really part of Italy, so he probably didn't think my well-intentioned comment was appropriate. For me, the journey finally went on again, up my hardest leg of the journey.
Today I should go directly to Austria. First about the Reschen pass, to Nauders And then I wanted to see how far I would get. At 9:30 a.m. I drove off and it was about 25 km to the Reschenpass. When I started, the temperatures were already at 30°C and of course it was steadily uphill on the way to the pass.
The heat bothers me
At some point I discovered small blisters on my arms. I gave it a quick squeeze and they burst quite quickly. Apparently moisture has collected under the skin and the heat has caused small blisters to form. It was kind of weird, but it didn't hurt and nothing else happened. With a lot of strength but without further incidents I moved steadily towards the Reschenpass.
Over the Reschen Pass
Only past Reschensee and then the last bit to the pass. Every pass conquered makes you somehow proud, even if a pass is no harder to drive than other mountain roads, it is something of a small trophy to remember.
I was particularly looking forward to the further part of the stage: It's actually only going downhill now, at least that was the plan. After crossing the border, cycle paths and side roads lead downhill in the direction of Nauders, which I reach after a short time.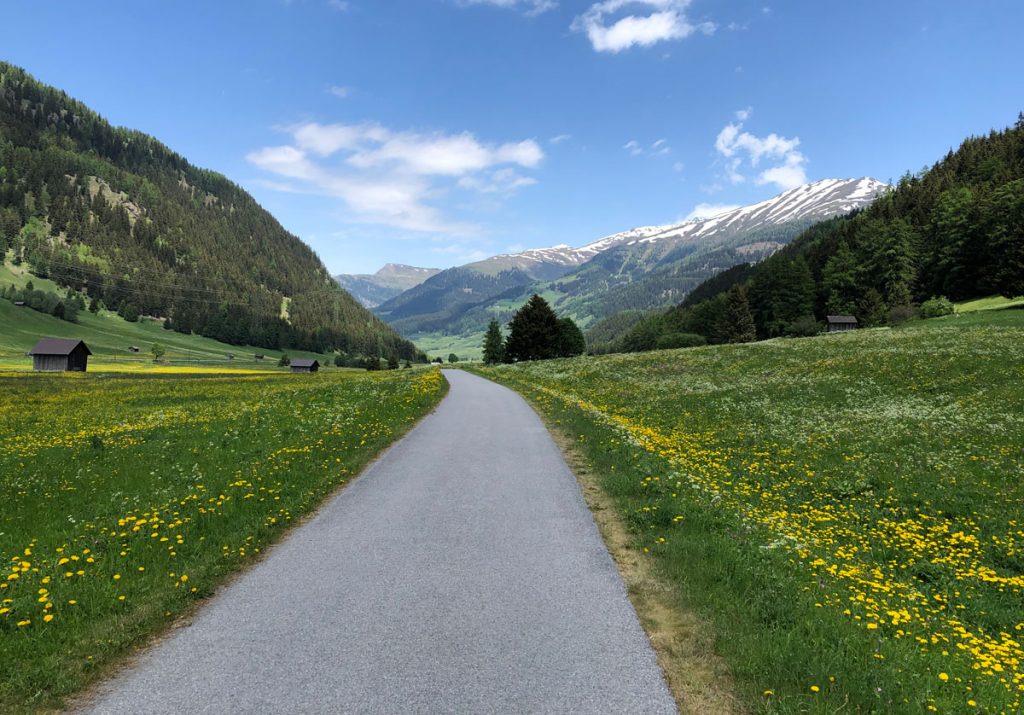 Unexpected detour
I drove through Nauders through to get ahead quickly, I had just made a short stop at the pass. It was down a rocky farm track until someone stopped me. On this day in Nauders there was a vintage street race and the street that had to drive was closed until the evening. So I had to go back to Nauders first, taking the rocky path. It was two kilometers uphill and I couldn't drive up there either, so I had to push 😡
Detour to Switzerland
When I arrived in Nauders, I was frustrated and looked for something to eat in a shop that had WiFi, I had to plan a new route and unfortunately my data volume was used up. The new route took me a bit through the Switzerland and then back on the planned route back to Austria. Three countries in one day sounds good, but to be honest I wasn't really in the mood for detours.
Unfortunately, the round through Switzerland was necessary, but really terrible. There were no bike lanes and drivers in Switzerland behave as if cyclists have no right to life. I've had a similar experience in the Swiss part of Lake Constance. The detour via Switzerland was about 20 km, but because of the cars it was hell. In between, I even considered simply taking a break at a campsite, but then I decided to end this terrible chapter and drove through.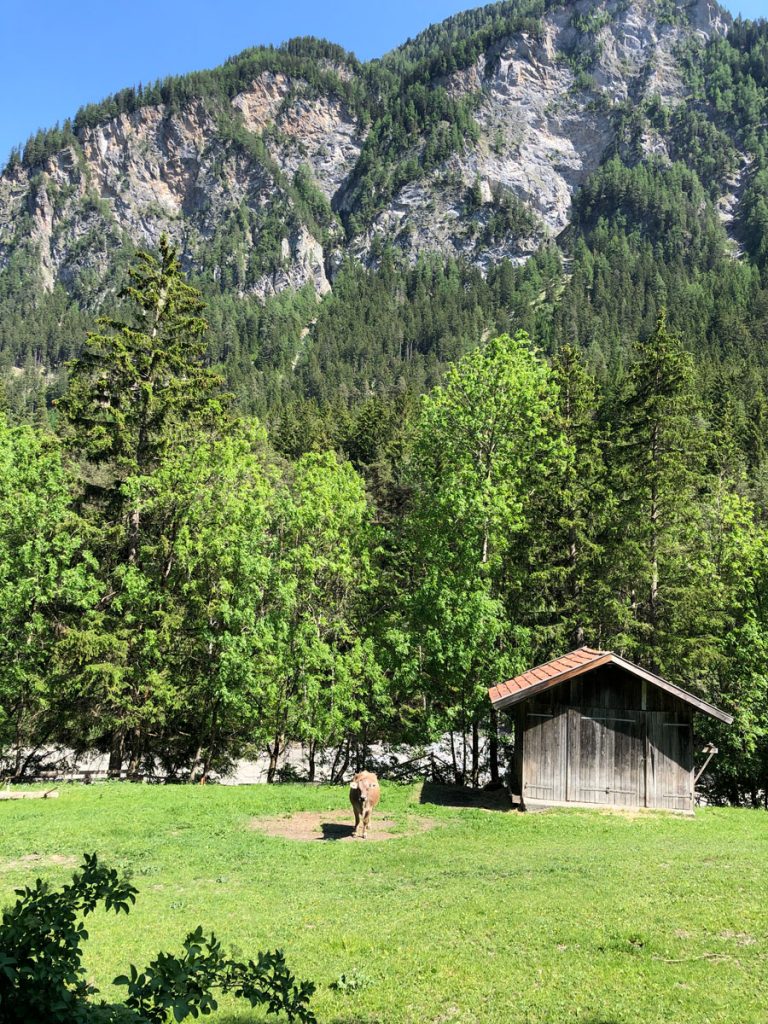 Nice campsite in Landeck
But then it became very beautiful again and the beauty of the mountains made my day sweeter again. It went through a few typical Austrian valleys and gorges to after land corner where i on one Campsite went and set up my kennel.
It was a nice little campsite and both my neighbors and the management were very nice and I could use WiFi to plan my next day. I ate another doner kebab in town, the first Rotary my trip and then went to sleep. The night was fine, although I never fully remember this one mini tent will get used to. For my next bikepacking tour either just a hotel or a larger tent 😏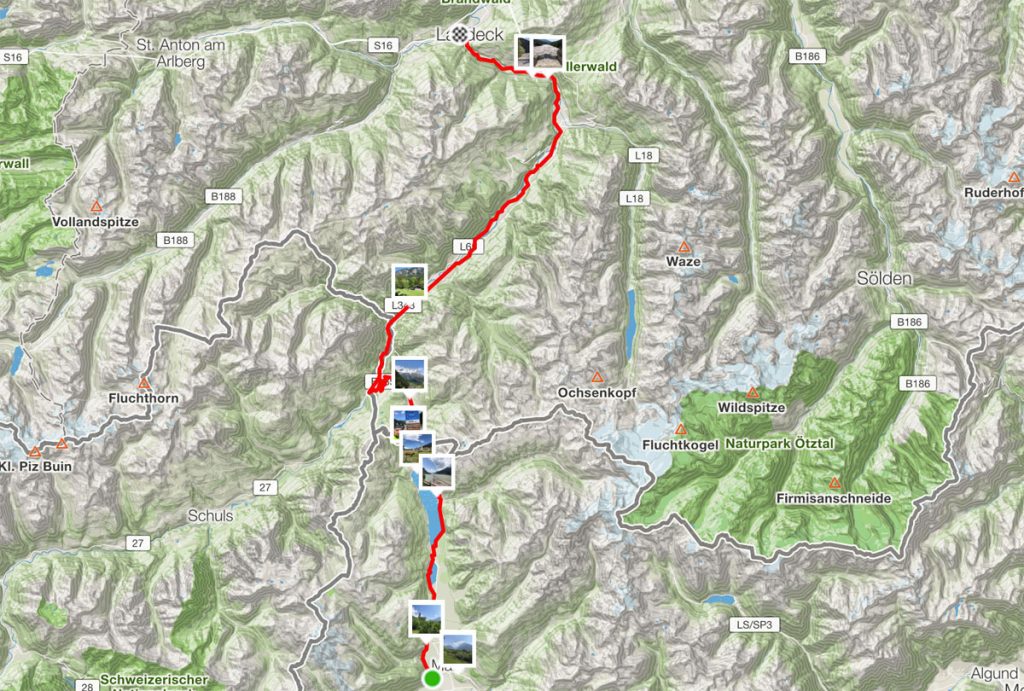 Stage 14 - The last pass and out of the Alps
Landeck-Fussen
So now it should start: My last stage. I hope you enjoyed reading and enjoying this article and overlooked the small mistakes. I wish you a lot of fun with my last stage and enjoy it as much as I enjoyed it.
I wake up shortly after 6 a.m., the night in the tent was more restful than the nights in the tent before, maybe I'm slowly getting used to it. Since I don't know yet whether I'll be spending the next night in a hotel or in a tent, I take all the charging cables and power banks with me to the shower and charge everything again as far as I can in 20 minutes.
Everything is then packed up and stowed away before I set off again. First thing I need is a baker and I'm on the lookout. Too bad nothing is open in Landeck. It's Pentecost and Sunday too, those stupid holidays 😩 I still need a decent basis, the Fernpass is still on my list.
Looking for breakfast
I slowly get out of the narrow and cozy valley in which Landeck is located and after a short time I find a motorway service station that is also accessible from the cycle path. Ok, not as nice as the bike rest stops like in Italy, but hey: I have to get food 😂 I only get a few small things, because the prices here are unfortunately typical for rest stops.
The valleys narrow again and the landscape is once again breathtaking and inspiring. There are kilometers from Gravel passages, to which mine 25mm tires seem to have gotten used to it. It's not difficult for me to pedal after so many days pedal a kind of automatism seems to have set in. However, on more difficult passages I notice that my strength is slacking off a bit. Maybe it was the stress, maybe the night in the tent or just the lack of Italian cappuccino 😏: On this day I pack myself down twice completely unnecessarily and ratchet up both legs around the ankles. Nothing wild, just slipped sideways off the path.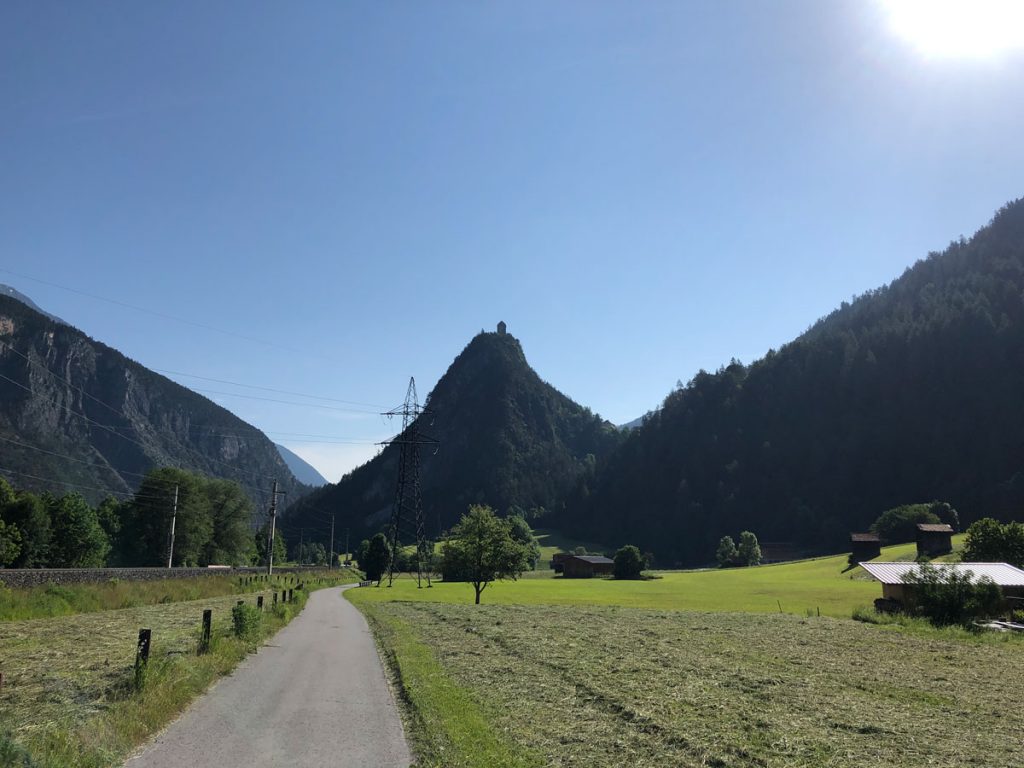 Climb to Fernpass
There were many gravel routes through the forest, in retrospect I definitely rode 90% gravel that day. I would do it again anytime! It is much nicer, quieter and of course car-free! There are many closed sections of route through the forest where cows graze, so sometimes a cow can just get in the way. I just waited a few minutes, then she walked away.
It went on and on through the forest and little by little I got closer to it remote pass. For drivers and motorcyclists on the road, pure stress and slow speed, for cyclists a dream. Narrow gravel paths and footbridges that lead over slopes. From time to time push, because this was more of a hiking trail, but never mind. The hiking trails were very typical for Austria. That's how I know it from my childhood, when my mother used to chase us through the forest while hiking.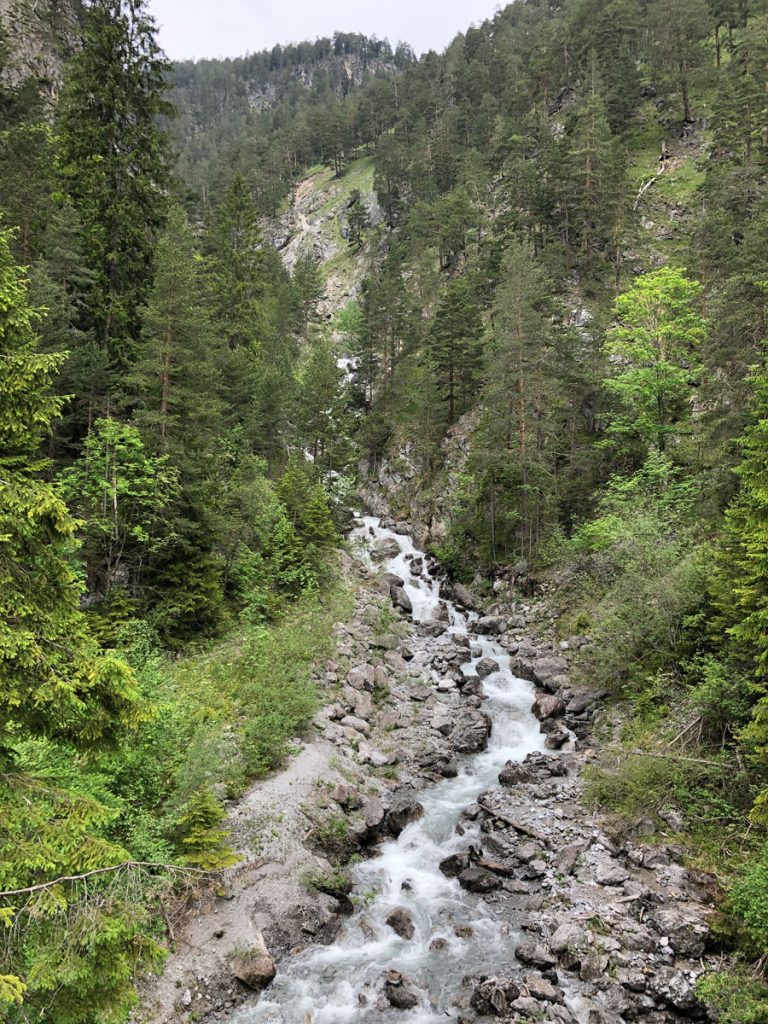 Behind the Fernpass we went on the road again and afterwards the Komoot route no longer corresponded to reality and I got lost a few times, but after a few kilometers I had also overcome this part of the route.
It. becomes flatter towards Füssen
The last 50 km were rather unspectacular, if you have been on the road for two weeks you lose sight of the hidden beauties. For me it was just a matter of getting out of the Alps, because I knew: Today I will leave the Alps behind me. It now briskly Fussen, my stage goal today.
Arrived in Füssen I looked for a WiFi hotspot to look for a hotel. As already mentioned, it was Pentecost and the prices were twice as high as the days before. So I looked for a campsite again. It was slowly closing in and it also started to rain. The weather forecast had predicted bad weather. I still had to drive about 8 km out of Füssen until I was on Campsite arrived.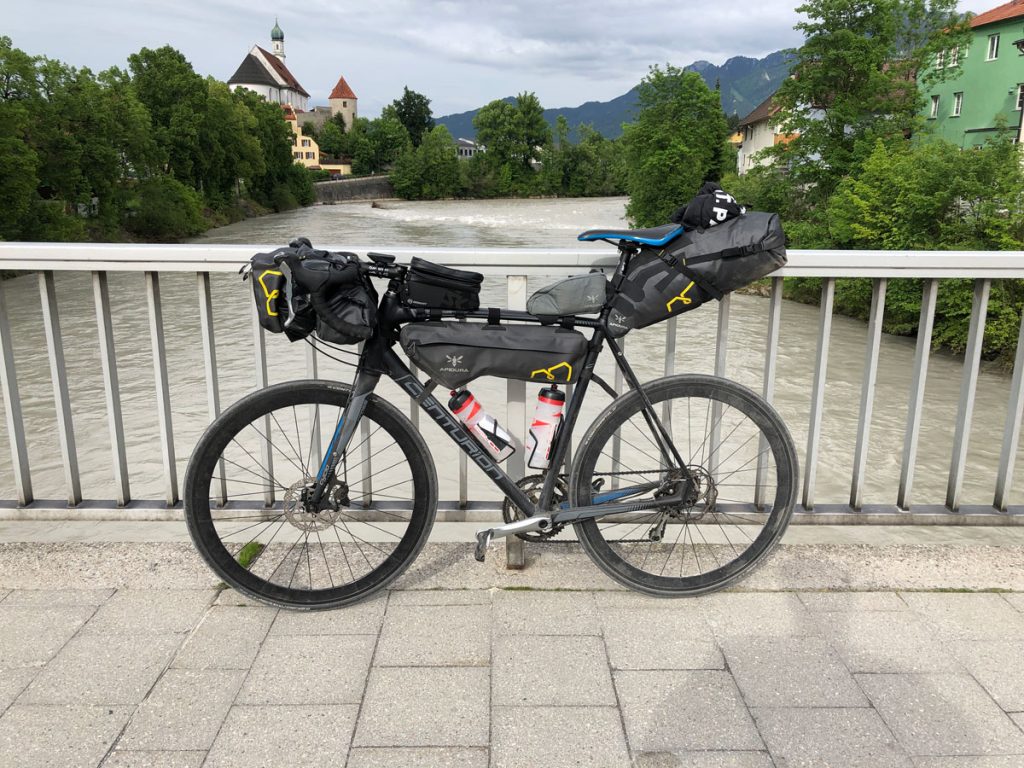 A full campsite
The place was very full, just a holiday. The man at check-in just said I should look at the meadow and come back if I can find another seat. The meadow was so full, but I had no alternative. I asked a few campers if I could squeeze in between them with my text and if you ask nicely, then people are nice too. I pitched my tent before it started to rain even harder and then went to the restaurant for a bite to eat. The last night of mine Bikepacking tour should I spend in the tent, the main thing is that I stay dry.
Es thundered, knallt to and flashed like crazy for most of the night. I woke up several times even though I'm actually a very deep sleeper. However, I survived the night quite well. At least it didn't rain, but of course my clothes got clammy and damp, so my panniers were a bit heavier the next day than the days before. Shortly after seven I checked out and headed towards Fussen Station, the journey home should be the last adventure!
Journey home to Hamburg
Fussen - Hamburg
I felt a bit damp and clammy in the bump as I swung back onto my road bike. At least it wasn't raining anymore and I was able to pack and stow my things in the dry. Now it went for me to about 7 km away Fussen train station, since the train station is of course a bit smaller than in Hamburg, I didn't recognize it immediately and had to look for something. At the counter in the hall I encountered the first hurdle. Unfortunately, the lady behind the counter couldn't really help me, the dialogue went as follows:
I: Good morning, I would like to take the train back to Hamburg, can you help me?
You: Unfortunately I can right now don't look anything up, my computer has no connection!
I: Can you tell me when a train leaves for Munich?
You: I can't see anything on the computer!
I'm waiting because I thought she would pull out a piece of paper to check...
You: Why are you still standing here, I told you I can't help!
Your colleague looks embarrassed and I walk away...
That was a funny situation. I then rushed off and went onto the platform. The station had exactly one platform, which means there were exactly two tracks. I looked at the timetable and lo and behold: there is a train to Munich every two hours. Seriously, the lady at the counter couldn't tell me that? I went to the baker in the waiting hall and got some food, then I went back to the platform and waited for my train.
First stage done
A little later I was on the train to Munich and the journey was very pleasant. I was not talking to an American couple who went on a bike tour together in southern Germany. Her main reason for traveling was the wedding of her daughter, who now lives in Munich. When I arrived in Munich, I first went to the overcrowded DB Reisecenter, I took a number and had to wait over 30 minutes before I was allowed to go to the counter.
I needed an ICE to get to Hamburg and the lady at the counter, this time very nice, told me that you have to reserve it at least three days in advance in order to be taken with you by bike. She printed out four ICEs that had bicycle wagons and told me to ask the conductor if he could give me a seat. I'll shorten it at this point, there were friendly and less friendly train attendants and everyone rejected me.
Then just by bus
Frustrated, I cycle to the central bus station in Munich, because there was still Flixbus. I know, not the best way to travel, but my only option. I used the app to buy a ticket for myself and my bike for the 17 p.m. bus. The bus came, but it didn't take me either, the bus was swapped at short notice and didn't have a bike rack 😩 It's probably not my day. What do you do in such a case? You call the hotline! After all, I was rebooked on the 00:20 p.m. bus without hesitation. Departure Munich 00:20 p.m., arrival Hamburg 00:11 a.m.! 15 hours and 40 minutes, no joke.
But now I didn't care. I got two more beers and something to eat to pass the waiting time at the ZOB.
Meanwhile, the announced storm reached Munich, which was supposed to move over southern Germany. When the storm, the thunderstorm, rain and hail started, I was very happy not to be on the bike anymore. The weather report had not lied!
A long drive, but I drove towards Hamburg
The bus came, the bike was put on the back of the rack and I had a good seat at a table of four. The bus drove zig-zag across Germany, that's how the 15 hours and 40 minutes came about 😂 Broken, but happy I arrived in Hamburg on time the next day and rolled the 5 km to home. I was totally tired, because the sleep on the bus wasn't the best, of course, but I was still awake enough to get through the day. Awesome, I was back home and couldn't believe it any more than the day I left that I left.
An amazing feeling after an amazing bikepacking tour!
Summary
My Bikepacking adventure It's been a long time now and I'm still drawing on the experiences and memories. So many things keep bringing me back to memories, especially music. I always put my headphones in my ears on bike paths and listened to music, now when I hear a few songs I immediately have images of the trip in my head again.
If someone asks me if I would do it again, I immediately say yes. I would do it again in a heartbeat and I would do it the same way I did: all on the bike and all by myself! I would only leave the tent at home next time or at least swap it for a slightly larger one. The journey all alone was something very special for me and it was never uncomfortable. For me it was even very intoxicating. Dealing with yourself and your weaker self on those long drives is a challenge, but a nice one.
Happy with my equipment
My equipment was the right choice, from the bike to the chain oil. Only the much said tent, so called kennel, was just too small for me long misery (194 cm). My Apidura bags and Wahoo Elemnt Bolt were trusty companions that I will continue to use on many adventures to come, so it was worth the investment.
I can only recommend everyone to do something like this! Bikepacking is just great, pure freedom just. It is so easy. Take your bike, put some clothes in your bags and off you go. don't waste too much time planning. Find a destination and just start driving. In the future I will write more about bikepacking and publish material and packing lists, then you will see that you don't need much on a trip like this.
I'm often asked if I'm planning another tour like this. Yes of course! I haven't decided on the direction yet, I have two different ideas in mind right now - which I won't reveal just yet. Again, I would plan my tour between mid-May and mid-June. There are no school holidays yet and the hotel prices are therefore still reasonable, and you can also get a free room spontaneously.
I want to go again immediately!
Thinking about my trip like this always makes me smile and I wish I could be back on tour. After my trip everything seemed so unimportant in my day-to-day work, I took a piece of serenity home with me. Where do I sleep tonight? I'll find something! What I learned on my journey: There is a solution for everything, just don't see anything too narrowly.
If you have any questions or suggestions, please leave them in the comments or send me a message to info@Rennrad-Hamburg.de, I look forward to any feedback!