Finally again bikepacking Time! Only take the essentials with you Gravel bike or Racer saddle up and then off on the journey. This year I have rather the Comfort variant chosen and only stayed in hotels. This saved me some luggage because I didn't have to take the tent, sleeping bag and sleeping pad with me. The trip was decided more or less spontaneously, day by day and we escaped the rain.
Oh yes, you read that right, this year I was exceptionally not alone on the road. A former work colleague and racing cyclist, with whom I often do laps here on the dike, accompanied me. First of all: Marcus and I got along well and there was no premature separation 😂 So I seem to be reasonably socially acceptable after all.
I saved my entire tour in a Komoot Collection and you can find it here: Bikepacking Tour Collection
The original plan
Oh yes, if only planning were that easy in times of Corona and when traveling with Deutsche Bahn. Right from the start we had planned to drive through Germany, Austria, Switzerland and of course Italy. Luckily there were no special travel restrictions or rules that would have prevented this. We only had to fill out a pre-registration (the green pass) for Italy. Small spoiler: The Geenpass was not required anywhere.
As I said in my article Bikepacking destinations – vacation by bike I wrote, we actually wanted to take the train to Milan and start from there, unfortunately you have to buy bicycle tickets for the ICE from Deutsche Bahn about three months in advance, because otherwise the seats are all booked up. How are you supposed to plan so early in a Corona summer? Maybe Deutsche Bahn should think about creating more bicycle spaces in ICEs. Would be an appropriate measure! After a lot of research, where we can still get a trip south, we were able to book a train to Freiburg and now the journey can begin!
Stage 1 - Arrival to Freiburg and the first small stage
Off to Fribourg
On Saturday morning at 4:37 a.m., the train was supposed to leave Hamburg Central Station for Freiburg. I drove home on time to be at the main train station at 4:10 a.m. as agreed, we wanted to get some food for the trip.
I was at the main train station on time and waited for my companion, but he didn't come. Without further ado I wrote to him that I would go in and get something to eat and go to the platform. Everything done and packed, I stood on the platform, but Marcus didn't come. At some point the train came, I got on and sat alone on the train 😂
I can't remember when, but it was already light and Marcus reported that he thought we weren't leaving until Sunday. Well, that's how it can be sometimes! He booked a Flixbus and would arrive in Freiburg the next morning. That meant a relaxing day in the Black Forest for me.
Arrived in Fribourg
I arrived in Freiburg at 14:00 p.m. First of all I had to look for a bike shop because I had lost a screw from my cleats in Hamburg on the way to the main train station. Has never happened to me before, but now. The bike shop was near the Freiburg main train station and I headed there first. Got a screw, put a tip in the cash register and off we went. But before I started cycling straight away, I checked where I should go for today. Just a short distance (I had to wait for Marcus) and it should be nice.
I decided that day 30km to Titisee to go and get a room there. Already at the start (I usually never do) I booked a room, it was only 30 km.
It went beautifully out of Freiburg. Always along the river on beautiful cycle paths.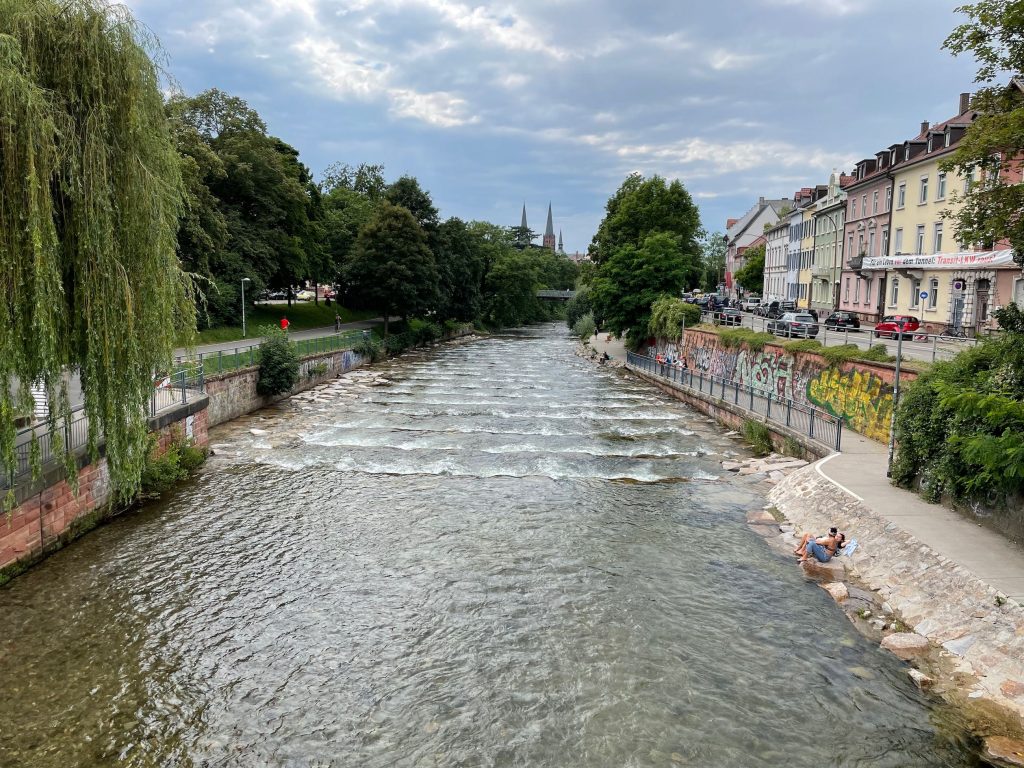 The problem in Germany with the bike lanes
Unfortunately, there aren't many beautiful cycle paths in Germany, unfortunately it is often the case that cyclists ride on an official and beautiful cycle path, which then ends abruptly on a country road. Unfortunately, that was also the case in this case Schwarzwald 😩
After the bike path ended, I ended up on a main road. I think I was still allowed to drive here, but it wasn't fun. Two lanes in each direction and the cars blasted past you. Although I tried again and again to dodge forest paths, I unfortunately had to go back to the road. As if that weren't enough, it was also quite an uphill climb so I couldn't get out of there overly quickly. Whole 9km I tortured myself with fear on this road, I hate it!
After that we finally went into the forest and it was beautiful.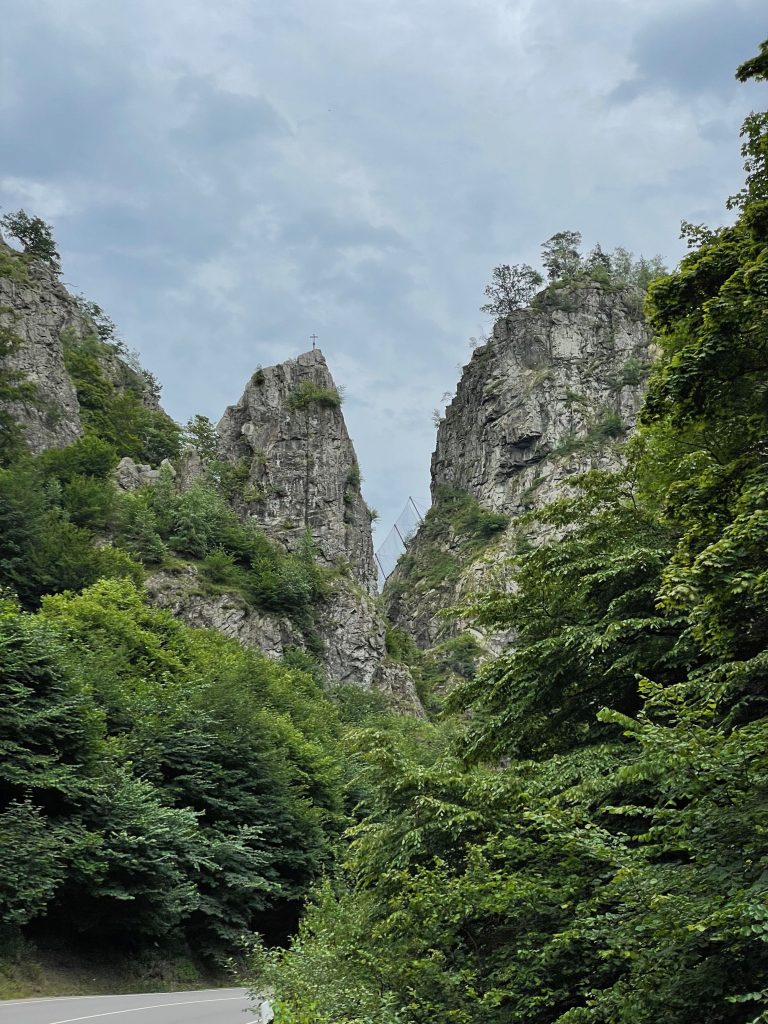 Then it went through the forest to the Titisee, where my little first stage should end today. After all, it was 30hm on the first 640km.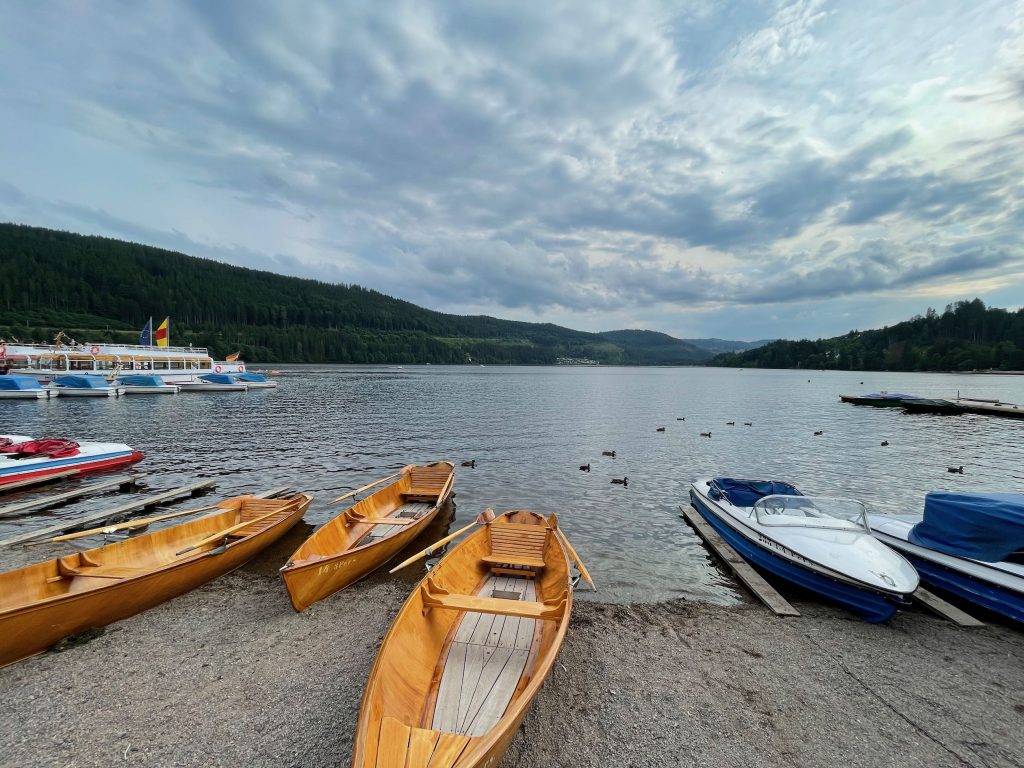 Stage 2 - From Titisee to Switzerland
I could at the hotel on Titisee first of all, sleep in and have breakfast while Marcus slowly arrived in Freiburg with the Flixbus. Shortly after 10 a.m. we met on the shore of Lake Titisee and first discussed which direction we should go today. It was already raining, so we moved our meeting to a café. We decided to drive towards the Swiss border and when we started it was raining cats and dogs.
Drive through the Black Forest
In pouring rain we started at Titisee. Luckily it wasn't really cold, which is why it was enough to just pull on the rain jacket. Where me the Schwarzwald on the first day with the country road had been badly disappointed, the Black Forest has now delighted me to the fullest with beautiful roads and forest paths.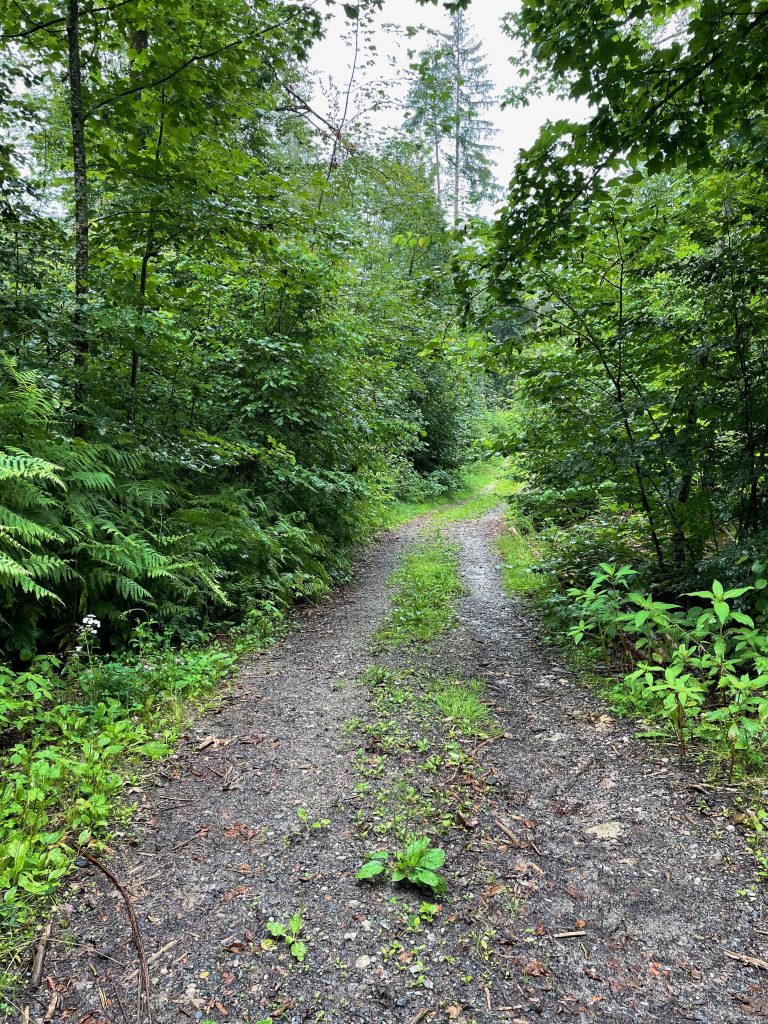 Unfortunately, while the rain was so heavy, not that many photos of the route were taken. But it really was nice.
The best descent of our lives
The first half of the stage ran through the Black Forest at an altitude of about 1000m. Only behind that Schluchsee a little surprise awaited us. The road of our planned route was closed due to bridge damage. So we thought that we shouldn't stay there for long 😉
We switched to a side road, which was actually also closed but there was no reason on the sign. The first piece was still blatantly uphill. It was just a side street and these mostly go steeply uphill 😳 Arriving at the top, we came to a small town. We had to push the last bit because the road was incredibly steep.
In the village we went on a deserted forest road, on which one of the best descents of mine began. The descent ran a few hundred meters on a nice gravel track and then it went onto a road that was easy to drive on. Completely in the forest and completely alone. squire 10km things went downhill from here! MEGA descent!
Off to Switzerland
Shortly before the Swiss border we treated ourselves to a decent meal. We were still quite wet, but the sun was just coming out and we were able to take off our rain jackets and dry a bit. At first we thought we would go straight to Zurich because we wanted to escape the announced storm by train the next day. But Zurich is so expensive that we decided to take a room 20 km from Zurich.
So we drove about 20km in Switzerland until we got to our room in a small inn. In the meantime the sun was shining and the rain jacket could be put back in the bag. Shortly before the finish I had my first and only breakdown on the tour.
I have to admit I'm a very spoiled person bikepackeras for the routes. For me, bikepacking is relaxation and I'm not so good at it on busy roads. I'm not a fan of blanket statements, but Swiss motorists are very inconsiderate towards cyclists. So I wanted to go to Italy as soon as possible!
That was almost 80km to Switzerland today