chain wax is becoming more and more popular among cyclists and chain wax is also spreading more and more among sporty drivers. So far, however, waxing a bicycle chain has been very time-consuming.
The chain had to be removed
Wax had to be melted on the stove
The chain can be bathed in wax
The chain wax manufacturer Optimize claims to have made this time-consuming procedure superfluous without having to forego the advantages of chain wax. I am allowed to test the product and would like to share my honest experiences with you here.
Why chain wax
I admit when it comes to mine Racer or Gravel I'm not really willing to experiment. Before I try anything, I research extensively on the net. But chain wax can solve a big problem for me.
What problem does chain wax solve
As you know, I love to ride Gravel and get up Bikepacking tours. But I love to do both in combination. The big problem with oiled chains and gravel: The chain already looks dirty after 20 km and has to be cleaned immediately. The earth, the sand and even small ones pebbles and wood stick to the chain and cause high wear.
Optimize 15% discount code: Rennrad-Hamburg15
Normally I can clean my bike at home with a garden hose and then the dirt isn't a problem, but that's not possible on a bikepacking tour! I then wipe the chains clean and put some oil on them again, driving to a car wash would be too much work for me. Optimize's chain wax is designed to offer a solution to precisely this problem.
In my test, I am concentrating on the product Optimize Graphen.

Graphene is Optimize's premium product.
chain wax test
If this chain wax really is one of mine problems when traveling solves, it is worthwhile to start testing quickly. My next trip starts in two weeks 😉
The promises are big:
Stain-resistant
Less wear than with chain oil
The chain does not need to be cleaned (self-cleaning)
Environmentally friendly
The manufacturer promises that the wax binds the dirt and then simply falls off. After approx. 150 km the chain must be waxed again. This is exactly where Optimize offers with its products graphs and graphite an advantage over most other chain waxes on the market:
Optimize chain wax can be applied like chain oil!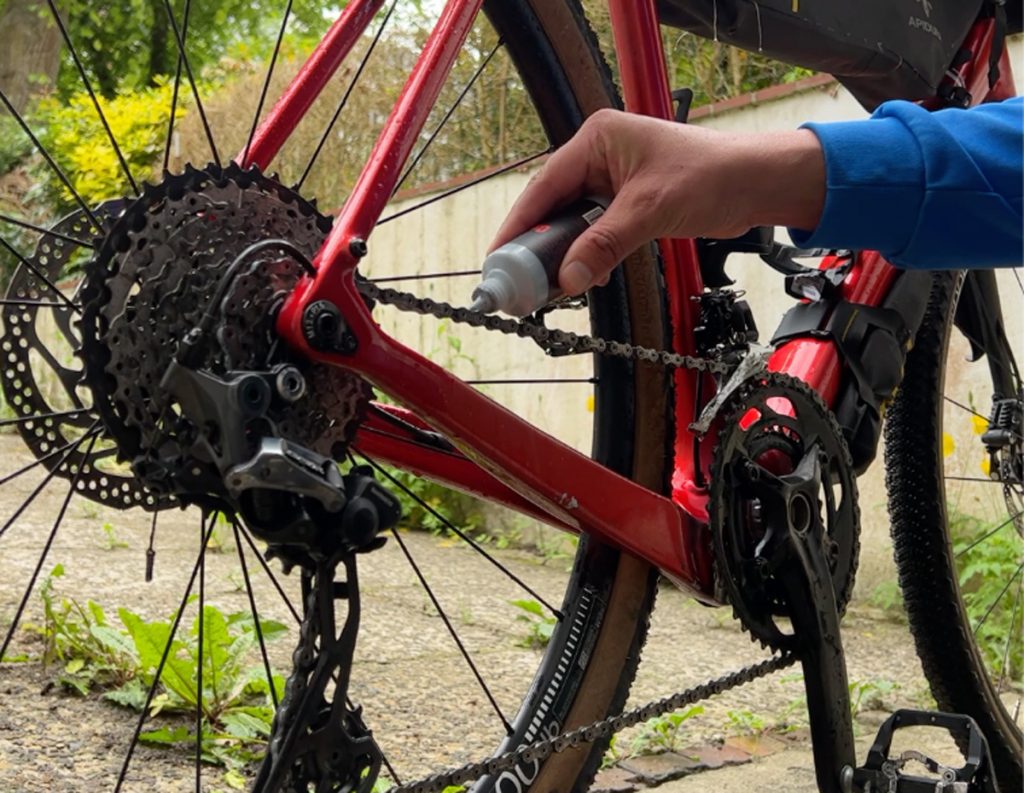 Vorbereitungen
My chain (Dura Ace/XTR 11-speed) on my Gravel is still quite new, only about 1.400 km down. I had changed them when I got them new cassette (XT, 11-42) ran. I cleaned them twice, with chain cleaner and garden hose to get the chain oil off completely and to be able to do a test that is as realistic as possible. I wiped the chain down with an old tea towel and it almost looked new again!
Apply chain wax
The manufacturer expressly points out in its instructions that the chain wax not only has to be on the chain, but above all in the chain. However, this is not a problem with Optimize's chain wax. The chain wax can be applied like chain oil, so simply sprinkle the chain from above and let it flow in. Before the chain wax dries the liquid is white which made it easier for me to see where I was on the chain.
So the procedure is the same as with chain oil, the wax just needs a little longer to dry. I have not yet tested how long the drying time is in practice. I promise I'll keep a close eye on the dry season when I'm on vacation!
My expectations of the test
Honestly? In the meantime, I am already very deep in the topic, but I am still a long way from it expert 😉 That's why I probably won't be able to tell much about the wear and tear during the test phase, unless something really negative happens - but I don't expect that.
I'm much more concerned with the practical benefits of chain wax on my bikepacking tours.
A chain that is as clean as possible
easy regrowth without much cleaning
Field report and results
I've only had the chain wax on for a few days and of course I can't say anything yet, except: I see so far (approx. 130 km) no difference. But that's a positive result. I would like to keep you up to date at this point in the coming weeks and months and will tell you how well the chain wax worked on my two-week trip.
discount code
Did you like it? environmentally friendly chain wax to test yourself? Then I have a discount code for you here. A full 15% discount is something.
Discount code: Rennrad-Hamburg15
The discount code is to be redeemed Optimize.bike
Chain wax on my bikepacking tour
I just got back from my bikepacking tour this summer. I Bikepacking in France, Switzerland and Germany. To make a long story short: I absolutely love chain wax when travelling!
I am totally excited about the chain wax when traveling!
I always freshly waxed the chain every 100 - 150 km. Mostly in the evening so that the wax can comfortably creep between the limbs. My experience: After 150 km at the latest, the chain must also be waxed! Granted, oil lasts longer on the chain, but the advantages of wax cannot be ignored.
What did the chain look like?
I was very excited that the promise of the manufacturer - Optimize - actually became a reality, the chain cleaned itself as if by magic. My colleague I was traveling with used oil as usual and his chain looked terrible very quickly. Mud, earth, dust, sticks and pebbles quickly stuck. When the limbs were hardly recognizable after a week, he looked for a steam jet.
Summary
It will be when you travel chain wax definitely become my companion. I'm thrilled that my chain lasted two weeks without being cleaned. So the wax keeps what the manufacturer promises, completely ignoring the environmental aspect.
Chain wax is my absolute tip, at least for bikepacking tours and cycle tours!