In this part of my travelogue it goes on France, until we finally in the Switzerland are. We cross the beautiful Valais and of course there is a lot altitude and beautiful landscapes.
The first part of my travelogue is here: Bikepacking 2022 Part 1
You can find the collection for the entire tour at Komoot: Bikepacking 2022
Stage 4 - From Saint Maurice sur Moselle to Saint Hippolyte
In Saint Maurice sur Moselle we got an excellent breakfast from our hostess in our hotel. The strengthening was also really necessary, because it should be directly in the ascent to the Col du Ballon d'Alsace walk. Over 9 km, it went up a little over 600 meters in altitude, to 1165 m.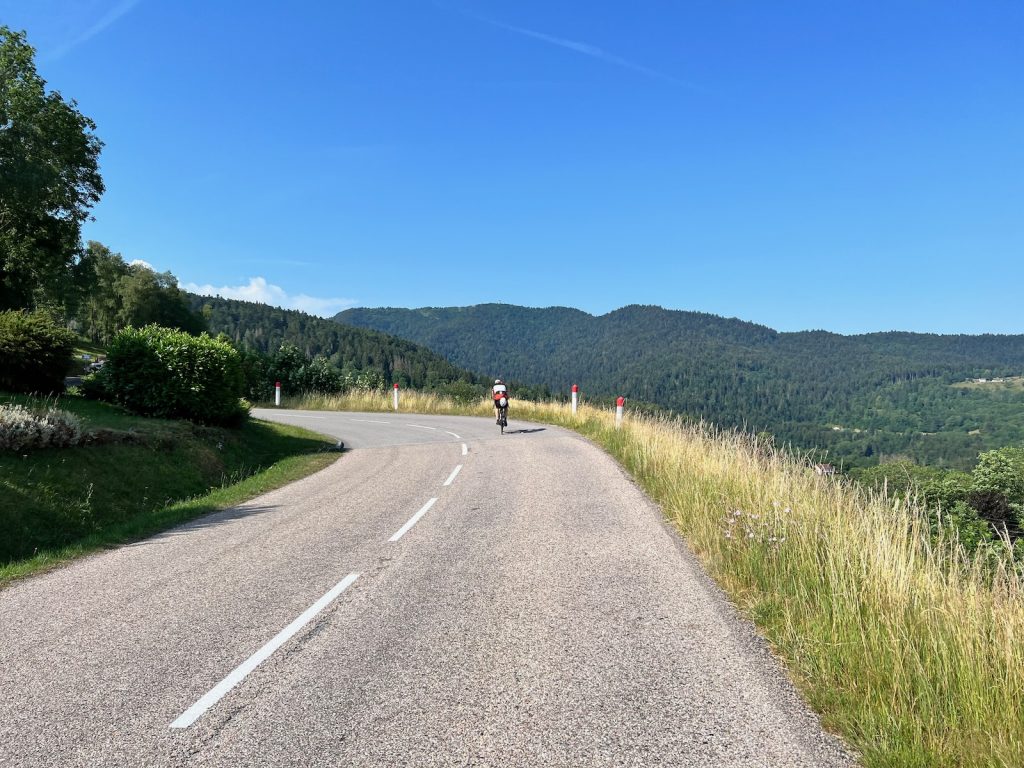 The road had good surface and we were able to drive up the track relaxed and at our own pace. In between, road signs always showed us how far it was to the summit. I'm still not sure if that was helpful or not 🙂
Now it went downhill
Now it's very nice downhill and we were rewarded with a great panorama.
After more than 10 km long descent we came to a small village, in the middle of which was a small grocery store. Now we wanted to strengthen ourselves a bit and risked a look at what was going on. Two cheese sandwiches smiled at us and these should pack a punch. The sandwiches went into the oven and we thought we identified four layers of delicious cheese!
From now on it was quite flat through beautiful forests and equally beautiful towns.
Hotel search
Today it should be up for us Saint-Hippolyte walk. Actually, we had considered taking the next mountain and driving another 30 km, but the last few kilometers on the country road had really annoyed us. Far too much traffic and many trucks. According to Booking, Saint Hippolyte didn't have a hotel for us, so we decided to look locally. The first hotel actually didn't have room for us, but we were lucky with the second one.
We first wanted to go to the town center for something to eat, but rain was forecast and clouds were already gathering, so we decided to eat at the hotel. The food was really delicious.
We've been thinking about alternative routes for the next day, I wasn't in the mood for the country road at all, I'm very sensitive to that. We found a great alternative along the river that should surprise us positively.
Stage 5 - over the mountains to Switzerland
From Saint Hippolyte to Neuchatel
On today's stage we want them Swiss border cross. The evening before we had already looked for an alternative route to avoid the busy country road. We would have changed our plans to do that too, because nothing is more important than having fun on the tour. We spotted a smaller street across the river in Saint Hippolyte, this street looked like that old country road in the region. Komoot agreed with the road and it was actually just a small detour.
It was raining and we still had to make a stop at the supermarket and the pharmacy, both of which were available in Saint Hippolyte. When we had done everything, it was already on the old country road. We actually had the right instincts, maybe four cars pass us for the first 20 km and the incline follows Maiche successes on a very small tarred mountain road without traffic.
It was still raining in Maiche, but it wasn't cold and we took a break on a promising one Pastry. In this patisserie we ate our only piece of cake of the holiday, we were brave 😀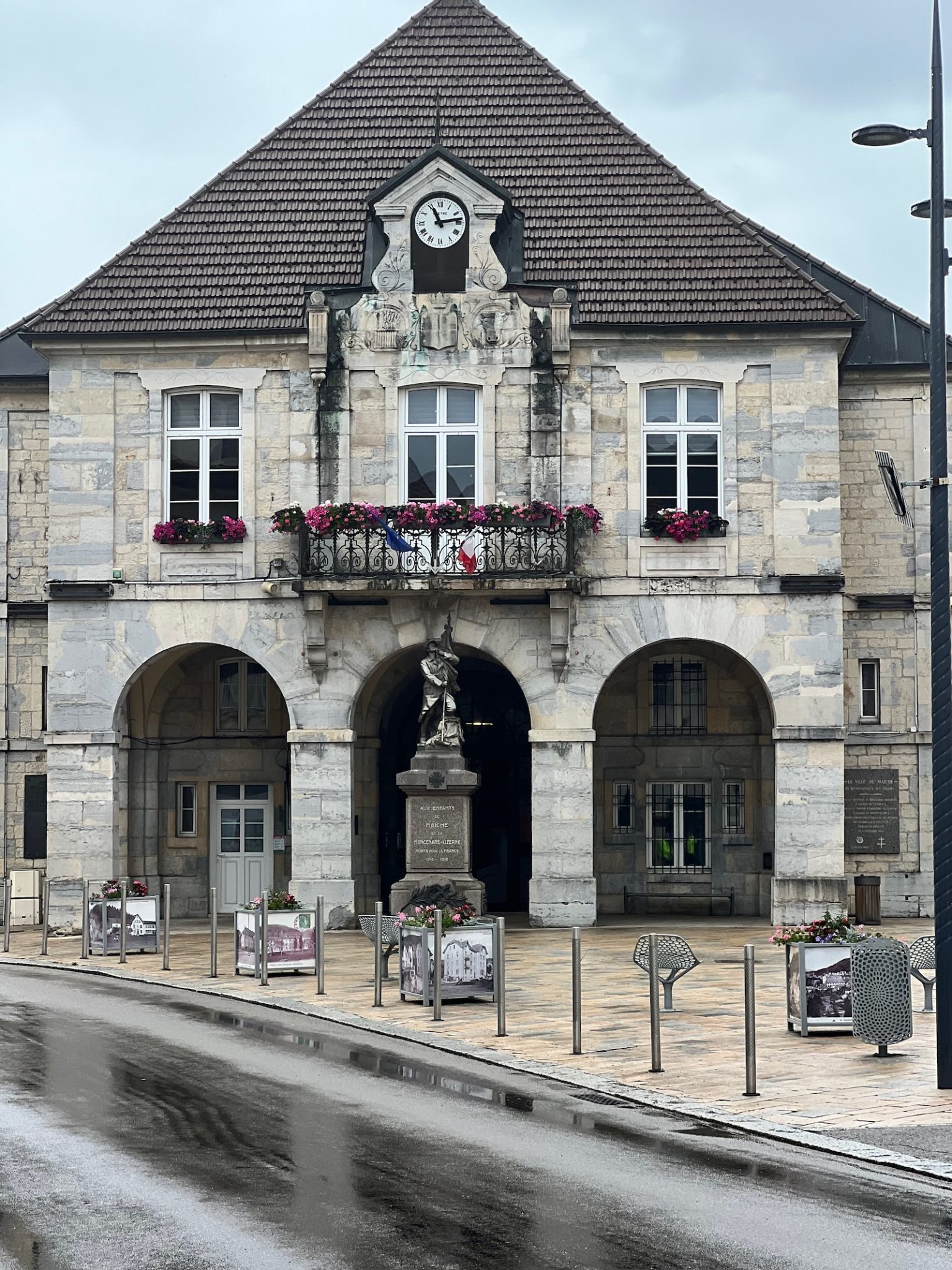 Maiche was a very nice place, which we once again did not do justice to during our trip. At least we stopped for a coffee and cake break.
Swiss border in nowhere
It was about 12 km uphill from Maiche before we could enjoy a wonderful descent.
All in all, we had already climbed from 30 m above sea level to 300 m above sea level for the first 1000 km that morning, and now it was downhill to the border.
We drove down a mega beautiful and lonely valley. Above all, there were many cows with bells around their necks. There were maybe a handful of houses in the valley and it was incredibly quiet, so quiet that we could hear the cowbells from the peak in the valley. The border was right behind a bridge, so the river marked the classic border between France and Switzerland.
The next mountain is already waiting
Now it was behind the border directly back into the ascent. The border was at about 620 m above sea level and the next pass at 1300 m above sea level, there was some work ahead of us. The climb dragged on for about 19 km until we reached the Co de la Vue des Alpes.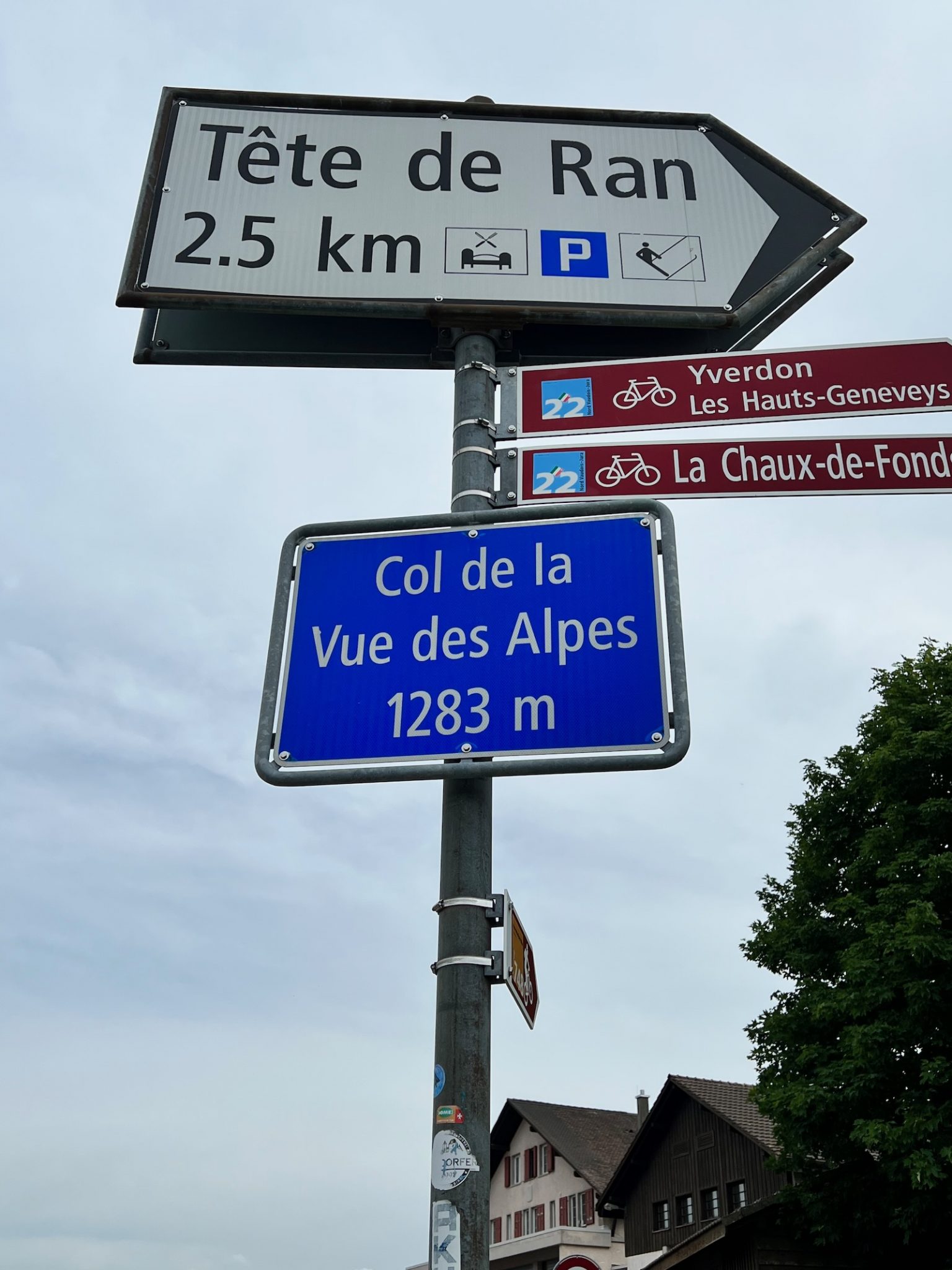 The Alps can actually be seen from here, as the name suggests. Unfortunately the weather was too bad that day, although it had become dry in the meantime and one could only guess at the Alps. Now we enjoyed the descent and there you could reach a speed of over 70 km/h, with luggage you have to hold on tight, it's really great fun.
It was almost all downhill until we Neuchatel reached. After a shower we enjoyed the view of the lake.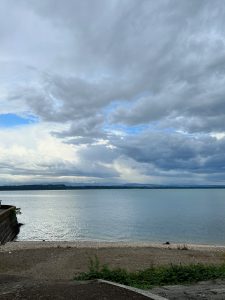 Stage 6 - short piece and break
From Neuchatel to Saint Aubin Sauges
Today - on the fifth day we wanted to take a day off. Since Neuchatel is a city, we decided to look for a quieter place and drive a full 20 km to it Saint Aubin Sauges, which also am Lake Nachatel lies. Even this short stage of only 20 km was really fun. Very beautiful landscapes and we even drove past a beautiful castle.
When we arrived in Saint Aubin Sauges we were of course still too early to check in at the hotel. But we were able to leave our bikes and luggage in the hotel and change clothes. We immediately put on our bathing suits, because today was Bathing day! We first went to the village and bought food in the supermarket and then lay down by the lake.
Bathing day
That was really good! We lay by the lake for several hours, it was wonderfully calm and the water was a blessing.
The day break was a really good idea, we went swimming in the lake for a long time and relaxed in the evening. That night it started raining again. A storm was coming and there was heavy rain, but we were sitting comfortably in the hotel and the weather was a good reason to sleep early.
That's how it goes in the next article
We visit Freddie Mercury in Montreux and then it goes to Valais, where it's beautiful!