In this part of my travel report I will take you with me on the last four stages of our journey Bikepacking tour in the summer of 2022. Our last stage was incredibly impressive. Of the Furka Pass, Andermatt and Lake Lucerne were on our route and can hardly be topped in terms of landscape.
Click here for Part 1 of this journey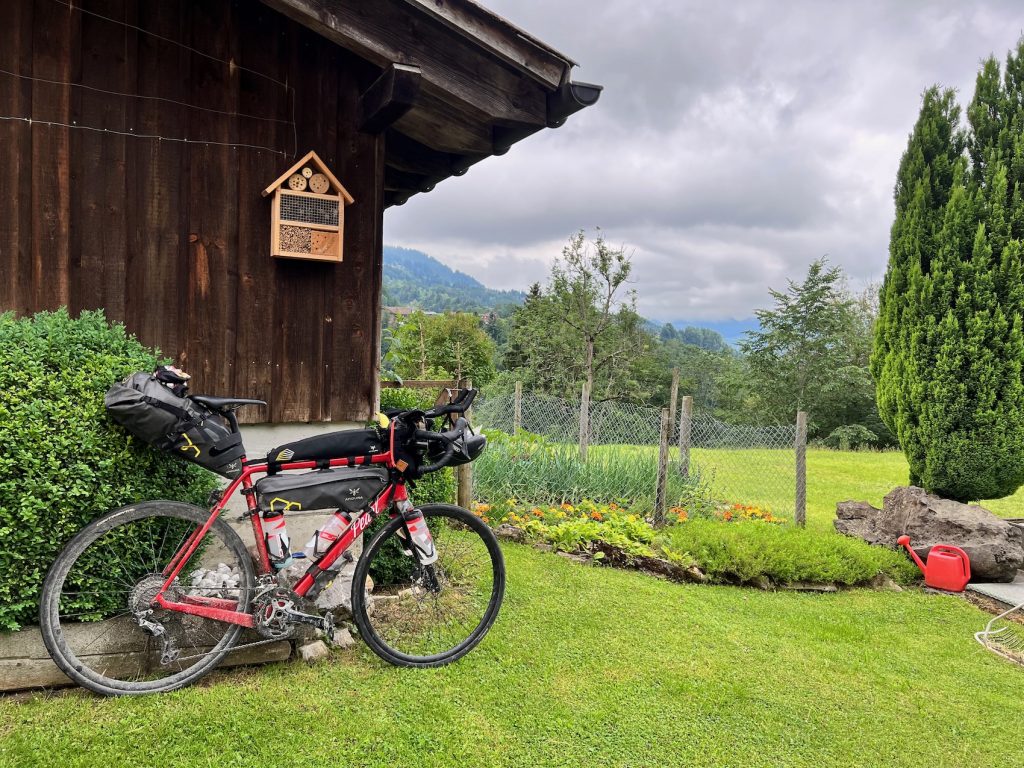 You can find the collection for the entire tour at Komoot: Bikepacking 2022
Stage 10 - From Lake Lucerne to Rüti
The rolling out is slowly beginning here! We drive in the morning Lake Lucerne in Fluelen first of all to the next bakery, in the strange one Hotel we didn't want to eat anything. The bakery in town offered a nice breakfast. After we were strengthened a little, we made our way along the beautiful lake. Here we were offered very nice views and bicycle tunnels. Unfortunately, there are also a few very tight bike paths on the country road.
Lake Lucerne is one of the most beautiful lakes in Switzerland. It is surrounded by breathtaking mountains and the water is so clear you can see the bottom. It's a great place for a bikepacking trip, and there are also some lovely villages nearby to eat out or stay overnight!
At the end of the lake in Brunnen we took a short break at the supermarket and then we started the only real climb of the day. It first went up the mountain again on an unpleasant country road, before we turned off and drove down a damn steep road to a small town. Behind the village we came to one of these small streets, which is why you have such a street Bikepacking tour does at all. We could only see the country road very small from above and enjoyed the beautiful route.
Rothenthurm high moor
We were now back at an altitude of almost 1000m and soon came to a high moor. I didn't even know there was such a thing. That Rothenthurm high moor is a raised bog located in the municipality of Rothenthurm in the canton of Schwyz, Switzerland. It is the largest and best-preserved raised bog in Switzerland. The high moor was declared a natural monument in 1923. We used the high moor to take a little break and eat something.
Lake Zurich
We had planned to at least get behind Lake Zurich that day. Our route took us over the Seedamm to Rapperswil, where we sat down for a coffee to look for a place to stay.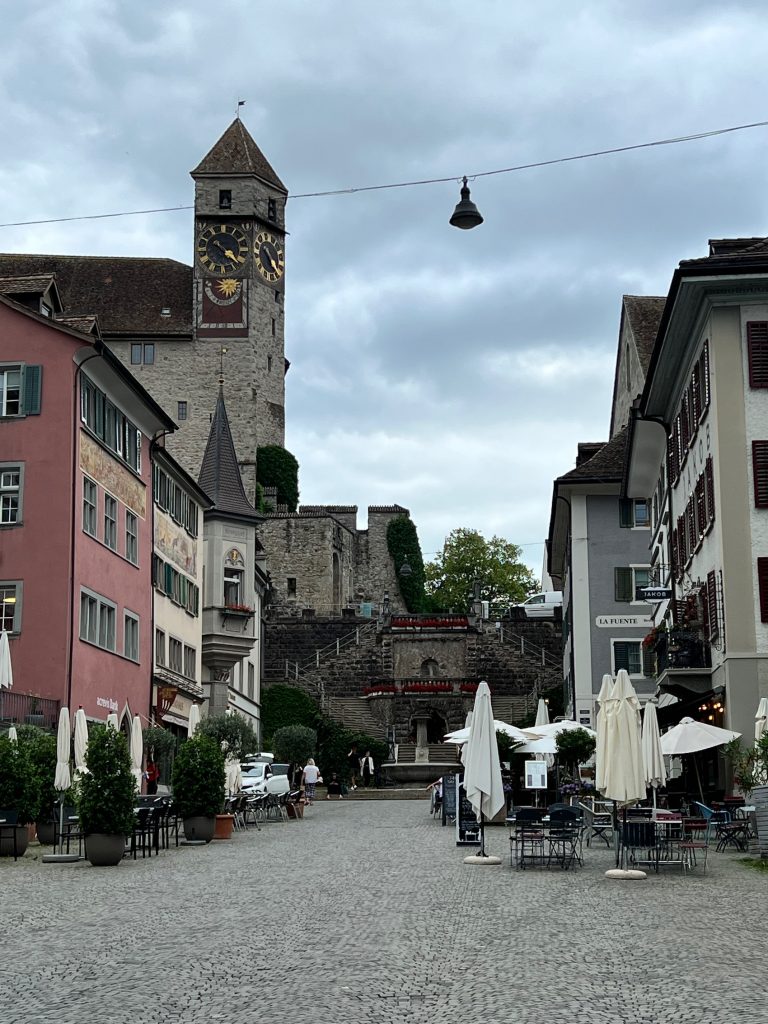 In Rapperswil the accommodations were so expensive again and the descriptions didn't promise much. So we looked a little further out. We actually spotted what looked like a real hotel 10km away. So we had to see until after Ruti Lo and behold: from the outside it looked like a hotel!
We went to a supermarket for a moment and got lots of goodies to eat. We were really lucky that day. We got a room on the ground floor, with a terrace, so we could put our bikes in front of the door. We were also able to eat comfortably on the terrace in the evening and drink a beer.
Stage 11 - From Rüti to Lindau
Now we were already over that Lake Zurich and today we wanted to go to Lindau, on the other side of the Lake Constance come. After a great breakfast in the hotel in Rüti, we went back on the road. The weather didn't look too good today and there was supposed to be some rain, but it wasn't too much.. We still had to cross a small mountain range and it got really nice again.
We've been here before
Eventually, the big surge of the day came Half egg and already in the first piece the street seemed somehow familiar to me. Marcus and I drove these roads a few years ago, but without luggage. We've already spent a week on Lake Constance and have always taken day trips from there, including to the Hulftegg.
Once at the top, we first treated ourselves to a coffee in the inn. From now on there weren't too many meters of altitude ahead of us, there were still a few waves and then it was supposed to go downhill, always towards Lake Constance.
Arriving at the bottom, it went along a river, nice and flat and only now and then on a road. Here in this section, Switzerland again had a few beautiful cycle paths to offer. We took a break at a bank by the river and ate the food we still had with us, we saved ourselves a lunch break today.
In Rorschach on Lake Constance we wanted to take the ferry to Lindau, or get off one stop earlier in a suburb of Lindau. We booked our hotel here. We still had to wait a bit for the ferry, which is why we made a small kebab stop. But then we finally took the ferry back to Germany. The last Swiss francs were invested in two beers on the ferry. good investment
We quickly drove to our hotel which was very nice and checked in, showered and then went back Lindau to eat something delicious. It sounds totally stupid, but we were happy to be back in Germany. Switzerland won't see me again anytime soon.
Stage 12 - roller coaster in the Allgäu
Today, after a wonderful breakfast, we got back on our bikes and into the Allgäu. The day showed once again what beautiful landscapes and regions we have in Germany. Anyone who hasn't been to the Allgäu should definitely take their bike there, I'm always amazed. In the Allgäu, beautiful landscapes always go up and down, like a roller coaster!
The Allgäu is a scenic region in southern Germany. It is known for its rolling hills, lush forests and tranquil lakes. The Allgäu is a popular travel destination and offers a variety of activities and attractions such as hiking, cycling, skiing and swimming. Visitors can also enjoy traditional German cuisine and culture, as well as the region's beautiful landscapes.
In the second half of the stage, the rollercoaster wasn't that intense anymore. It was still up and down, but you could see far. It had gotten very hot again - over 30°C - and I was once again very grateful for my four drinking bottles. After 76km, we are just leading a small descent, suddenly emerged from the green meadows Ottobeuren Basilica before and on. A very beautiful sight.
The Basilica Ottobeuren is a beautiful baroque church in Ottobeuren. Built in the 18th century, the basilica is known for its stunning architecture and stunning interior. The church also houses several works of art, including a painting by Michelangelo.
In Ottobeuren we take a short ice cream break and fill up our bottles one last time. It was now up to the last 30km of the day Bad Woerishofen where we moved into a comfortable room in a spa hotel.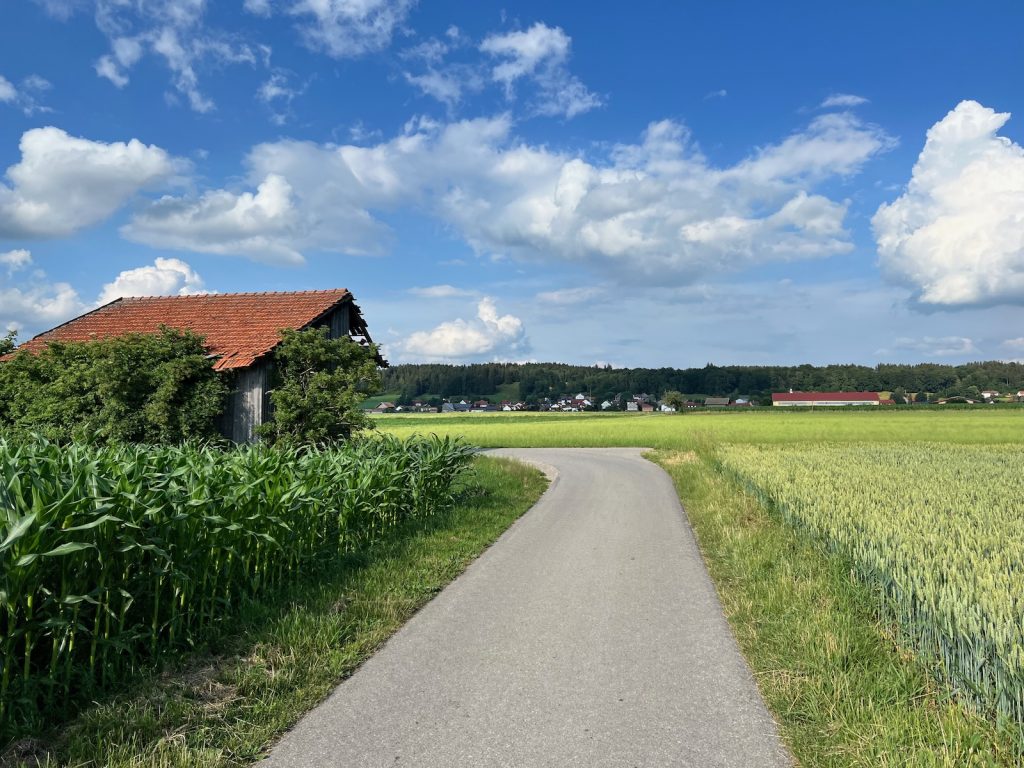 Stage 13 - end in Starnberg
Hot, hotter, thunderstorm... What a heat today! The day before was already hot, but today we were roasted. Our first stop should be today in Landsberg am Lech be. It was about 26km to the coffee. Landsberg was really nice! A well-preserved old promenade along the Lech and if it hadn't been so early, we would have taken a longer break here.
Now it was relaxed over the last hills past the Ammersee, where we took a lunch break and looked for some shade.
Strengthened, we went into the final sprint to Starnberg.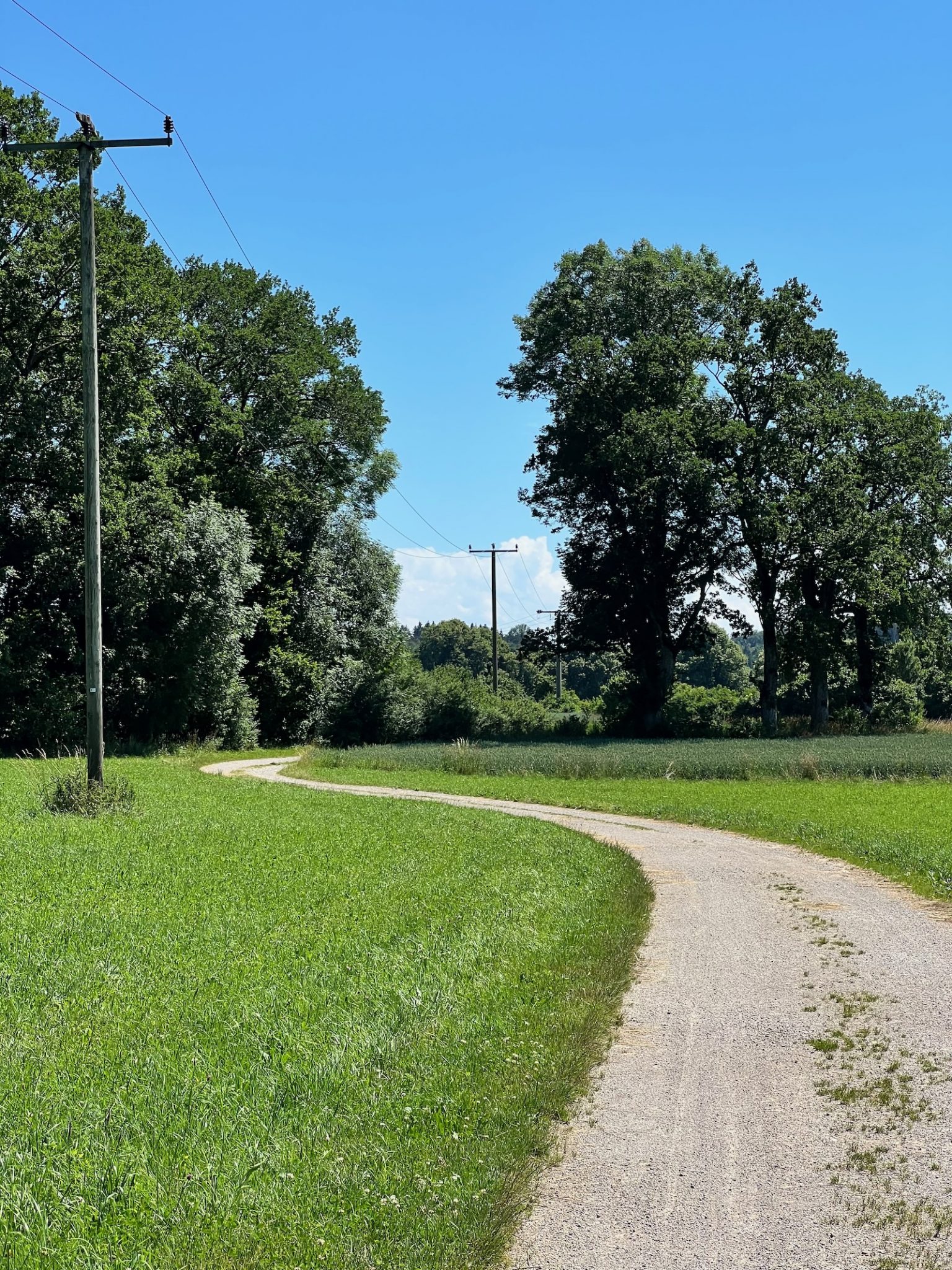 After we had checked into the hotel in Starnberg we wanted to go back to the starnberger Lake jump. We had to walk a bit to the swimming area, but the lake felt really good. This was our last stage and somehow you quickly switch back to the Normal mode. It slowly got tighter and we went back to the hotel. When we were eating, the big thunderstorm started.
Starnberger See is a beautiful lake in southern Germany surrounded by scenic mountains. The lake is a popular tourist destination and offers many activities such as swimming, boating, and fishing. There are also many interesting historical sites at Lake Starnberg, including the ruins of a castle that once belonged to the Bavarian royal family.
Departure
The next morning we took the S Bahn from Starnberg to Munich and had to spend the whole day in Munich in the pouring rain. Our Flix bus didn't leave until the evening, so we tinkered a bit through the city.
Summary
Once again it was a great trip. on my next Bikepacking tour but the off-road tires are guaranteed to come on again, because I'm fed up with roads. Roads are ok at home, but on holiday I like forests and mountains on Gravel. I will avoid Switzerland in the future, France made a very positive impression on me. I fell in love with the Allgäu again, just perfect for cycling. I hope you liked it.