My gravel bike, my Pearl Gravel SL, is a top gravel bike. Nevertheless, you develop after a certain riding time special wishes. Riders and bikes develop individually, and so do I. In this article I would like to introduce you to the basis of my gravel bike, my experiences and the resulting modifications.
At the moment I'm noticing how difficult it is to get detailed information for your personal setup and I wonder why some specialist dealers don't focus on gravel and bikepacking. Most of the time you look into faces that offer at most half-knowledge. Whether it's tire choice or gear ratios, you have to know everything he-google. So if you have any questions (I've also thought about an information/lecture evening), then please leave me feedback here.
Pearl Gravel SL
At the beginning of 2021 I ordered my gravel bike. Of course, I was already addicted to bikepacking and off-road riding, but only on 25mm and later 28mm tires. It works, but there is a better way. Since I had already bought a new road bike from Pearl the year before, the Pearl Legacy, it was obvious that I would go back to Pearl. If you are satisfied, you usually do it like this 😉
I made my decision quite quickly and chose the Pearl Gravel SL, with the following specifications:
carbon frame
Shimano GRX 600 equipment
2-way circuit
Impellers: Pearl own brand
I went to 100% on the bike very quickly and my third ride ever was a Orbit360. I immediately noticed: I feel very comfortable on this bike! my Luxury racing bike was now more or less in the garage. Seriously, I only rode my racing bike now and then along the dyke.
I feel great on this bike!
Further equipment
I quickly got myself a tri-trailer to use the seating position to be able to change. I can really only recommend a trailer, even if you realistically only use it for 10% to 20% of the driving time.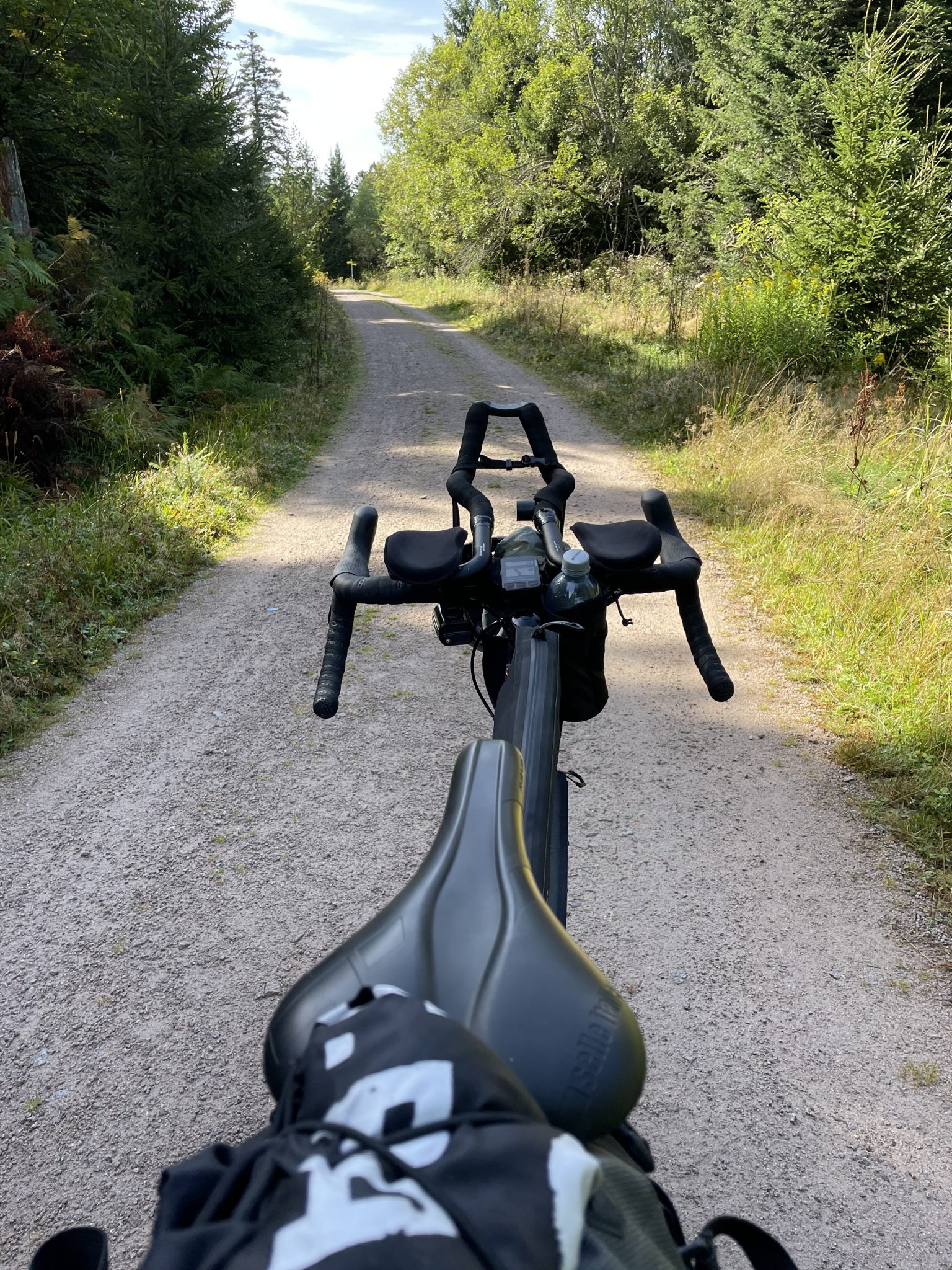 As you can see in the pictures, the food pouches also fit perfectly on the handlebars.
tires
My gravel bike was delivered with it Schwalbe G-One Allround in 35mm width. As the name suggests, good all-round tyres. as i would say neither fish nor meat. With these tires I was up in the summer Alps tour. They don't bring that much safety with them off-road and the Schwalbe wear off very quickly on asphalt. It was already clear to me during the trip that I would look for new gummies.
After my vacation I spoke to my bike builder about it and he recommended it to me Teravail Cannonball in 47mm width, which I then in September in Schwarzwald put through its paces. My conclusion is consistently positive! Of course, that doesn't mean I won't try something else, but for now I'm satisfied 😉
Gravel wheelset
As already mentioned, when I bought my Gravel bike, I had house brand wheels on it. The wheels are absolutely ok and I have nothing to complain about. But now I had the idea, because I feel so comfortable on the gravel, to get a second one wheelset to buy also a set with road tires being able to ride my gravel. So I have that old Wheelset taken for the street tires (Continental GP 500, 32mm) and the new one for the Teravail Cannonball. My new wheelset has a bigger one jaw width and offers me the opportunity to drive even wider tires and offers a little more security.
Cassette with large translation
My new wheelset is a DT Swiss R 500db. When changing tires, I immediately noticed that the DT Swiss wheels are significantly lighter than my old wheels. Now I want a new cassette on my off-road set. I have one now XT Cassette 11-42 Ordered, because that should be the biggest thing with the GRX600 without Shift cage conversion can drive. I have ordered the following:
Just everything to change the cassette and the chain yourself, I'm curious if I can do it that way.
Why an XT cassette
I'm going on tour again next week (end of March 2022) for a week. It should be in the Spessart go and there should be as much MTB track as possible again. Regardless of the terrain, I would like to have such a translation that I can climb a steep climb with luggage and food on my bike while sitting. I hope I can do it with this cassette.
Current conclusion
I'm definitely not done with my set-up, or better yet, with having all the options ready for me and my bike. But I hope that I'm now well taken care of for my off-road tours. In any case, I will try to keep you up to date on what my experiences with mine are Gravel setup in the center of town.