What could be nicer than a microadventure at the start of the season? Nothing! the Bikepacking equipment wants to be tested and despite the still very low temperatures, for mid-May, you can sleep in a tent. Since in times of Corona you have to be inventive about where to put the tent, I was even able to discover something new for myself.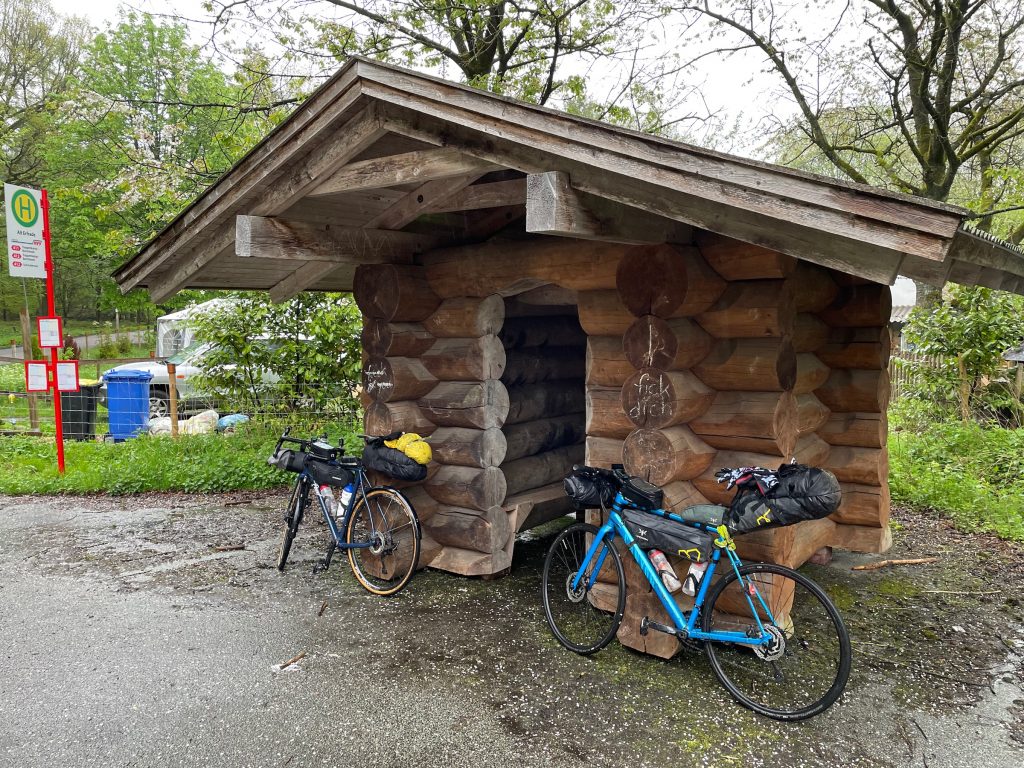 The summer takes its time this year and the Corona travel restrictions prevent travel to warmer climes. Nevertheless, you have to test your material again and by that I don't just mean the bike, panniers and tent also have to be warmed up from time to time. I also have to get in shape a bit, I have to admit that I still lack continuity in the changeable weather. Since Schleswig-Holstein is the only federal state in Germany in mid-May that doesn't ban travel completely, it was clear to a colleague and me: We're going to Schleswig-Holstein.
Holstein Switzerland
For me, the absolutely most beautiful area in Schleswig-Holstein is this Holstein Switzerland. I also like to ride here without a racing bike and instead with my wife. Holstein Switzerland has a lot to offer. Atypical for northern Germany, it is very hilly here and you also drive past one lake after the other until you come to the Baltic Sea comes.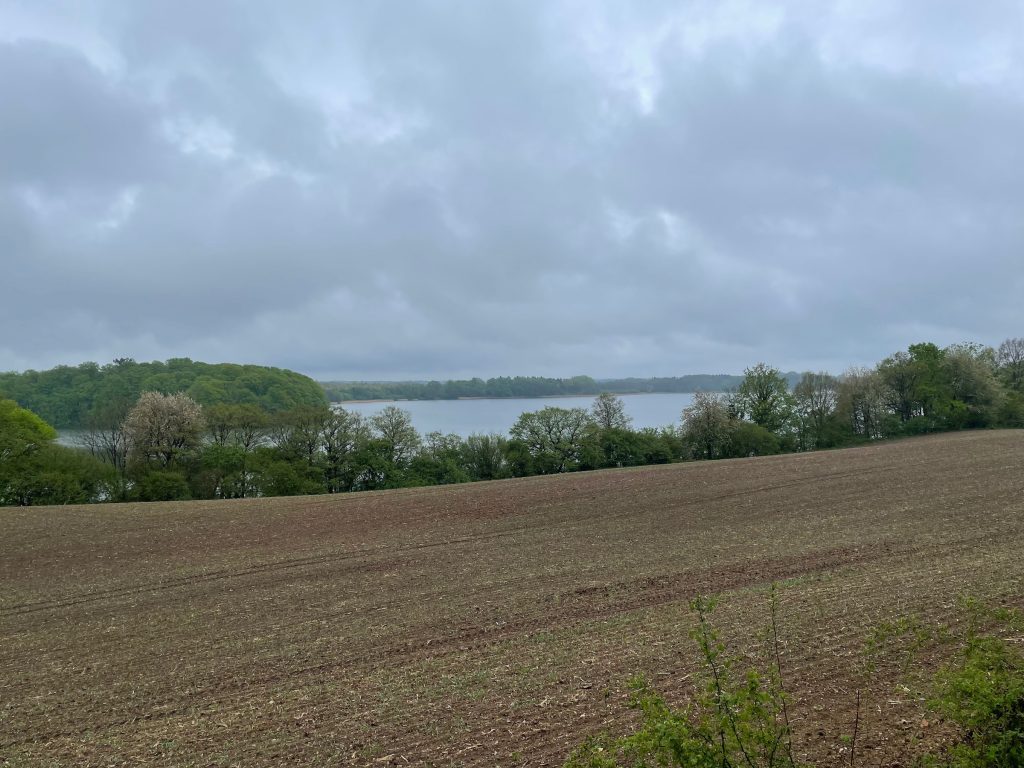 Wild camping
So we already knew where to go and we had planned a distance of 100 km, but now we needed a place to camp. I recently had this in a YouTube video 1nitent discovered. A page on which private people can offer their meadow for camping. There may even be a toilet available here. But it is also possible that nothing is there. The places are free and you can then donate something to the nice providers. Really a great site and there are places all over Germany. Another alternative exclusively in Schleswig-Holstein, is Wildes-SH. Wildes-SH offers places where you Wild camping may.
Only a few tents are allowed on the advertised areas of Wildes-SH and of course the rule here always applies: leave no trace behind! So nothing, no rubbish and no damage may be left behind on and on the pitch. This is how it works Wild camping in Germany and I wish there were places like this in other federal states.
The bikepacking tour starts
My colleague has his Gravel bike just new and it's also the first bikepacking Tour with tent for him. Unfortunately, my new gravel is still a long way off, so I just took my Canyon RoadLite.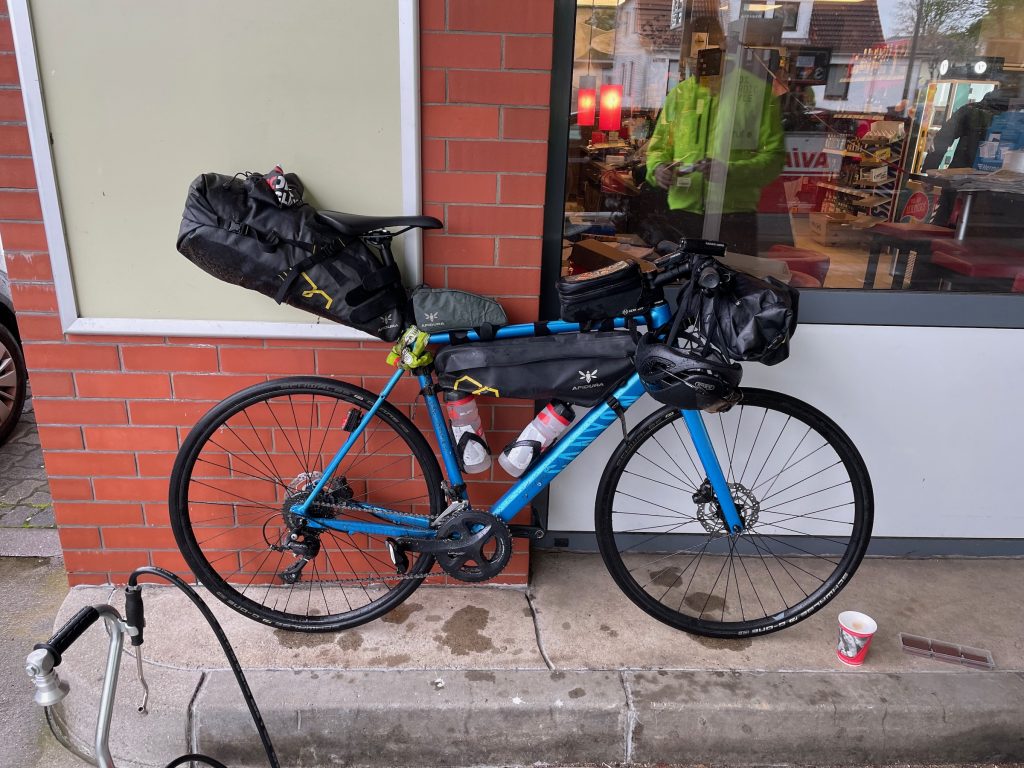 We only met at 12:30 and set off north on our bikes. Our goal was that Wildes-SH place on Hessenstein in Holstein Switzerland. It was dry when we started and we were very optimistic. However, today it should just rain and pour 90% of the time 😩. But we had all the necessary clothes with us and got through the rain quite well. Shortly before our first stop, the journey was interrupted by a flat tire on my part (I urgently need to put Conti 4Seasons on my canyon). But after a few minutes it went on and it was the only breakdown we should have.
No place to warm up
We actually wanted to warm up a bit during the lunch break, unfortunately you couldn't even buy something inside at McD and enjoy a few minutes of warmth. Instead, only the gas station remained and a coffee had to warm me up from the inside. It continued through the rain in the direction of Plön and then quickly on to the finish. In Lütjenburg, from here it was only 5 km, we first ate a lot of calories at a Greek restaurant. Here too we had to sit outside, but were given a few blankets to warm ourselves under. Since we were now close to our goal, we put on dry clothes on the toilet.
A very important utensil on a bikepacking tour is one Down jacket, which can be squeezed together to 10 cm x 10 cm. I always have it with me and have never regretted it.
arrived at destination
Fully fed and finally a bit drier, we walked the last few meters to the campsite. Another tent was already in place and the mother and her son had already made a fire in the fireplace. So for us it was luxury. It didn't rain anymore and so we were able to set up our tents in the dry.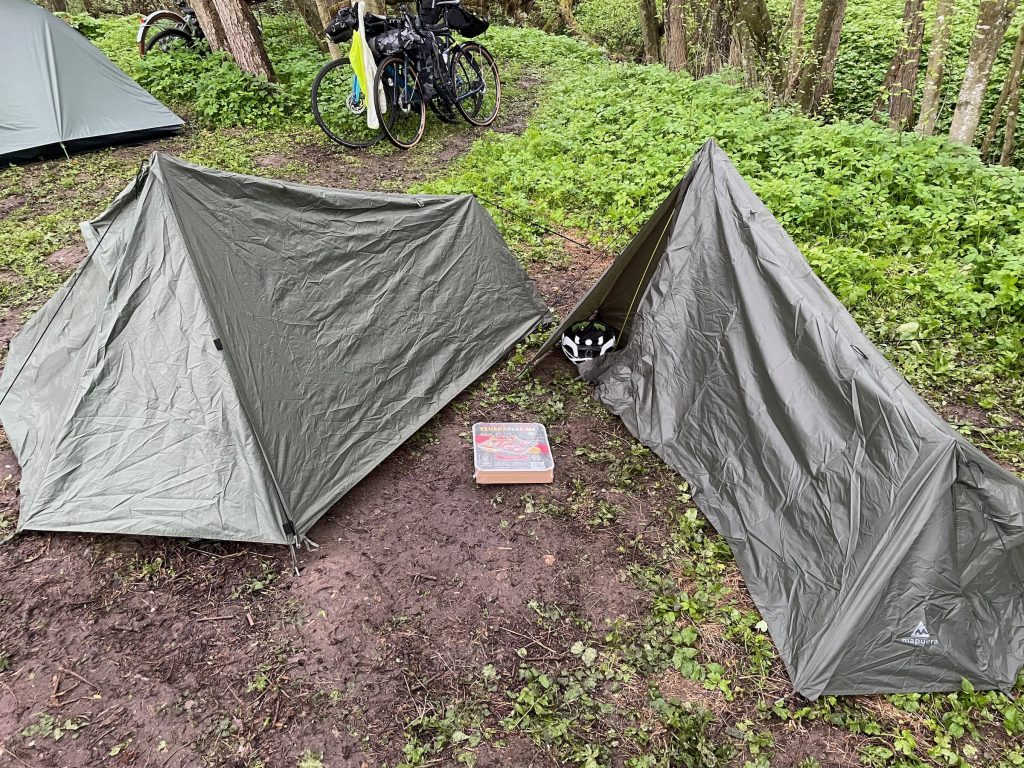 On the way to the square we had bought a few beers and something to snack on at the gas station and were now enjoying the place by the fire.
The next morning
As always when camping, we woke up early. The night was pretty cold, but at least dry. After brushing our teeth, we packed up our things and loaded the bikes again. Of course, when we left it started to rain again and this time even harder than the day before, so that after 70 km we changed to the train in Bad Segeberg.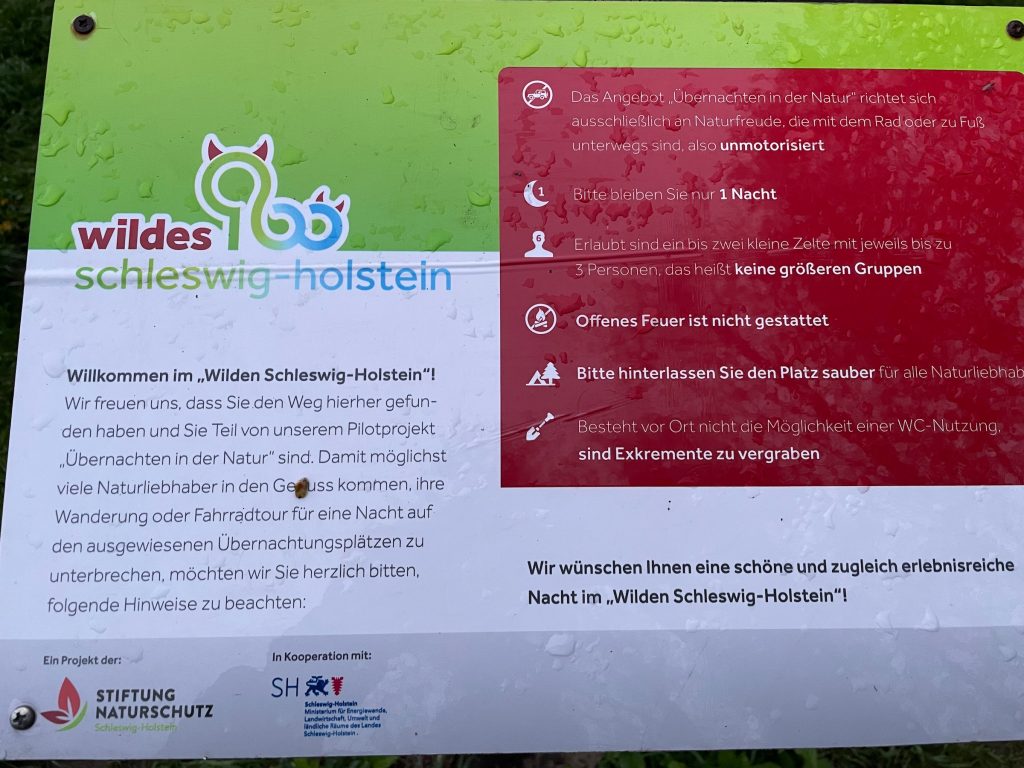 Summary
If only it hadn't rained so much, it would have been a really nice trip. It was still very nice, of course, but I didn't have to freeze that much. I hope I'll get my new gravel/travel bike soon, because the RoadLite is of course not a touring bike. Then the weather will hopefully get a little better and travel will be possible again. Let's all hope for a summer in which we can travel 👍🏻🚴 ♂️