In November 2020 I picked up my new road bike: a Pearl Legacy in matte white. Why a new road bike, why a Pearl Legacy and what equipment? I'll tell you in my article.
Update: The 1.000 km conclusion is now also available!
Why a new road bike
I think an ambitious racing cyclist needs at least two racing bikes 😂 A pure racing bike and one for touring. Of course that's nonsense, there are enough racing bikes on the market that are suitable for both. But I love the look of aero-optimized racing bikes and you can't usually go on long distances with luggage on them. Besides, I don't want to subject my sexy racer to any forest paths. But I deviate.
Bike leasing is financing my new racer
It was already clear to me at the beginning of 2020: Bike leasing through my employer will finance my new racer. But before I was allowed to tackle the new racing bike project, I first had to sell my old racer (issued by my wife). So I had to get out of my SpeedX Leopard Pro separate. Sell ​​first, then order a new bike.
The sale of my SpeedX went very quickly and yet I was too late. The day before I had my consultation appointment at Cyclefix, my employer accepted the bike leasing program 😩 So my SpeedX was gone and a replacement wasn't possible at the moment. In the summer, however, the program started up again in our company and I started my new racing bike project again.
Why Pearl Legacy
I admit I've had those before too Pearl bikes and always thought they were beautiful. Nevertheless, I wanted to start from scratch, with the selection. I just wanted to make the best decision for me personally. Even though it was clear to me from the start that I would finance the bike with bike leasing, the money has to come from somewhere. So price was a factor. I also really wanted a mechanical one Shimano ultegra circuit and Disc brakes. Just a contemporary racer.
What have I looked at?
Stevens
Stevens road bikes don't always have the prettiest design, in my opinion, but Stevens have evolved a bit over the last few years and so I wanted to give Stevens a chance too. I had already clicked together a few variants online and am satisfied with two printed configurations by Hacht went to Hamburg. I have used von Hacht's workshop regularly and have always been satisfied, but I was very disappointed with the sale.
I walked into the store: four salespeople and two customers including me. I approached a seller and wanted to be shown a model, mind you, I had printouts with 5.000 EUR configurations with me. He put me in a corner and said that's the frame. Before I could even ask a question, he was gone again. I walked around the store aimlessly for another five minutes, noticed how angry I was getting because no one spoke to me and left again. The sellers preferred to talk to each other than to take care of me, really pathetic!
Canyon
Canyon belongs on every list for me. A lot of experience, great bikes and great prices. Of course I also looked online here and didn't find a configuration that I liked. There would have been an Ultimate with the components I wanted, but the wheels weren't right. I'm back to Canyon store in Hamburg, The Radrace Shop gone, in the hope that I still have configuration options there. Unfortunately, they can only order the standard configurations and then sell additional wheels, but that was out of the question for me, I would pay extra for that.
Pearl Cycles
So go to the local bike builder in Hamburg. The store where you buy Pearl bikes is called cycle fix. The store belongs Roger Tanner. Former cyclist and the inventor of Pearl Cycles.
Roger is an active member of the scene and a passionate bike builder. his fire Pearl is growing and so is his company, especially in the Corona year 2020 there was a lot for him to do. Despite this, he takes his time with his customers. In peace and quiet is chatted and talked shop, this is the only way he can understand his customers and choose the right product for them. I said what was important to me and he assembled the right racing bike on the computer. My beloved White Pearl came out.
Pearl Legacy
I'm with my Pearl Legacy Only driven 350 km, I'm a winter wimp and I still have mine aluminum tourer for bad weather. But I've at least ridden a 100 with the Legacy and it drives like a dream. The Legacy is nicely aero so it just runs and runs and runs straight on the flat straights. It's just fun.
The carbon cockpit offers enough Flexthat bumps are well compensated and not directly passed on to the back. I love the profile wheels 😍. Not only are they beautiful, they offer a nice sailing effect when you're dullly ripping off kilometers.
The Ultegra disc brakes really bite when I want them to. They can be dosed well and round off the setup perfectly. In the future I will pass on my experiences and adventures with my Pearl Legacy to you here and there will be another Pearl in my fleet 😉
1.000 km stand
How quickly time flies when you're having fun 😂 Jokes aside! My Pearl Legacy is now 1.150 km young and I love it like the first day. I got used to the sporty sitting position lengthways and it purrs through the wind without any problems. I had no failures, defects, damage or falls and am happy every time I look at it 😍
Of course, I've done longer tours with it in the meantime and even after more than 140 km it rolls along lovingly. On my longer tours I sometimes had panniers on, which actually doesn't belong on an aerodynamically optimized racer. But even with panniers, the driving behavior is 1a. I've had two punctures so far, which is why I now have one on the back Continental GP5000 got it. It may be dangerous half-knowledge, but they seem much more robust to me than the swallow with the light ones Flanksthat were on it before.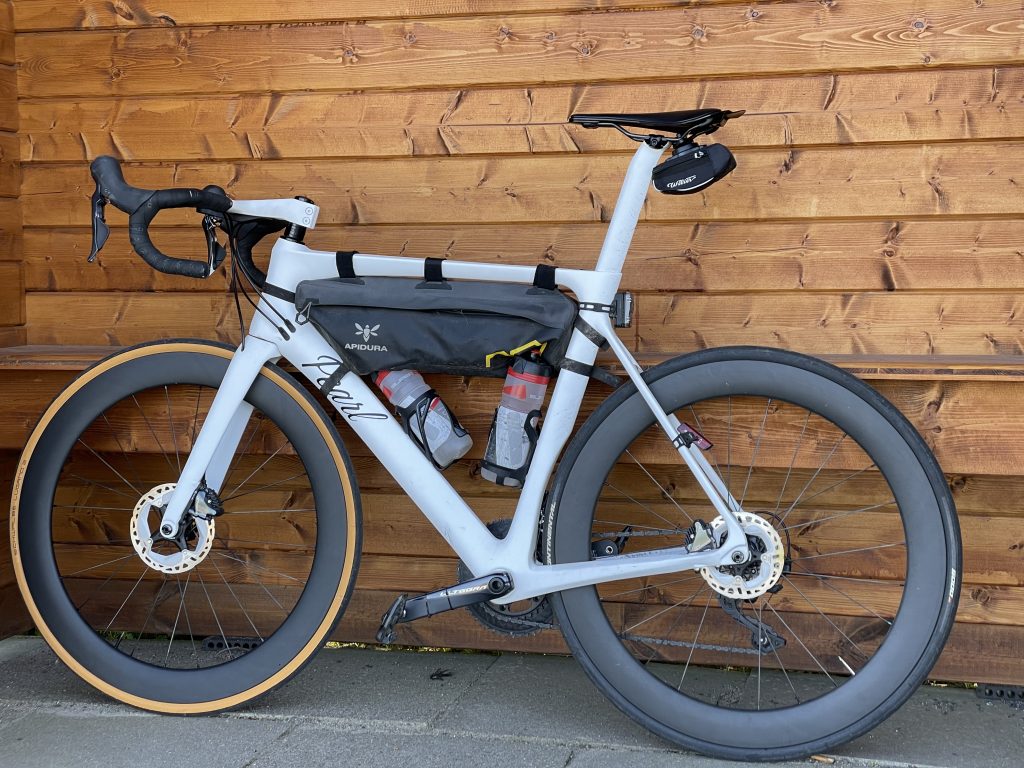 Of course, a new Conti GP 5000 in 25 mm will soon be attached to the front wheel so that it looks uniform again. Top bike and still recommended. We'll see each other again at 2.000 km!
Summary
In terms of advice, quality and the opportunity to choose what you really want, Pearl was the right decision for me. A friendly and good trader must have a sparring partner be with whom you share your dreams and desires as well as your concerns and fears. Roger Tanner I can only recommend here!