Something challenging, something extreme is needed. A task that pushes me to my limits and advances me physically and mentally. A borderline experience that makes me feel special. Yes, I'm looking for a job that will possess me, instill a little fear in me, and put a smile on my face.
ultracycling
that's what this kind of cycling is called, at least I think so.
everyone race
Already in a previous post
Mid-season motivation
I wrote about the fact that I need a new challenge to really whip myself up. Of course there are plenty of events in Germany and the neighboring countries that are absolutely challenging, whether medium-distance and fast or long-distance races where stamina and willpower are required. The second appeals to me a little more. I had already pointed out that on September 2nd in Rinteln the
Great tour of the Weser
starts. On the big Weser circuit you can, like on the
Vätternrundan
drive a distance of 300km with 2.624hm. Absolutely a challenge! Start is in Rinteln and it always goes along the Weser to the turning point in
Hannoversch Munden. A really beautiful route that I only know from the water so far.
300km are not a piece of cake and the Great Weser Tour would actually be something suitable for me. Would my ambition not always drive me to want to do something special.
Something individual
Since I've been riding a racing bike for 2,5 years, I'm totally excited about it like crazy people 24 hours at the Nürburgring driving, I had the idea to check how far I could get in 24 hours. Since I don't particularly like driving in circles, I had toyed with the idea of ​​driving a long distance and then being picked up when the 24 hours were up. But how do I do that with the approximate kilometer calculation and should I be collected at home and in the ass of the world, or rather start somewhere else and nourish myself at home? No matter which way I do it, I need to know roughly how far my legs are going to take me.
How far can I ride my racing bike in 24 hours?
How far you can ride a racing bike in 24 hours is a difficult question. Of course, I also have to factor in factors such as fatigue, long breaks and breakdowns. The longer the route that I will drive, the greater the likelihood that I will break down. As a basis, I once took my time from the Vätternrundan. There I had a gross time for the 300km of 10 hours and forty minutes. However, there are tens of thousands of cyclists participating in the Vätternrundan and it is easy to find and ride in a group. On my 24-hour tour, I would probably be alone for most of the route. So let's calculate generously and rather pessimistically with 12 hours for 300km. So in 24 hours I could cover a distance of 600km return. I'm not sure how realistic it is to ride a 600km road bike in one go, but it sounds great.
Which routes are possible?
600km, that's my assumption. Since I love the south, I would be drawn towards southern Germany. I did a bit of searching on Google Maps and identified Nuremberg as my perfect destination, from there you could also take the train back to Hamburg. From Hamburg to Nuremberg It's the main station 580km and on the route 2.277m up and 1.978m down have to be mastered. In addition, you can drive on the federal highway 3 (B3) from Hamburg to Nuremberg. the B3 is the largest part of Baltic Alpine Road and runs from north to south through Germany. That would be my route. But such an event has to be planned carefully and unfortunately this planning time doesn't stay with me during the Hamburg summer holidays, I also have to take care of my kiddies and I'm going on summer vacation too. Wait, there's an opportunity.
The route to the Moselle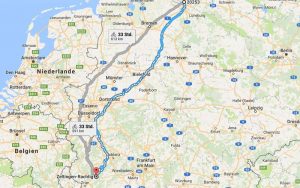 This year our family vacation goes to the Moselle. I've never been and I'm curious how it will be. But I had the idea that the way to the Moselle could also be a great route. Quickly fire up Google Maps and just check it out. From Hamburg to Zeltingen-Rachtig (on the Moselle) it is 608km Route, 2.382m high and 2.272m again down, over Verden, Minden, Bielefeld, Dortmund, Wuppertal and Bonn it goes to Zeltingen-Rachtig to the Mosel. Puhhh, that fits like shit I'd say, even if that means I'll definitely be pretty exhausted for the first two days of vacation. My wife drives to the holiday destination with the boys and I arrive at the holiday destination a few hours later completely exhausted, let's see if I can get through it.
Summary
I'm sure you're wondering what all this hypothetical drivel is about. Plan here and plan there. The difference in my case is: I definitely want to do it! I want to do this crazy crap. I want to ride this route in one day. I want to feel my body and do this ultracycling project. I know sounds pompous and I see some shaking their heads again, never mind! For me, this is ultracycling and it's always a question of perspective. I will evaluate this tour for myself as soon as possible, because the start would be next Friday, the holiday home is booked from Saturday.