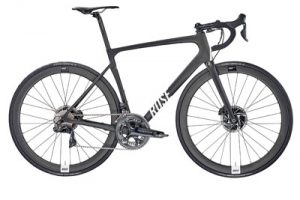 Rose brings the new X-Lite on the market and I bet it will hit like a bomb. The German bicycle mail order company Rose has with the new X-Lite brought a race bike of the extra class onto the market. Not only the technical specifications are the absolute benchmark on the racing bike market, but also the look will appeal to the taste of the broad masses. The X-Lite 6 Disc variant with eTap equipment is included in the price EUR 5.299, - A real challenge to the competition.
Rose itself shares the following with the new X-Lite: The new X LITE is the result of more than 110 years of fascination with racing bikes. The goal of the development #oneforspeed is achieved through the golden ratio of lightweight construction, aerodynamics, integration, comfort and excellent driving characteristics. This frame set, uncompromisingly designed in Germany, is characterized by its minimalist design and reaches frame weights from 760 grams. A multi-dimensional consideration of the ratio of stiffness to weight to aerodynamics results in previously unattained performance values ​​in the segment of race-oriented road bikes.
The special carbon layering creates identical, optimal stiffness for the bottom bracket and steering head in all six sizes - for perfect handling and ultimate speeds for every rider. Thanks to its streamlined frame, the X-LITE achieves the aerodynamic values ​​of our purely aero racing bikes in the wind tunnel. The new X-LITE also scores in terms of its riding characteristics: the moderate sloping geometry in combination with a dampening carbon seat post with an integrated clamp offers a high level of comfort. ROSE Bikes has optimized the ROSE high-performance fork, which has already received top marks, even further in terms of performance and safety through one-piece production and a Kevlar insert in the shaft.
At the start of sales, the new X-LITE will be available in two carbon qualities and from a price of €2.299. Both versions are available with disc or classic rim brakes. In the disc brake version, tires up to 30mm are compatible; in the rim brake version it is 28 mm. All in all, this bike forms a unique, universal platform with the highest potential on all terrains, whether in a sprint on the flat stage, in undulating terrain or on epic climbing tours in the high mountains.