In Road bike season 2018 is approaching with great strides. While some racing cyclists promptly jumped into Training camp in Mallorca drive, I will do my pre-season preparation on home soil. The temperatures prevent me from getting on the road bike right away, but I'm hoping for a few mild days at the beginning of the year to at least get things moving. Until then, I'll keep fit by running and I think that with good training, I'll have a clean start to the season.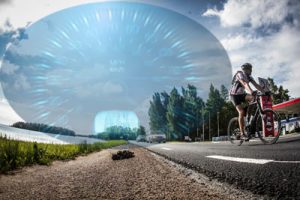 Season 2018
As is well known, after the season is before the season, not because you rush from one season to the next, but because the anticipation increases to the absolute minimum. I feel quite fit at the moment and will try to maintain my fitness until I finally get back on the road bike. Of course, I started planning my 2018 season last year and have already set myself a fixed date for events I would like to take part in. You will easily see from my selection that I am definitely focusing on the long haul this season. Attentive readers of emien's blog will see that the Ötztaler Cycle Marathon is missing from my list. Unfortunately, I can't make it in time, but I've set myself new goals for 2019. In 2019 it should finally go in the direction of ultracycling events. Unfortunately, escort vehicles are often necessary for ultracycling events. Either I manage to get my family to accompany me for several days at a time, or I find a team or a sponsor who finances me. So if any of you know someone to support me and possibly a team (against media performance), bring it on. I thought of them Ultracycling World Cup, the Glockner Man. Well, first step by step.
Season start 2018
My official start of the season will officially take place in March. After the skiing holiday, there is a short training camp on the Baltic Sea and/or in the Harz Mountains. I would of course like the Harz Mountains better, but it is very dependent on the weather. The first event I want to attend.
Elbe Classic RTF
The Elbe Classis is, so to speak, the official opening of the season in the Hamburg area. Started in Harburg, there are several beautiful routes through the Harburg Mountains and the North Heath. Last year the weather at the Elbe Classic was fantastic, for the first time in the year you could go short-short and that in April. 2018 find the Elbe Classic on April 15th.
Tour d'Energy
With the name one could assume it goes classically to France, no! The Tour d'Energie is a race which starts in Göttingen and touches both the Weserbergland and the Vor-Harz. on 100km collects over 1000hm. Definitely a challenge for a lowland rider like me. Last year I only had 300km in my legs for the Tour d'Energie, at least on the road. I hope that I've collected more this year and can get around faster.
Mecklenburg Lakes Circuit – MSR300
My first long-distance highlight of 2018 will be the Macklenburg Lakes Circuit (MSR300). Germany's event, comparable to the Vätternrundan, for 300km across the Mecklenburg Lake District. On the Vätternrundan 2017 I've already ridden 300km in one go, I'm not afraid of that at the moment, the timing is much more exciting. The MSR 300 will already take place on May 25th! By then I need to have enough miles on my legs to be able to handle the MSR300. Even though I managed the 300km on Vättern in mid-June last year, I will 300km on MSR300 definitely not underestimate.
Burning Roads 2018
The Cycling Marathon Burning Roads launches June 9 in ochtrup. I decided on the 330km route, with over 3000m of elevation gain it will be a tough job. I haven't ridden the Burning Roads yet so I'm very excited to see how it turns out, so far I've only heard the best of the event in terms of the route and catering. The Burning Roads bike marathon will be my second long-distance highlight of 2018 and, due to the 3000 meters in altitude, probably the most strenuous bike marathon of 2018 for me.
Lugworm 2018
So far I have only listed the events here that I will also be participating in. At the Lugworm 2018 I'm not sure yet if I'll be able to take part. The date actually fits perfectly, on July 14th it should be early in the morning worm mountain go off. Unfortunately, my planning probably falls flat. I would somehow have to come to Braunlage one day before the start and spend the night there, the next day it goes non-stop from the summit of the Wurmberg to Cuxhaven, that's where my problem lies: I need someone to take me to Braunlage and take me back to Cuxhaven picks up. Also, I would have liked to start as a team and, strangely enough, everyone who is eligible for it cancels or just doesn't answer. Should that make me think?
But I find the mode of the lugworm totally exciting. Of course it's not advertised as a race, but for me it almost screams for a kind Cannonball for cyclists: the start is the Top of the Wurmberg and the goal Cuxhaven. The choice of route and timing is entirely up to the drivers. Great idea, but if no more miracles happen, unfortunately without me.
Lake Constance bike marathon and racing bike holiday
Another real highlight awaits me in September. On September 1st I drive it Lake Constance Cycle Marathon with, the big round of course. Once completely around Lake Constance. 220km one of the most beautiful spots on earth. Since I love Lake Constance very much, I'll add another week of training camp to the end. So, together with my training partner, we will be exploring the mountains on our racing bikes for a week. Our base should be in Konstanz lie, my absolute favorite city. I am already looking forward!
Schwerin Lakes Everyone Cycle Race
A clever saying says: If you do something three times, it's a tradition. The Schwerin Lakes Everyone Cycle Race has already taken place three times and I was always there, I wasn't aware of that when I took part for the first time. 2018 finds that Schwerin Lakes Everyone Cycle Race for the fourth time and of course I would like to be there again, especially since I am in had a fabulous cut last year. At the end of the season, about 100km is no longer a real challenge, that's why Schwerin Lakes Everyone Cycle Race traditionally my last event of the year
Summary
I hope you feel a little inspired and I look forward to meeting you at one or the other event.