This year, for me, participation in the Transcontinental Race No. 8 very fat in the calendar. Approx. 4000 km and 40.000 hm are a huge challenge for me and require a lot of training, but the equipment also presents me with major tasks and, above all, a lot of tests and purchase decisions. It starts with the bike (this decision has already been made), panniers, Lighting, sleeping bag, power banks and and and....
For me, the first thing to do is to get really fit and to ride often and then for a really long time. In this growing article I would like to share my preparations with you and hope that you can participate in the comments and also give me a tip or two. So please no false modesty, rather one or the other thing that I have already tried than standing there without help. I look forward to sharing experiences.
Let's hope that us Corona does not thwart the calculation. Even if, then the preparation time for that TCR just longer than expected.
So I divide my preparation into different categories.
Bicycle, superstructures and add-on parts
Additional equipment (bags, tools, charging technology,...)
Sleeping (sleeping bag, air mattress, bivouac)
Training (where and what)
TCR road bike
I already had an article about my wish in February 2020 Bikepacking road bike Written and in fact my order was almost the same 😉 If you stay with the same bike after a year of research, it can only be right!
Pearl Gravel
I am now for that Pearl Gravel decided in carbon, but without scar dynamo. Why? I didn't want any lights or cables attached to the bike because I have very good battery lights and power banks. At the moment I'm reckoning that I'll be able to go to a guesthouse every two to three nights and charge at the TCR. The way I'm planning at the moment, I can get by for about 3 to four days without a socket and then have to charge again, but more on that later.
I use the Gravel frame as a basis.
Lightweight (Carbon)
more comfortable ergonomics
Round handlebar to mount the aero bar
Disc brakes
free tire choice
I have now configured a Shimano GRX600 and ultegra Mix with DT Swiss wheels and ride 30mm Continental tires. I'll start with the Continental 4 Seasons in 30mm and then whether I'll stick with it. This setup should keep all doors open for changes for me.
As soon as my bike is finished and I have photos of course.
Syntace C3
Of course, as a long-distance rider, you also need an aero attachment, at least that's what I've been told. After some research on the net, I chose the Syntace C3 decided. A sporty one tri-top for which I also have the same increases have ordered. With the elevations, I can raise the attachment about 3 cm and thus have a more comfortable position while driving. The essay will then also be mine Wahoo Element Bolt attached and one or the other food pouch.
I've also ridden the attachment on my old bike without the increase and I have to say that you definitely notice the aerodynamic difference and the changed seating position is very good, especially on long distances.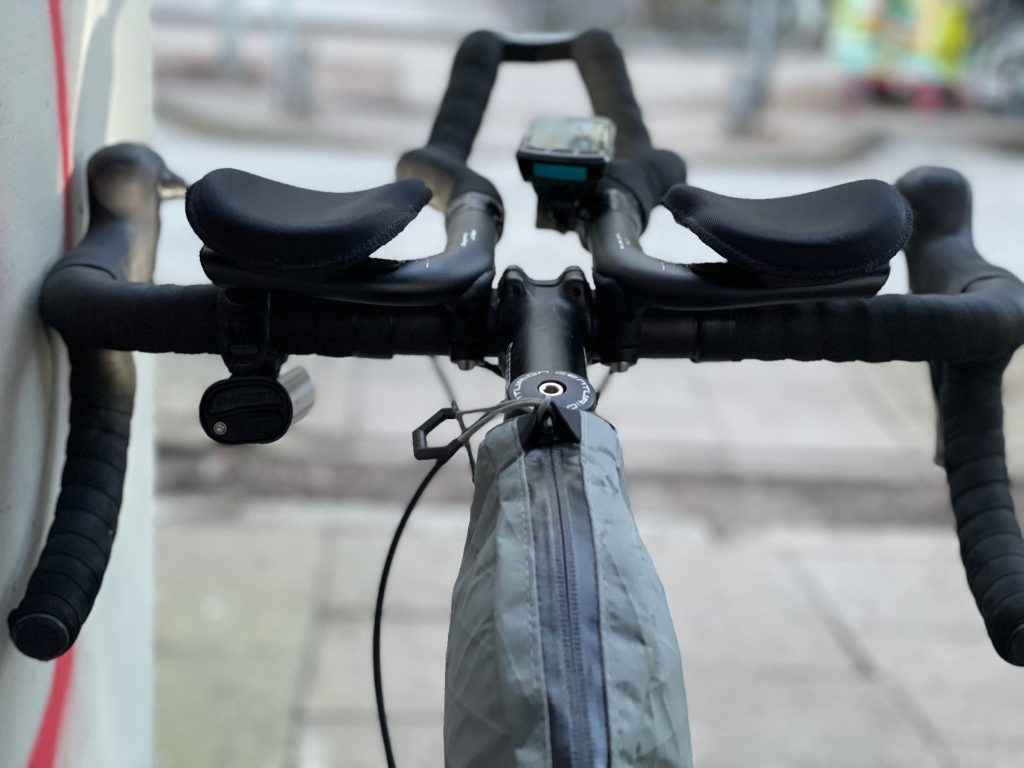 Equipment
The attentive readers of my blog know that for years I have been the Panniers from Apidura from the Explorer series. This year there will be a few adjustments to the Menem bag setup. Not because I'm dissatisfied, but because the setup has to be adjusted a bit and I'm trying to make the handlebar roll superfluous 😉
panniers
So the first thing this year is a new one top tube bag added, also by Apidura. It probably will Racing long top tube pack with 2L volume. However, I still have to find a shop in Hamburg that has them in stock and then I would like to attach them first to see if everything fits. Of course I'll wait until my new one Pearl Gravel is finished, because that will be my long-distance racing bike!
Also, I don't know yet if my Apidura frame pack still fits in the new frame and I can then get the water bottles out properly. The Pearl frames seem to be a bit more compact and offer less space. I'm also going to get a food pouch or two and I'm seriously considering that Apidura Expedition Downtube Pack with a volume of 1,5L. If the small bag fits sensibly, I will store things there that I don't need that often.
Again, I will note updates as the setup process progresses.
Sleeping - bivouac
When I'm physically 100% fit again, that will be Bivouac my biggest challenge, because I don't have that much experience there yet. I want on that TCR Don't take a tent with you, because you need to save space and weight. In addition, it always takes a long time until the tent is packed up again the next morning and stowed away on the bike. I now have the following equipment ready for this.
Sleeping bag
I admit, I always try to spend as little money as possible when it's not about the bike 😉. Last year I treated myself to a new sleeping bag Ultralight sleeping bag Tinbo. It should enable a comfortable sleep up to 5°C. My old one, cheaper from Decathlon, was just way too cold. This one should keep me warm on a summer night. The length is 210cm and I long misery (193cm) fit in there well. The pack size is absolutely ok with 12cm x 21cm and so the sleeping bag does not take all too much take up space in the panniers.
sleeping pad
I've been using my sleeping mat / air mattress for two years now, so it's now my third season. the Hikenture sleeping pad offers just as much comfort as a light sleeping pad can offer. It's still easy to inflate in the evening after a long day in the saddle. You only need a few breaths to get enough air into the sleeping pad.
I can really recommend this sleeping pad for little money!
TCR training
Well, probably the hardest task. You can neither buy training nor do handicrafts 😂 unfortunately I have to say that I got out of winter really badly and sluggishly. Corona blues, I would say 😩. But I'm slowly getting going, although I keep having small health setbacks - in the form of tension and the following pain - but it's getting better and better. Because I couldn't go to the gym in winter, it was really difficult for me to keep fit. Mimi... In black rolls are currently my constant companions.
I'm trying to stick to the HDI rule
H: frequency
D: Duration
I: intensity
My trips are getting longer. I'm not fit for long distances yet, but I'll give myself about three more weeks and then I'll go on full-day tours. I like to increase the intensity on the dyke when I'm riding with someone. When accompanied, it is easier for me to use the stamina I have already gained to increase my performance.
In any case, there are many long tours to my sister in the Harz mountains and a few overnighters have to be made. Now I'm happy that the weather is slowly getting better! Of course, training does not only include physical training. In detail, the following is on my todo list:
Easy training rounds (alone)
B2B
Training rounds with others (intensity increase)
long-distance rides
overnighter
sleeping outside in the bivouac
Test bag setup
Packing List finalize
Summary
The preparations for an event like this Transcontinental Race are damn complex. It is important that I am physically and mentally fit in July before the start on July 27th in Brest (FR). I will urgently need the mental strength in particular to go to the starting line full of optimism. to be able to I try to share my progress with you and if you have any ideas or suggestions for me, I'd be happy to hear from you at info[at]rennrad-hamburg.de or in the comments below this article.