In Tour d'Energy, with start in Göttingen, is always mine Kicker for the season. The end of April is still early in the season for me and it forces you to get fit again quickly and have enough kilometers in your legs. With his 1300 hm (height meters) and a length of 100 km is the Tour d'Energy one demanding race for every racing cyclist. The climbs, which are tough, demand a lot of performance and that's what counts High Hagen to conquer on the ascent of which there is a mountain rating. In this post I would like to share my experiences at the Tour d'Energy 2019 share with you.
I'm actually not the classic racing driver. I prefer long-distance and this mental "Fight, there can only be one" Type. But the Tour d'Energie is always my first official date of the season, so I can get my ass off in time. Last year I had to skip the Tour d'Energie (TdE) because I wasn't fit enough in time due to a herniated disc. Because the TdE starter bags are always great, I had someone else bring them to me last year. But I had already decided last year: In 2019 I'll pick up my bag myself again!
Arrival
Traditionally, I always go to Göttingen the day before. My sister lives in the Harz Mountains and from there it is only about 40 minutes to Göttingen. That way I can sleep a little longer on the day of the race and it's always nice to visit family. So on Saturday evening at 20:00 p.m. I was with my sister, after a beer and a little chatting I went to bed at 22:00 p.m. My iPhone rang at 6:40 the next morning. For me, that means 40 minutes more sleep than during the week.
First of all, I put on my civilian clothes and set off. At the gas station on the Autobahn there was a coffee and a roll for the small hunger. My TdE breakfast is still waiting for me in the Sparkassen Arena in Göttingen.
Arrival in Goettingen
There was still enough space in the parking lot for my Bully, so I didn't have to search long. There were already many participants and I love the atmosphere at such events. Everyone unloads their beloved racing bikes and mounts the start numbers on the bike and on the clothes. The excitement of the riders is always palpable at events like this.
It was just before 8am and my start wasn't due until 10:50, so I had plenty of time. First I went to the arena to pick up my starting documents. There were tons of counters and there was almost no waiting time. I put the documents back in the car and then went back to the hall to get breakfast. On the way there I also met the first ones Paulians and we got breakfast together. What the organizers came up with was great! I helped myself directly to the Scrambled eggs and bacon, that's what I call a solid basis.
Race preparations
But now it should also be time for me to start preparing. After a little walk I moved back to my VW bus and started my preparations. First the bib number was attached to the jersey and helmet, followed by the bike. Briefly bucked on the feedback stand, increased the air pressure again and attached the number. Afterwards I threw on my jersey so that I was ready for the start.
In terms of timing, everything came together almost perfectly. At the starting line I emptied my bladder again on one of the dixi houses and I was ready.
Start of the Tour d'Energy 2019
I had a starting place in starting block D get, start time 10:50 am. I joined three others St. Pauli riders and we advanced slowly. At 10:55 a.m. the obligatory starting gun sounded, even though the official time measurement was not until one corner later.
As a colleague correctly remarked later: The TdE is actually something like a brisk RTF and that in a positive sense. Because everyone keeps an eye on the time, you don't take breaks, but you don't really stress yourself either. You drive together and chat with many like-minded people of all ages during the more than three hours.
course of the race
It only leaves Götting with slight bumps on the route, approx. 15 km to warm up. But then comes the first ascent between Groß Schneen and Atzenhausen (that's the real name of the place). This section is 4 km uphill with a gradient of up to 8%. There follows a very short descent before climbing again for a distance of 6 km. But then follows the first beautiful descent of 6 km in length to Hannoversch Münden.
From Hannoversch Münden it is initially flat along the Werra, you can enjoy the ride on the flat for approx. 12 km, when the first steep climb comes you know: half is done. On the flat I leave a lot of people behind me, that's just my terrain. While I put a lot of watts on the pedals, I reach an average speed of 42 km/h to the 12 km. Drive without a slipstream! A few other riders try to hang in my slipstream, but my machine runs and doesn't want to stop. But now come the real ones charms the Tour d'Energie: mountains. 6 km with between 4 and 9% incline, it's now up the first mountain (my weakness). I always find the first ascent a bit more strenuous than the Hohen Hagen, but the cheering spectators bring enough motivation to conquer it. I tend to glide up at my own pace, the climbs don't have much to do with a race for me.
The Hohe Hagen is waiting - mountain classification
Waiting there at the end of a climb? The farewell!
It's now about 10 km downhill, only interrupted by a few bumps, I reach a speed of up to 60 km/h. That's a lot of fun and as a hamburger you don't have that too often. I am also very happy with mine SpeedX Leopard Pro, it lies beautifully on the road and in the wind and I just became one with it.
At kilometer 68 the final ascent begins: The High Hagen is waiting for you!
9 km with a slope of up to 12% it's going uphill There is a mountain classification in this section, but as I already mentioned, I don't have much to do with it. Solid, I drive up the mountain at a speed of about 11 km/h. I know some are struggling up there to ride a good time, I'm not able to do that at this point in the season. At this key point of the Tour d'Energie, there are again many people on the street and cheering you on, it's just a world-class feeling when you're whistling and being cheered on from the last hole.
At the top of the summit you are at least 500m above sea level. Once you've reached the top, you know: now it's almost all downhill! You also put away the last 25 km.
On the descent from Hohen Hagen, I reach a top speed of 69 km/h, and the wind is blowing in your face. Face and ears are also properly packed before the descent, because it is always cold on the descent.
So I roll and kick my way through the beautiful landscape around Göttingen and hardly notice it anymore. This meditative state lasts until I reach the city limits. Then it goes really fast and I can see the home straight. I give everything again and actually overtake one or the other and roll happily to the finish!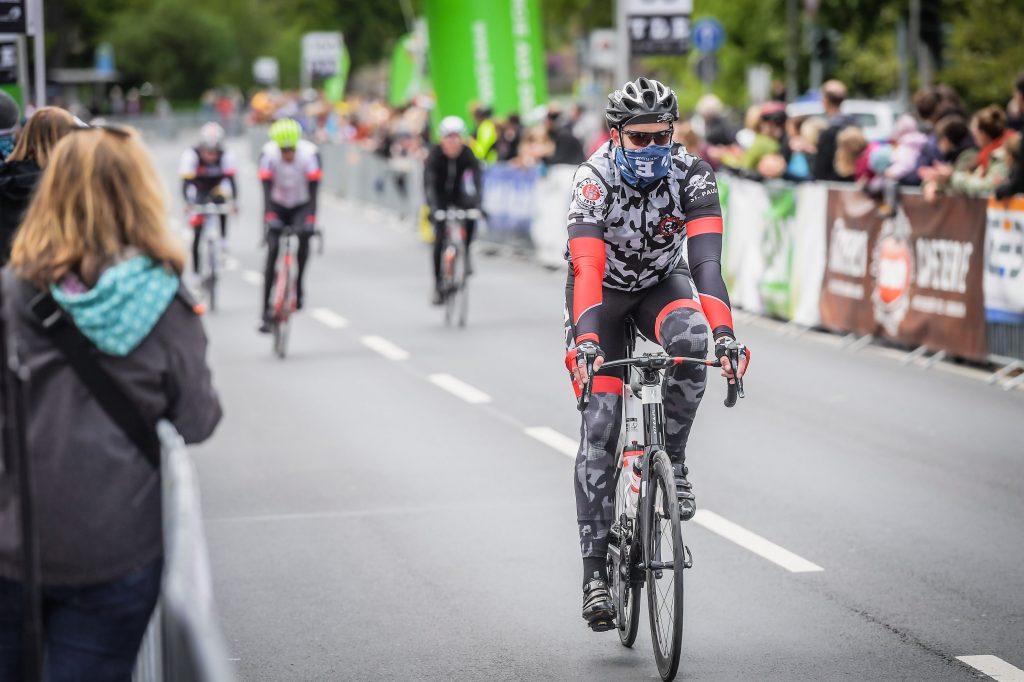 Summary
Route: 100km
Time: 3: 19: 31
Average speed: 30,1 km/h
At the end of the day I was happy with my result. An average of just over 30 km/h at 1300 hm is fine for me. After I changed my clothes and drove off, I stop at McDonald's to fill up at least part of the storage and set off on my journey home in my Bully.
I was particularly satisfied with my performance on the level. I've had great, consistent pace on straight stretches, which I'm really proud of. I can manage the mountains, it's still early in the season. I'll definitely be back next year Tour d'Energy and then hopefully with even more kilometers in their legs than this year.