We are at the end of the pre-season and my preparation for the Vätternrundan. What counts are kilometers in your legs and nothing else!
Like many other racing cyclists, I always take on a little more than my time allows.
…Actually, at this point in the 2017 season, I wanted to have covered more kilometers than I have now. Actually I wanted to have driven a lot more long distances than I have done so far. Actually, I wanted to have done a lot more regenerative rides between the long distances than I have done so far….
I think I agree with most road cyclists on these statements. Nevertheless, I'm not giving up and sticking to my goals and you should do the same! It may be that you don't always achieve everything you set out to do, but my will and my motivation keep pushing me. At some point - when I've gained more experience - I'll be able to assess and plan my goals better and more realistically.
RTF Vossy in Neu Wulmstorf
Collecting kilometers, that's what counts and what prepares us for our highlights of the season. What better way than one
RTF
! Already at the beginning of the season I am my first RTF die
Elbe Classics
hazards. the
Elbe Classics
I had so much fun that I decided to ride more RTFs this year. Last weekend it finally happened. I had found an RTF on the internet that
RTF Vossy from TVV Neu Wulmstorf
should it be. The classic distances were offered.
It was clear to me that it was the 155km should be. These later turned out to be 161km, but you're more than welcome to take the additional 6 km with you.
How does it actually work with such an RTF
Anyone who has read my article about the Elbe Classic knows that an RTF can be very comfortable. I noticed last Sunday that an RTF can also be more like a race. I'm with two other cyclists in my bully drove to Neu Wulmstorf. It's even more fun with a few friends. My two companions are experienced Triathletes - full distance. I've often ridden with one of the two, I only knew the second companion from one tour so far.
161km – How do you actually start there?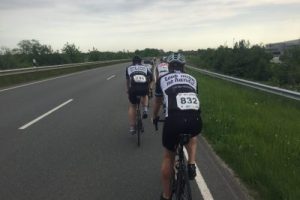 An RTF always starts in blocks so that the field can spread out. Dangers are always after an RTF StVo, so a field that is too large always makes little sense. The TVV Neu Wulmstorf had set the start time at 9:00 a.m. to 10:30 a.m. We got in line at around 9:15 a.m. and were allowed to leave at around 9:45 a.m., so we were almost the last ones. The first 25km started slowly, the average was between 28km/h and 30km/h. Not slow, but not really fast either when riding in a group. Already after 25km the first aid station came, which we simply skipped. If you intend to drive 155km, the first stop should not be after 25km.
From now on the pace picked up
At first we drove in our group of three and gradually some joined them, some didn't keep up the pace and left again. We quickly had a solid group of five and increased it Cut up to 42km/h. We kept up this pace up to 80 km. After a stop we took it a little easier and ended up with one 35km/h average. First on the last 15 km we then noticed our legs and drove the big lap more or less easily to the end. Except for a few short, faster interludes, we were again between 26 and 30 km/h, like at the beginning of the tour. Until then, we always took turns leading the group and whipped each other up. The mix of riders in the group was just terrific.
Summary
It always depends on the mix and harmony of the group. You can push each other to peak performance and motivate each other. In the end I was mighty flat: 161km driven with one
Average speed of 31km/h and 825 meters in altitude
made. All on one
RTF with no closed roads
, very good cut. I'm getting closer and closer to my form and I'm more and more optimistic about mine
Adventure Vätternrundan
regards. the
Vossy RTF
has brought me quite a bit forward and I thank my fellow riders in the group for that, simply great!