With my VW T5 Multivan i drive everywhere on bike marathons, Races and of course with my wife on vacation. So I often sleep in mine bully and as it is, you perfect everything you do frequently. At first I only had a mattress on the lying surface. In the meantime, a few boxes, a power cable for the campsite, a junction box in the car, an induction hob and other practical things have been added. All things that make camping a pleasure. The great thing is: these things don't have to cost a lot! I would like to present the most important things to you at this point.
table and stool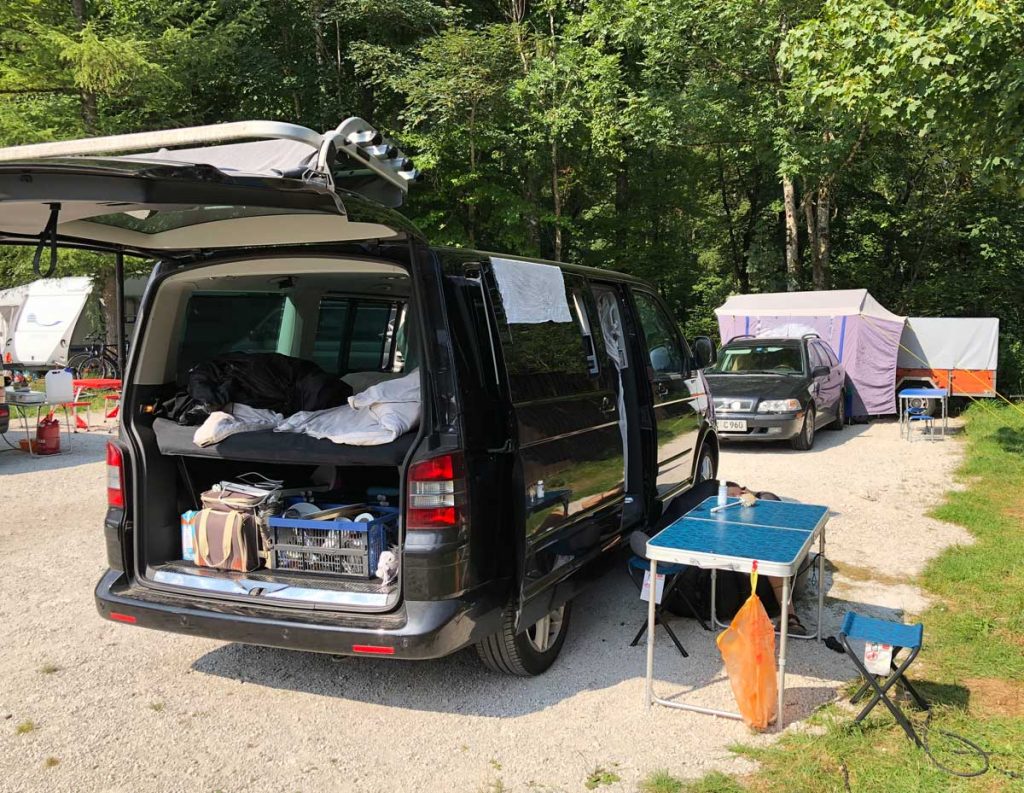 When I look at this photo from my last vacation, I immediately feel like driving again. I already had in my first Article about my Bully raved about how happy I am with my Multivan am.
After I mine Multiflex board installed and put a mattress on it and spent the first night in my bus, I first had to get a table and stool. As already mentioned, everything as cheap as possible. I bought one from Decathlon Folding table with four stools. The stools can be easily stowed inside the folding table and the table and chairs take up little space in the Bully. The table with the stools has now survived two weeks of camping holidays and many racing bike weekends and is still in full swing!
air chair
To be right relax to be able to, you also need a comfortable seat. A camping chair might be an option here, but these loungers and chairs take up a lot of space and space is unfortunately not unlimited in the VW bus. That's why I grabbed these air chairs. They have a small pack size, are filled very quickly and they are just cozy!
These are these hoses that you turn around in a circle and then tie them up. Quick to set up and of course quick to pack up again, these air chairs offer pure luxury. So if you just want to lie down in the sun and read on vacation, this is your solution. Of course you can also simply take the air chair with you to a bathing lake, it is not only perfect for camping.
[eapi keyword="air bag"]
Electricity connection campsite
For the first two years, I always lived without electricity in my Bully when camping. My Multivan doesn't have an external power connection. Then in 2018 when I was on the Mecklenburg Lakes Circuit I was standing next to another racing cyclist with a Multivan. Then I discovered the simplest possible solution. The colleague simply bought a power cable with a campsite plug and put it in the car. These are the moments when you ask yourself why you didn't think of it yourself 🙂
So that was my next purchase.
[eapi keyword="CEE plug Schuko adapter cable camping"]
I can no longer imagine life without electricity on the campsite. Don't worry anymore that the iPhone won't survive the next day or that the car battery might be empty after charging. a Adapter cable for the campsite is an absolute must. A distributor socket then rounded off the whole thing, here I also bought one for outdoor use.
Induction hob
Now it's getting really practical and I have to admit that the idea of ​​the Induction hob for camping unfortunately not from me. My wife had the brilliant idea for the induction hob. Smart cooking is one of those luxurious things you learn to love when you suddenly have electricity at the campsite. The advantages are apparent.
Induction hobs are not very expensive
Cooking is crazy fast
An induction hob does not get hot!
In fact, the induction hob only absorbs the heat of the heated pot and cools down again very quickly. So you can quickly and safely stow the induction hob back in the car.
We had a Two induction hob Bought at Ikea, but now you can get induction hobs pretty cheap everywhere.
[eapi keyword="Induction hob with Touch Control"]
The holiday quality is significantly increased if you can make your espresso on your induction hotplate at rocket speed in the morning.
Summary
As you can certainly read, I am very satisfied with my equipment so far. I see almost no potential for improvement in terms of camping equipment - except maybe a full-fledged camper, but that will come later. During our last vacation we were able to test everything in continuous use. Of course, the summer of 2018 was absolutely amazing and we weren't really equipped for rain. On the next camping holiday with my wife, I should provide a practical awning so that you don't just have to lie in the bus when it rains. But on the last holiday we were perfectly prepared for everything and I'm glad that we had treated ourselves to the equipment.
Especially the power cable made for a good mood. The induction hotplate was an absolute hit and I would highly recommend it to every camper.