This summer we put street tires on our gravel bikes and headed towards France. It went through for us Vosges and then through this Wallis in Switzerland before we got over that Bodensee, came back to Germany and made a little detour to Allgäu have made.
preparation
This year we (Marcus and I) wanted to ride less terrain and more trails and roads. After our somewhat more extreme Terrain and Gravel Tour in March we also wanted to know how it feels on street tires Bikepacking tour to do :D We have GP 5000 in 32mm pulled up and you are already very fast on the road, at least faster than with 47mm off-road tires and still you can drive pretty much anything with these tires.
I put two additional bottle holders on the front of the fork because I always drink a lot and I'm always afraid that I'll run out of drinks. By the way, I'm very happy with that! I have now four times 0,75 l bottles on the bike, I can get by with three liters for a long time. I already have all the other equipment, which is why bikepacking is getting easier and easier for me. Experience does it.
Getting to the start
We are by train from Hamburg to Karlsruhe hazards.
The next morning we started in Karlsruhe.
Komoot Collection for the tour
As always, I have created a collection at Komoot with all the stages I have driven, let yourself be inspired 😉
Stage 1 - Karlsruhe to Mutzig
We had already checked in Hamburg what the weather is supposed to be like in southern Germany and we were not disappointed: It was damn hot! In the hotel in Karlsruhe we first had a good breakfast, I just love buffets! Then we went well-fed on the packed bikes and we moved in the direction Rhine. With the weather, the queues at the outdoor pools were very long in the morning. Our first break came after 13 km, because we had just missed the ferry across the Rhine.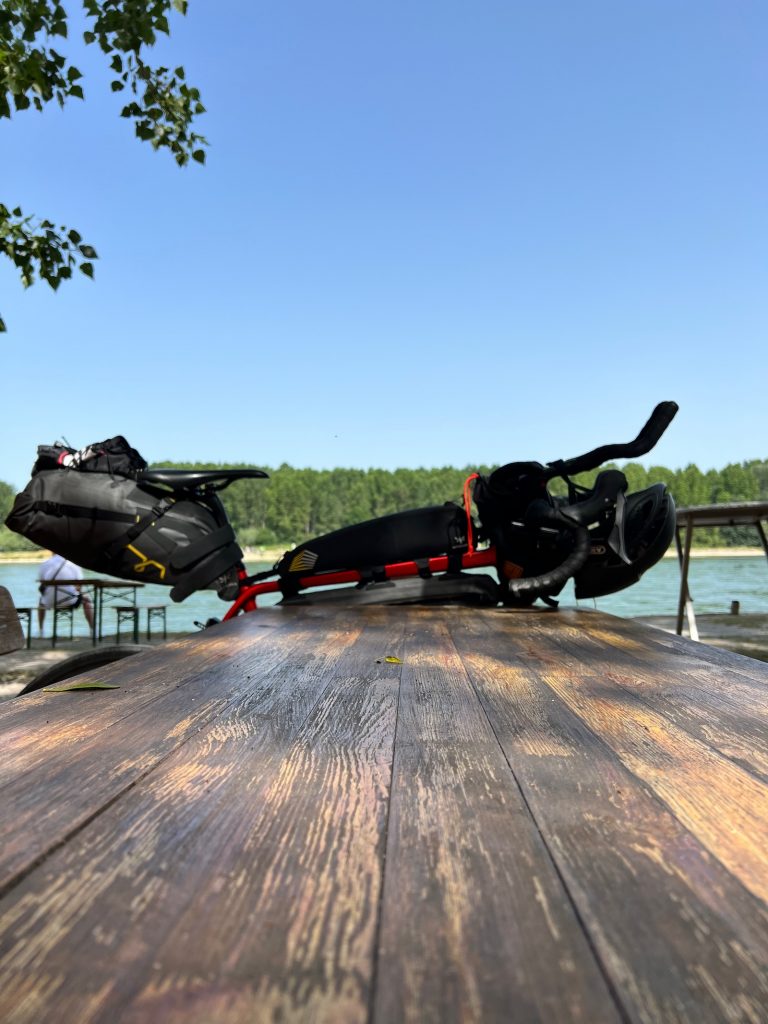 On the other side of the Rhine, it was another three kilometers through Germany and we were already in France. However, we only noticed it after 30 km when we wanted to have a coffee.
Always flat along the Rhine
It was always flat that day on or near the rhine along, a good stage to enter. In this region are really nice bike paths. Mostly tarred, but also with nice gravel sections. It was well over 30°C and I was very happy to have my two additional bottle cages. After 60 km we stopped at a supermarket, we didn't feel like eating warm food anyway in this heat. We both got a salad and ate it in the little bakery in the supermarket. It was air-conditioned here and the cool air was really good.
Here we met a young couple from Germany who were doing their first luggage tour on their gravel bikes. But they had pre-planned the stages and not quite as far as we did. We also stocked up on some food in the supermarket and what I discovered for myself is the cucumber!
I can really recommend it. You have something in your stomach and you also get plenty of liquid.
At least until Strasbourg
We had resolved that we would at least until after today Strasburg will drive. We had reached Strasbourg after almost 100 km and the route was really very nice. Lots of bike lanes! Once we drove through a gravel pit and then we were at a small beautiful stream in the middle of the forest.
In Strasbourg we took a short coffee break to see where we should go today. Since we were making very good progress, we decided to continue 25 km until after Mutzig to drive. Mutzig was on our way to the Vosges and that meant we were heading inland away from the Rhine.
Final sprint to Mutzig
After Straßburg, we were no longer moving exclusively south, but turned south-west. For a long time we drove along a small canal that was more reminiscent of the Netherlands.
As you can see in the photo, the canal was repeatedly interrupted by old locks that were no longer in use. Really very nice and my water sports heart was reminded of old times.
It wasn't far now, but it was still incredibly hot. We arrived at our hotel in Mutzig in the early evening. Very nicely located and the hotel prices in France are extremely fair!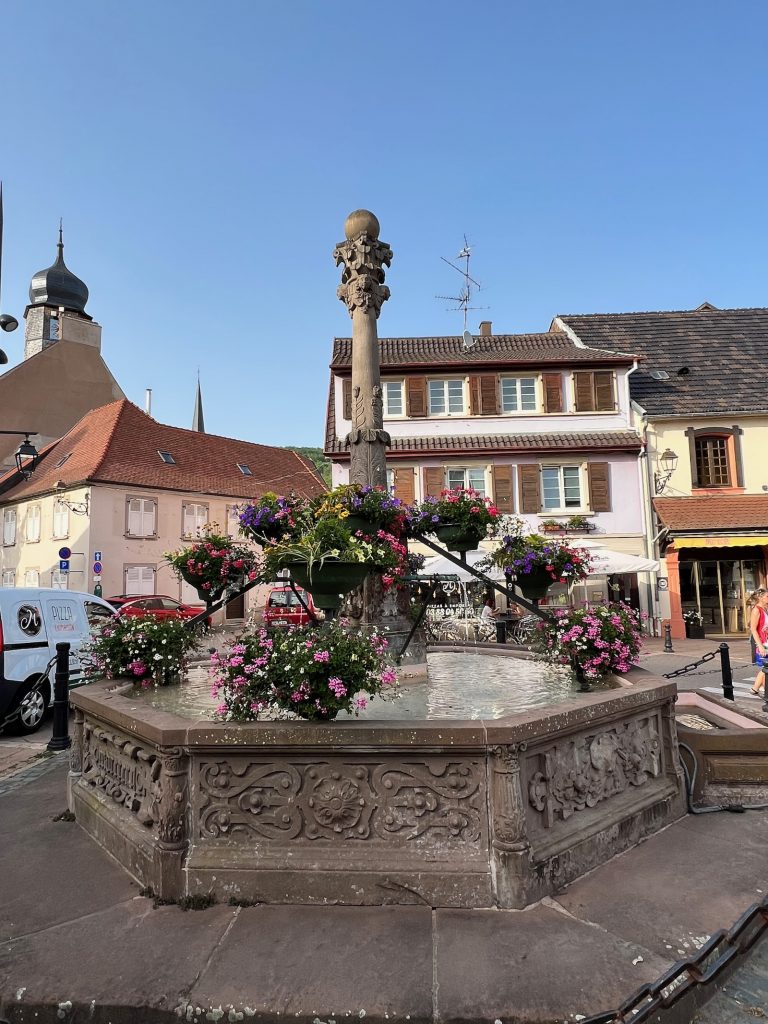 Stage 2 - Hot and beautiful
From Mutzig to Saint Die
Mutzig is right on the edge of the Vosges, which is why it was uphill most of the day. It was unbelievably hot - we wanted it that way - and nature just kept getting more beautiful. Just mountains, simply beautiful. The Vosges are a low mountain range, the mountains are not as high as in the Alps, but that doesn't take away from the appeal of the climbs. The constant change between narrow valleys and the meadows on the mountain tops was wonderful. I particularly liked the fountains where Marcus finally got his water filters could use.
In the Vosges
It was always uphill for the first 55 km. From time to time on the road, but also again and again on beautiful forest highways or gravel roads. Somehow Marcus had more bad luck with his tires than me because he had the whole tour 6 punctures!
Later on in the tour, Marcus found out that his tire had a defect. A wire from the tire stuck into the tube at one point. We also made our first French passport that day.
We had a small hotel in Saint Die, where we only had to roll the last 20 km.
In Saint Dié there was no restaurant that had room for us in the evening, which is why we had to be content with fast food. But what the heck, the belly wants to be fed.
Stage 3 - Temperatures more bearable and altitude made
From Saint Dié to Saint Maurice sur Moselle
In Saint Dié we first went to Decathlon, on the outskirts. We had to refill our spare tubes and Marcus was able to pump up his bike properly again. So we first did a lap of honor through the city before we got back into nature. The profile was flat to relaxed for the first 10 km before it went uphill (which is why I unfortunately have few photos 😀
We're still there Place des Cyclists drove by, I hadn't seen anything like that before.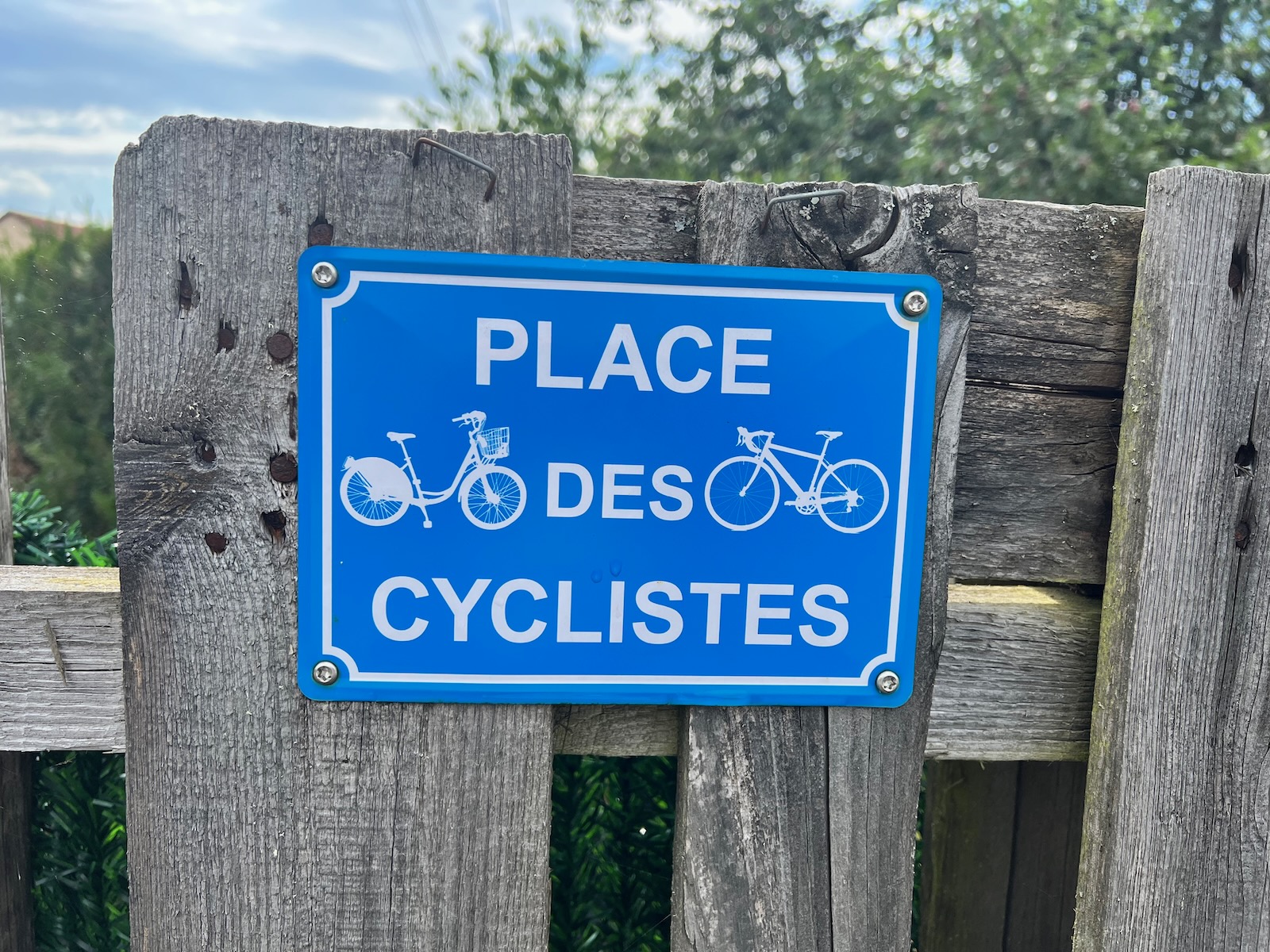 Almost a small museum!
Gerardmer
We wanted our lunch break in Gerardmer make. A lake in the Vosges where we expected to have restaurants. Luckily our instincts didn't deceive us. We were able to sit and eat right on the shore.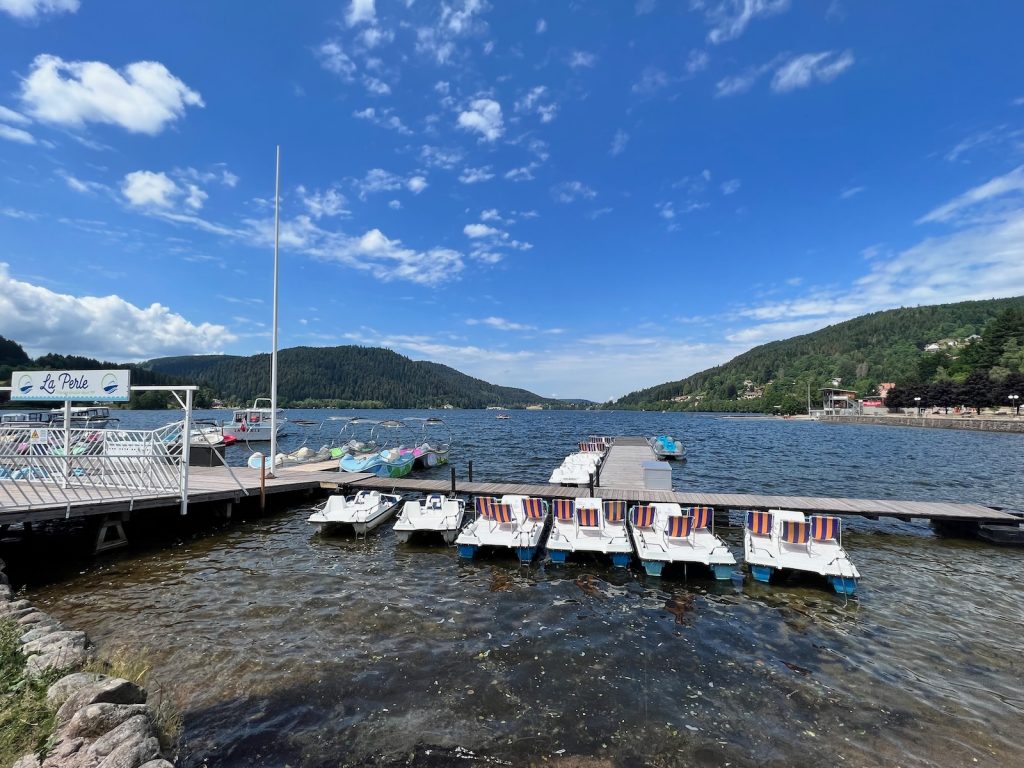 After our stomachs were filled again, we went to the nearest supermarket to refill our bottles with water.
With tea over the mountains
During the first two stages, the warm water in the bottles really annoyed us. The water is heated by the sun all the time and then no longer tastes good at all. We came up with the idea of ​​just hanging tea bags in the bottles, it was a world class idea!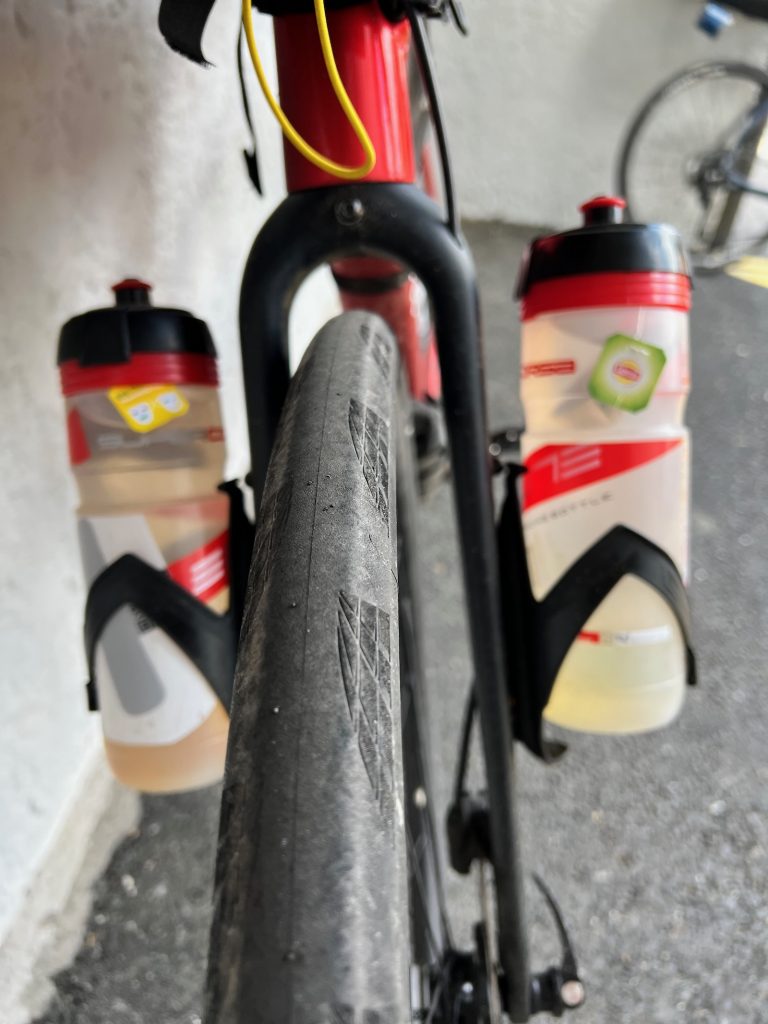 Now behind Gérardmer went straight uphill again and there were still two passes on the plan. The nice thing is that you always have a magnificent view of the landscape when you stand on a mountain.
We came in in the afternoon Saint Maurice sur Moselle We had booked a wonderful little pension there. An elderly couple who had booked two rooms. We had dinner and a homemade breakfast. Since my French is a bit rusty or erased, I was very happy that the innkeeper spoke perfect German.
It was a strenuous but really beautiful day in the Vosges.
Conclusion
These were the first three stages of our beautiful tour. The continuation of the travel report follows!