We are currently at the Adriatic coast and next on our bikepacking tour we're going near Venice. Here we take a day's break before heading back to the mountains, more precisely to the mountains Dolomites goes. I look forward to taking you with me to my next stage.
You can find the Komoot Collection for the trip here: Bikepacking 2021
Stage 10 - On the Adriatic from Bibione to Cavallino
We started in the party stronghold of Bibione right after breakfast. We had looked at our route and in the Venice Lagoon to come, we first had to drive north. So we repeat a section of the previous day before heading west towards the lagoon.
It passed the garbage mountain again before it became a really beautiful landscape. Flat but very nice. Most of the time we were able to drive on small side streets and the slightly larger streets were hardly used. Apart from the fact that it was very hot, the flat landscape was very reminiscent of my northern German homeland.
The mosquitoes welcome us in the lagoon
The further we get pony - our today's destination - approached, the more mosquitoes visited us during the breaks. That's how it is in the lagoons. Standing water everywhere means mosquitoes everywhere, but we should notice that, especially in the evening. Shortly before Cavallino we were always led along rivers, really nice. Everywhere along the shore there were sometimes larger and sometimes smaller yachts.
Standing water also means a lot of mosquitoes, which we should notice, especially in the evening.

But we survived
We lead directly to the hotel booked by us. As an exception, we had already booked the hotel the night before because there were only very few rooms left in the area. We went to this area because Marcus wanted to visit his family who were vacationing here. We put our bikes in our room in the rather small hotel/guest house and after we had showered we drove to the campsite where Marcus' family was.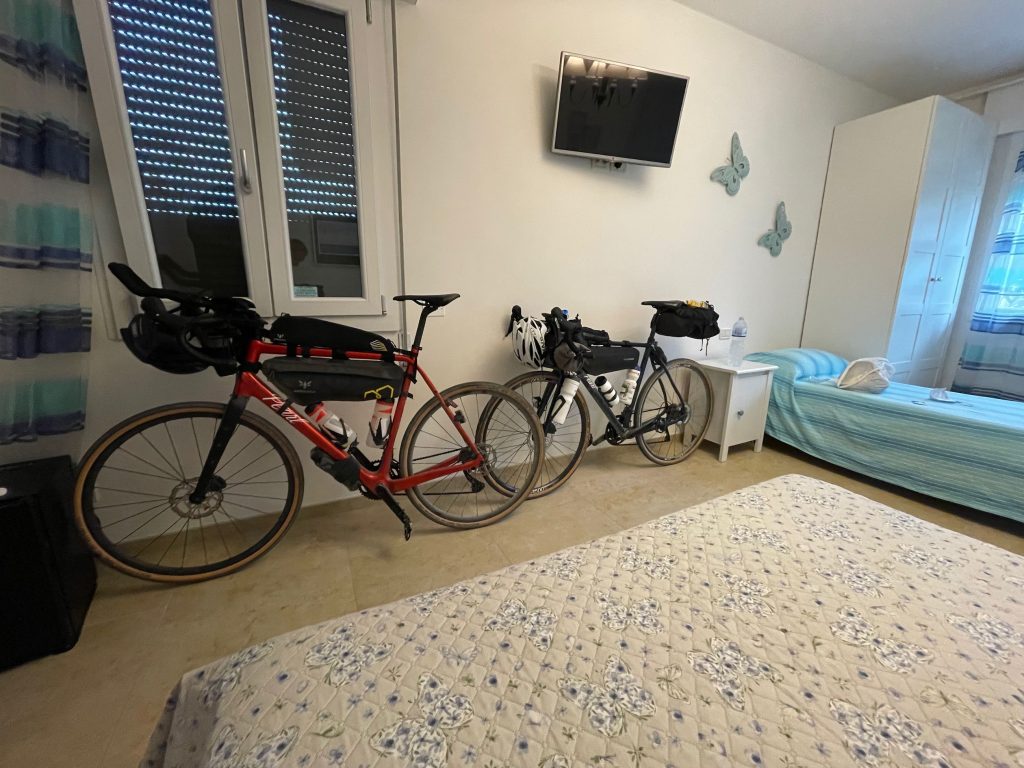 storm on the coast
After showering we went to the Campsite, we wanted to go out to eat something together in the evening. Around 20:00 p.m. we went to a restaurant on this MEGA campsite. This Giant campsites near Venice, you can not compare with normal campsites. There is a shopping mile, two huge water parks and other offers. We chose a restaurant, ordered and started eating.
The sky had become a little overcast in the last 20 minutes and it wasn't as bright as it actually is at this time of day. We said optimistically: It won't rain! And 30 seconds later, a mega thunderstorm erupted, torrential rain poured down over the tables we were just sitting at and then table tennis-sized hailstones came down from the sky. We were all a bit shocked and many children cried because they were just scared.
It was the worst hailstorm I've ever experienced...

Ray, road cyclist
After about 15 minutes the nightmare was over, we didn't eat anymore. We immediately went to see if our friends' awning was holding up. The awning had collapsed but our wheels - which were against the outside wall - had kept the poles from snapping. You have to be lucky sometimes. We switched on our bicycle lights and straightened the poles again and then we cleaned up the awning a bit. The paths and roads on the campsite were all under water.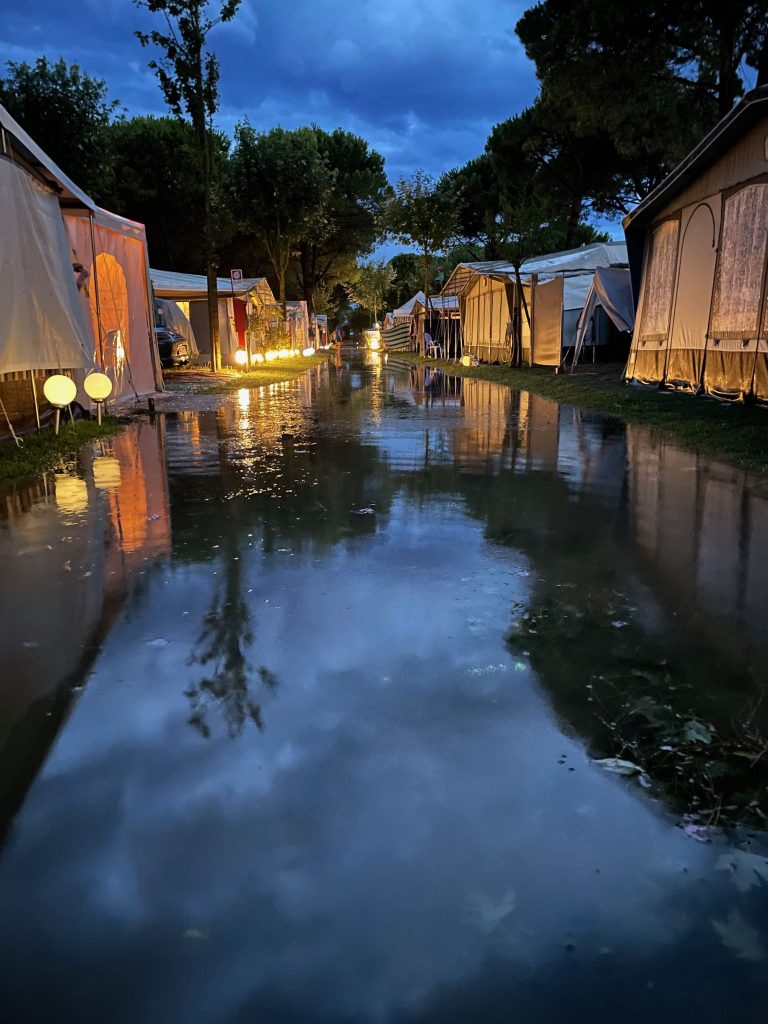 Break in Venice
At this point I don't want to waste a lot of words, of course, but I still want to share a few photos with you 😉
It's my first visit to Venice and it was really very interesting. But one visit is enough 😉, let's go cycling again 🚴‍♂️
Stage 11 - Dolomites: Swap sunscreen for a rain jacket
Today it's one of those crazy stages again. First half scorching heat and second half heavy rain. First half through the lowlands, second half into the Dolomites. Absolute madness, I tell you.
A last ride through the Veneto plain
In pony we went back the way we had come two days earlier. Nice along the water and the gravel paths through the lagoon.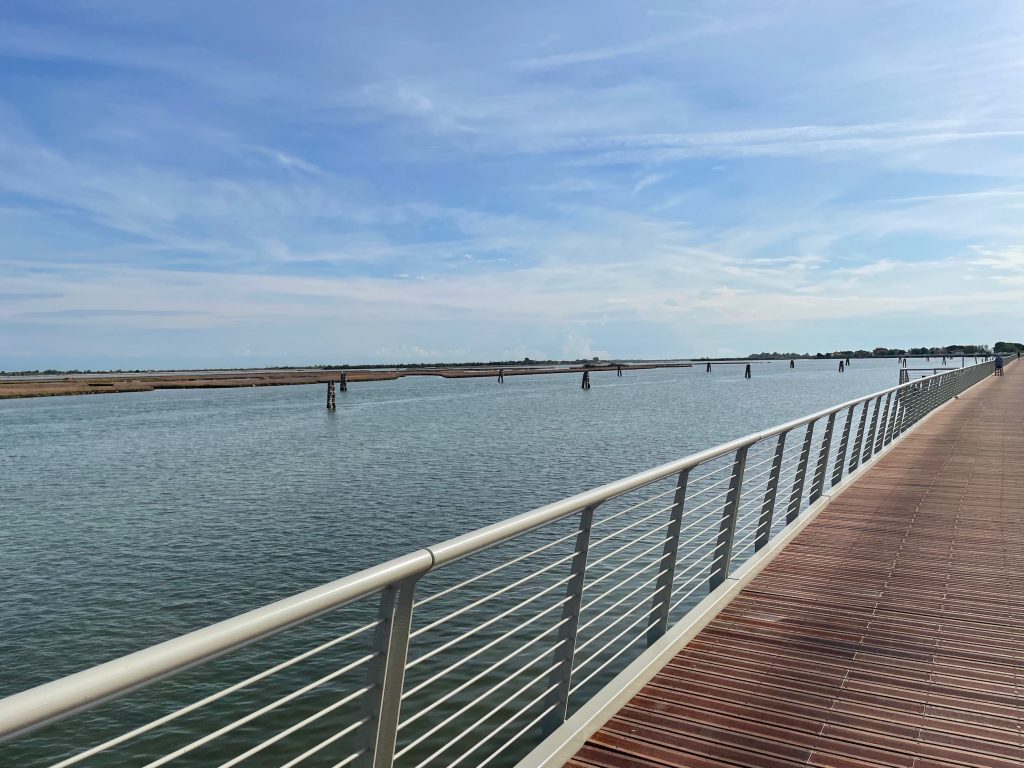 After 30 km we took the first break in San Donà di Piave to have a cappuccino. I had to fill up my bottles again, I had already drunk my two 0,7L water bottles. In fact, I always drink a lot.
It went on through the plain and we made very good progress. The Komoot route was excellent again today. Our route offered both beautiful Gravel sections, as well as cycle paths directly on the dike. Yes, you read that right. There are also dikes in Italy.
The next stop should be in Vittorio Veneto be where we wanted to take the train to another stop. By then things had started to go uphill. It felt very good to be back in the mountains.
The Dolomites
In Ponte nelle Alpi we got off the train and the weather wasn't nice anymore 😩 It was raining and instead of getting less, it got more and more. The rain jackets were put on immediately and the last 40 km should only be uphill. I was right for that happy to be back in the mountains.
Our goal today was Pieve di Cadore, which we reached in the early evening. When we were there, it finally stopped raining 😂. Pieve di Cadore is a very nice little place in the Dolomites and before we were allowed to enjoy the shower, there were still a few curves to drive.
Even if the weather got a little worse today and a few meters of altitude had to be climbed, it was a really great tour.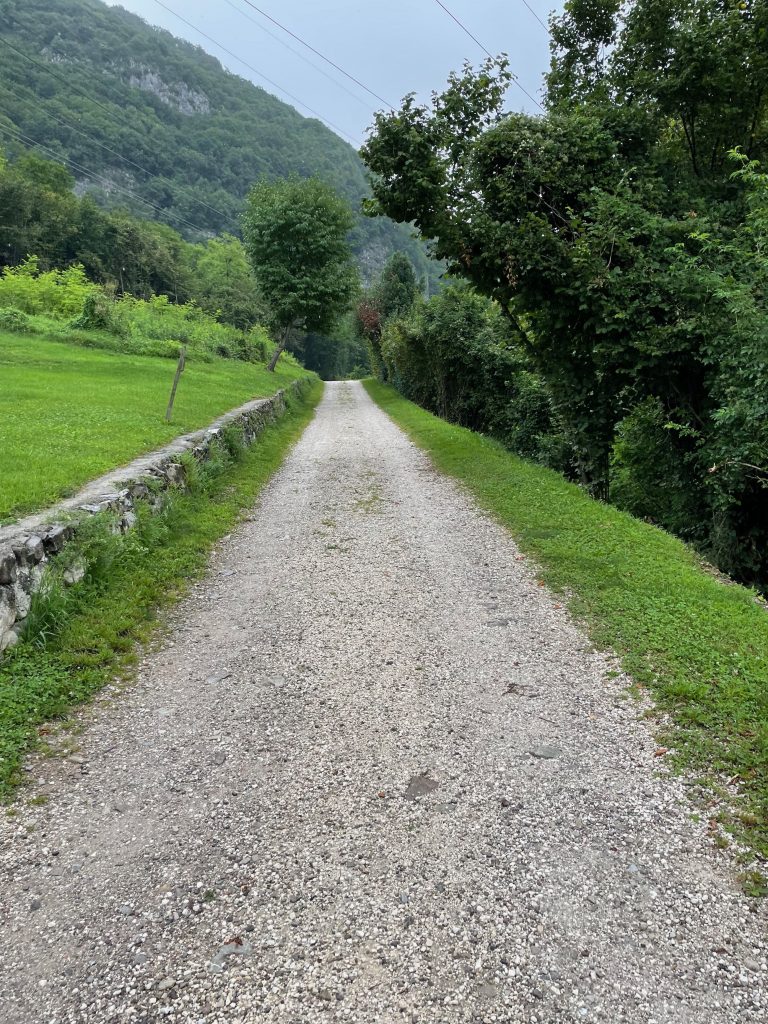 This is the end of my report for today. But I promise you, the next stage through the Dolomites to Bruneck was so beautiful, real Cyclist happiness just. I'm happy if you come back and read my little story.
Real cyclist happiness can be found in the mountains

My brain is talking to me