In Part 3 of our bikepacking tour, we drove up the valley to Trentino via Lake Garda and were able to enjoy the super cycle paths in South Tyrol. Now it's back out of the mountains towards Venice.
You can find the Komoot Collection for the trip here: Bikepacking 2021
Stage 7 - Beautiful valley to Bassano del Grappa
Marcus and I have am Caldonazzo lake first of all we had breakfast in peace and loaded our bikes again. The weather promised to be very good again and the temperatures were supposed to reach 35°C. We drove up the road from the hotel Caldonazzo and there we continued on beautiful cycle paths.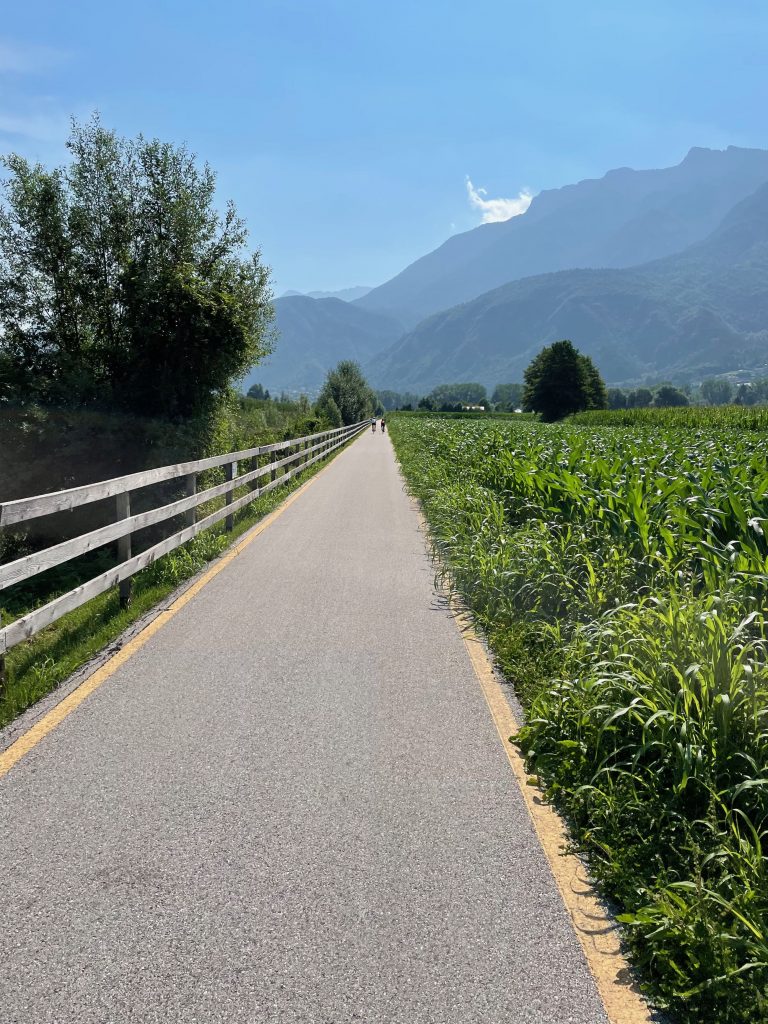 After just a few kilometers I realized that the cycle paths here are just as beautiful as in the big valley, which after Riva leads. I can only recommend it for everyone who has never driven this valley. It's mostly slightly downhill, the bike paths are great and one or the other bicycle rest stop invites you to take a break 😉
For anyone who has never ridden this valley, I highly recommend it!

I still have a lot to discover
You can still cycle through a few nice little places where you can replenish your supplies.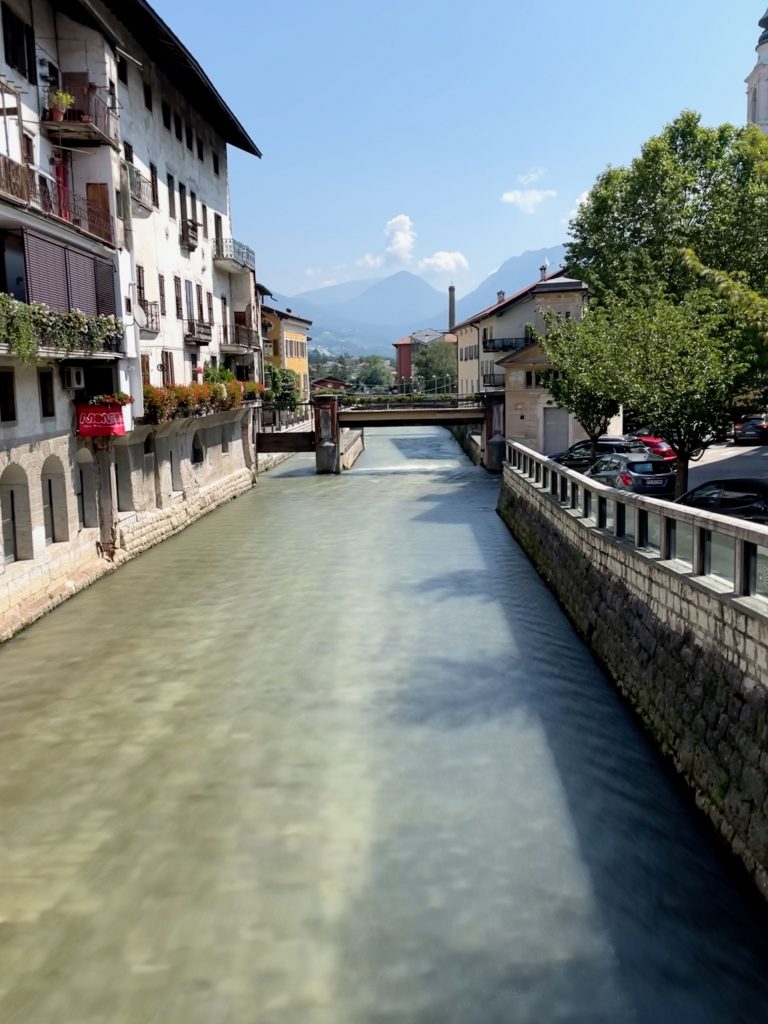 In the afternoon the south wind comes
Shortly after noon we came to a beautiful spot on the riverbank that we couldn't drive past.
It continued down the valley Bossano del Grappa. Typical for this region is the south wind in the afternoon. The wind then blows quite strongly up the valleys. In our case, it was said that the wind was now coming from the front all the time. At the end the valley got a bit narrower and we took another cappuccino break, but then we started the final sprint to Bossano del Grappa.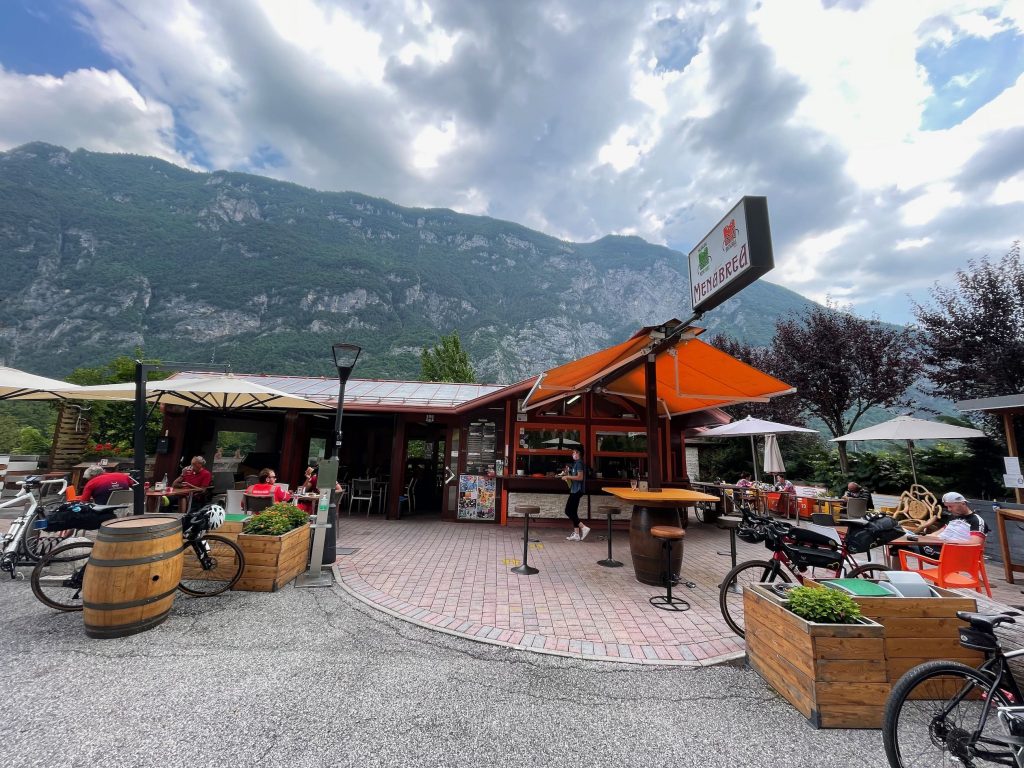 Our accommodation was just before Bossano del Grappa, but we didn't want to do any more sightseeing tours anyway. After we were showered we went on our way to find something to eat and were lucky. Only two minutes away from the hotel we found an open pizzeria between the residential buildings.
Stage 8 - Via Asolo to Pordenone
This morning we first went to the center of Bossano del Grappa via the famous Wooden bridge Ponte Vecchio. After the first few meters we stopped again and took a few photos.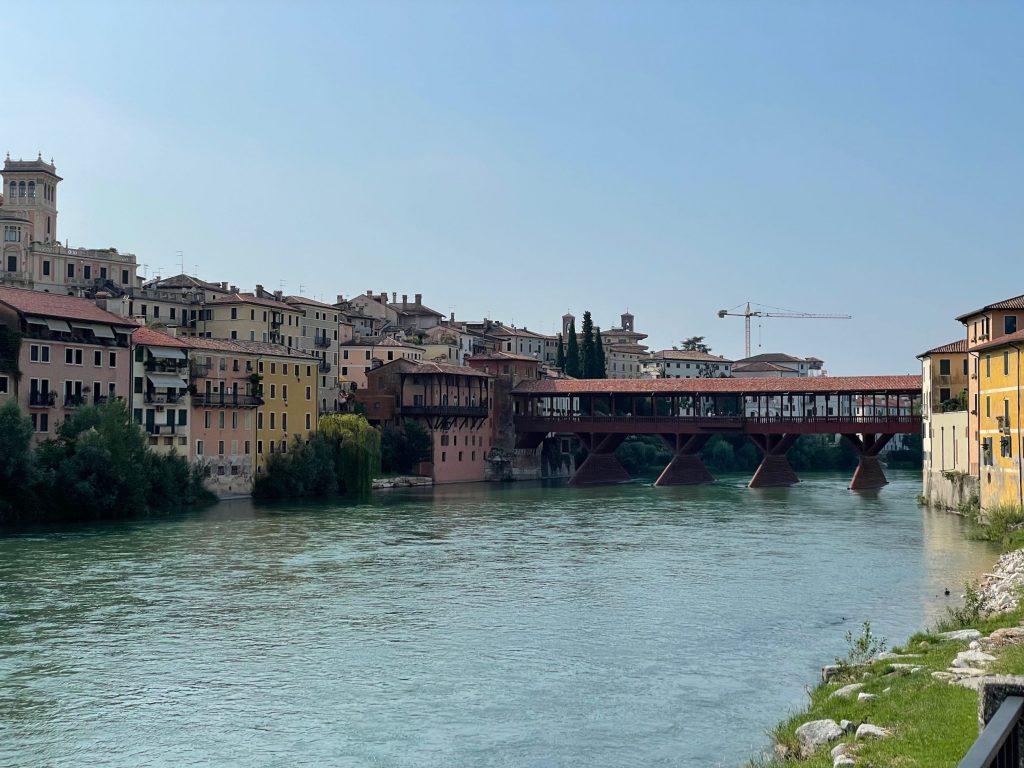 It then went through the beautiful old town of Bossano and east out of town. It was now the next 18 kilometers on a very nicely wavy profile in an easterly direction until we came to a decent incline. Up on the mountain should Asolo lie. Completely unknown to us to date, Asolo turned out to be a road bike and gravel hotspot. Nowhere on our tour was it felt so strongly that this was a popular training ground for Italian road bike and gravel rider is. There was a lot going on there.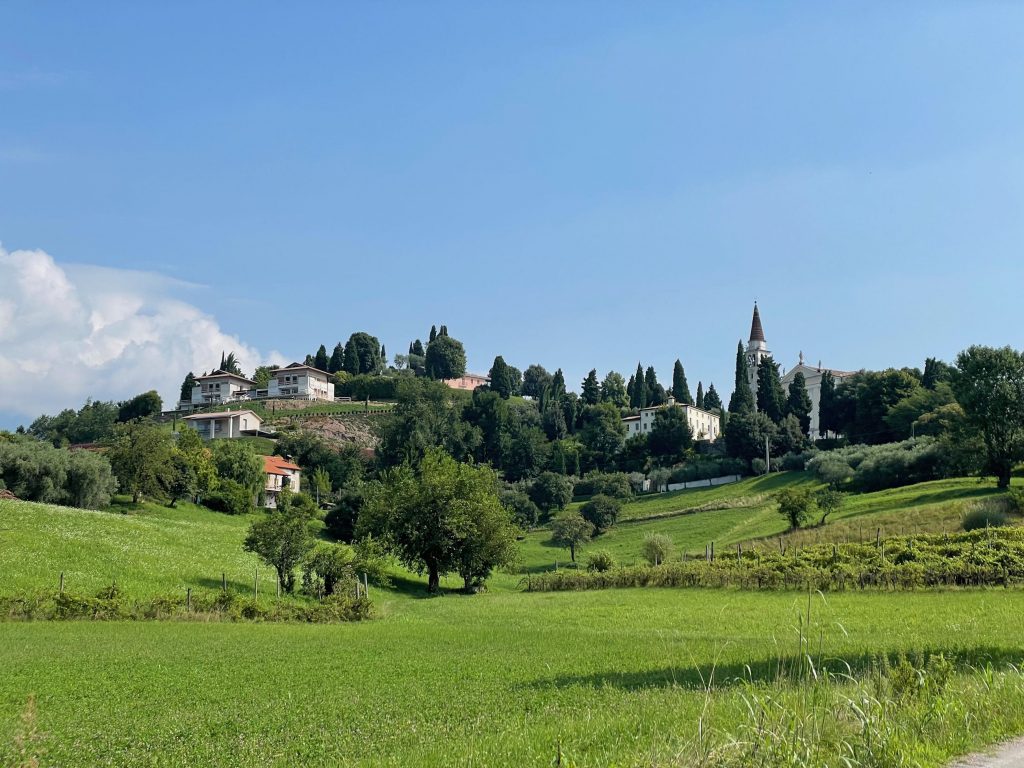 The last hills and down into the lowlands
Behind Asolo there was another nice descent before it became flat after the last waves. But the landscape and the places were no less beautiful. There were wonderful bike paths and gravel paths between the fields and on the first half aqueducts along, at temperatures of over 35°C we were happy about every tree that gave us shade.
After 50 km it was actually completely flat and we went on a few country roads again. But somehow I had gotten used to it. The high temperatures made me feel like I was on a beach holiday and almost felt like I was on Mallorca.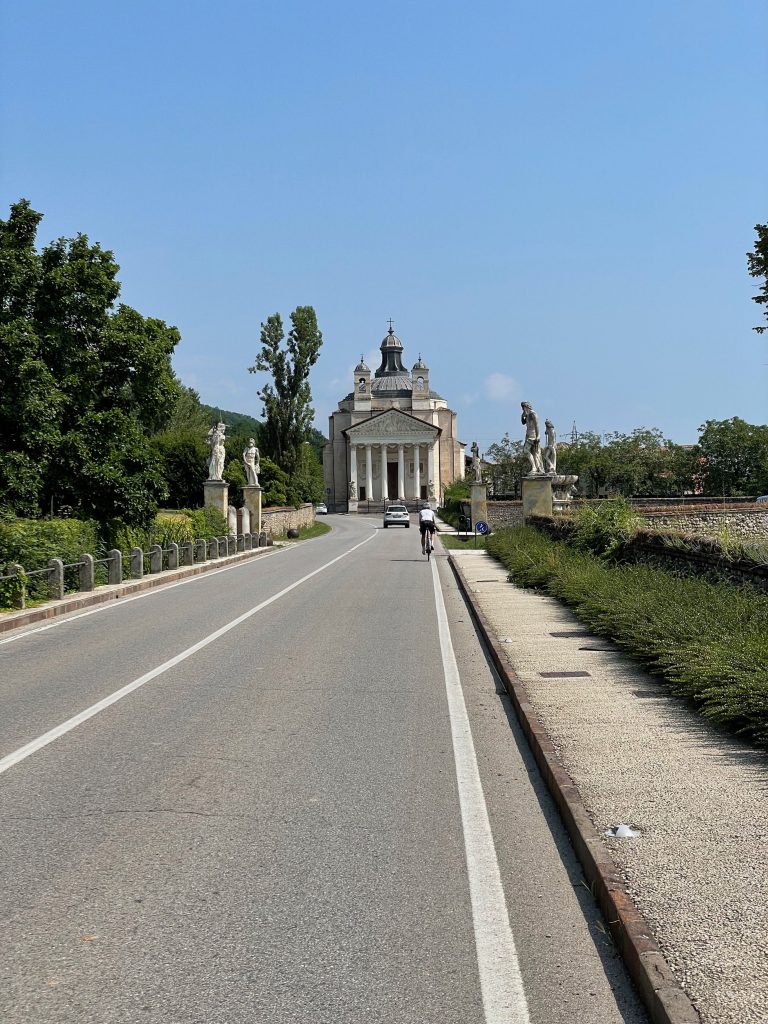 Destination in Pordenone
If you visit my blog more often, you already know that I just don't take enough photos on flat sections. The area is beautiful, but somehow the mountains appeal to me much more.
After 102 km we arrived in Pordenone and took a very fancy hotel right in the center. That evening we also walked a little through the city, bought a bowl to go and sat down on a bench for dinner. It was somehow very relaxed that day 👍🏻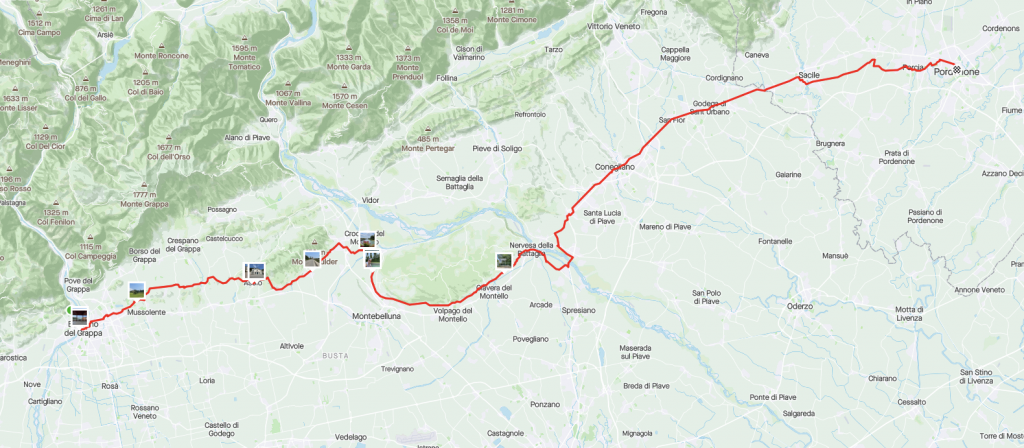 Stage 9 - Beach and party in Bibione
After I already wrote in the last stage that Malle feeling arises, we should already get Malle today 😂
Today's destination was Bibione, on the Adriatic Sea. From here we wanted to drive relaxed the next day to just before Venice, where Marcus was visiting his family. I'll anticipate one thing: The first half was really very nice and interesting, but the south wind annoyed us again in the second half.
Beautiful streets and villages
It always went south on really beautiful roads. The area was very quiet and there was hardly any traffic on the streets. We always took the time to drive into a courtyard or a monastery so as not to miss everything.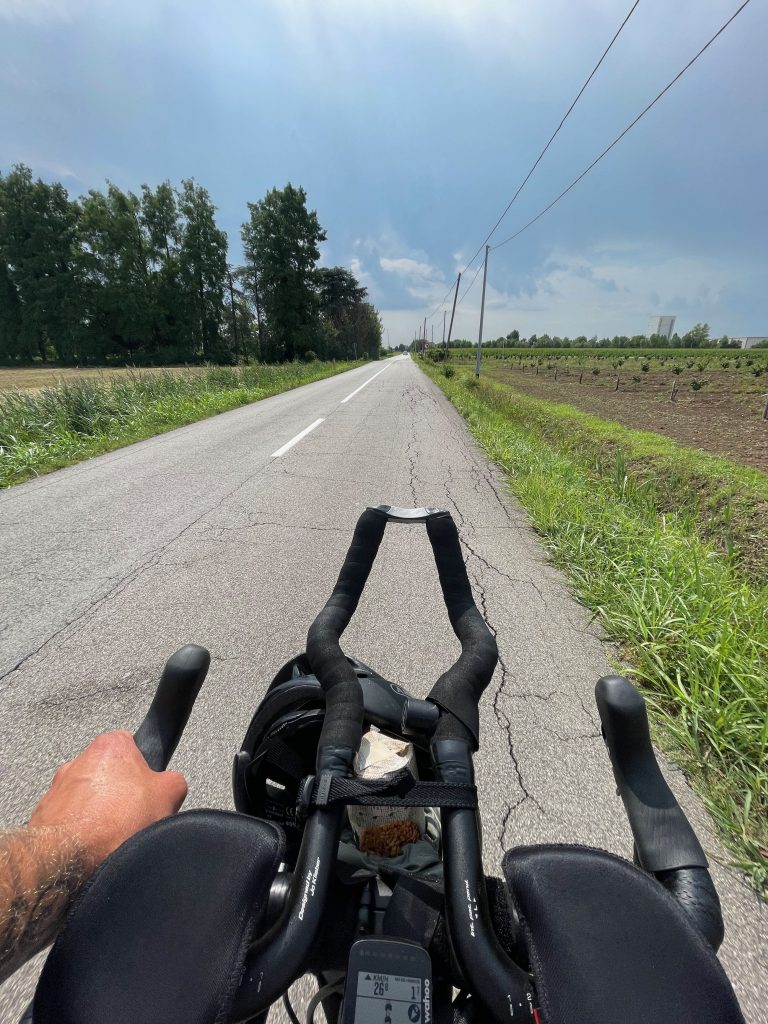 We had only planned about 60 km that day and accordingly took our time. We still had an incredibly beautiful section through a moor, here Komoot proved once again how great it is at planning tours. It was a whole piece along only boardwalks.
Komoot always surprises positively!

Just let yourself be guided
Garbage dumps, stench and headwind
The stage got a small break shortly after the beautiful wooden path. Our route wanted to take us along a highway, literally. Over a bridge, over the highway. Unfortunately, this bridge was just being built 😳
Unfortunately, a quick look at Google Maps told us that there is no other bridge nearby, so we decided to walk through the construction site and over the unfinished bridge.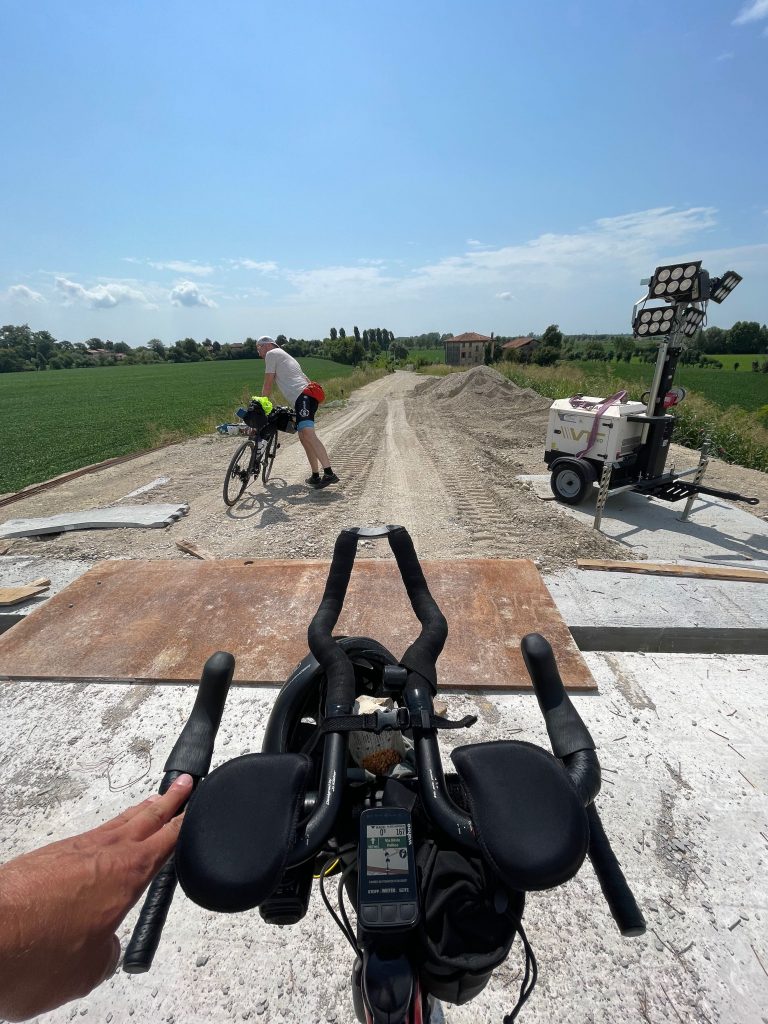 Unfortunately, the route was no longer more attractive, quite the opposite! The road became straight for a very long time and the few turns only came at right angles, you know! Now there was also the fact that we were working on a huge Dump had to pass that we could smell 10 km before. Unfortunately, the notorious southerly wind picked up again and not only blew the stench around our noses, but also slowed us down quite a bit. But we didn't have far to go and were approaching Bibione, today's destination.
Arrival in Bibione
Hotels, beach, beach bars and animators who entertain their hotel guests to loud music enjoyed. Somehow Mallorca feeling. We sat down in a bar, drank a cold coke and looked for a hotel on Booking. Laziness wins and our hotel was 50 meters from the bar and right on the beach. It was only 14:30 p.m. and we were already there. Bad mood came up in me for a brief moment"you can't go any further?" Oh nonsense, I discarded the thought in seconds 😂
Vacation Ray, it's vacation! Damn sick brain.

I'm talking to myself
We spent the evening strolling through the town and there was a lot going on, despite Corona. just stop outside We ate something in one of the typical tourist bars and even went shopping 😉
That's how it goes next time
Our next stage takes us to Venice, where we take a day's break. Then it's off to the Dolomites, where we have to get our rain jackets out again.