Riding a racing bike uphill is one of the greatest challenges in cycling, but where are you supposed to get the mountains from here in Hamburg? altitude are Norddeutschland eh rather sparsely sown and real climbs anyway. Of course you can collect a few meters of altitude through bumps, but that's not the point. As a road cyclist you need real climbs over a longer distance. In fact, there is something like that in Hamburg and I'll tell you now where you can train really well for climbs.
Train climbs in Hamburg
As I said, mountains are not so common in Hamburg. There are southbound ones Harburg mountains where there are a few climbs, but it takes at least 45 minutes to drive there from the city. Not so far away are the famous climbs of the Hamburg Cyclassics in the west of Hamburg. there between Blankenese and Wedel there are really steep climbs.
Kösterberg and Waseberg
The Waseberg is an integral part of mountains Classification at the annual Cyclassics in Hamburg. The Waserberg is, to put it simply: Crunchy. But I prefer to train Koesterberg! Parts of the Kösterberg are also included in the mountain classification of the Cyclassics. In my opinion, however, it is a little better suited for training, since the route is a little longer than on the Waseberg. The route on the Kösterberg is approx 3,5km long and has a rise of 95 meters of altitude and real increases. The gradient on the 3,5 km long route on the Kösterberg is between 2% and 8%, so you start to sweat a lot more than on the Gradients on the Elbchaussee.
My training route
I drive off in Eimsbüttel in the direction of Kösterberg starting point. I set the starting point at the foot, i.e. where the ascent begins. It's about 18 km from my home to this point, so I'm already warmed up when I get to the Kösterberg. Then it starts for me. Last time I just rode the Kösterberg circuit three times in a row and so, on the 8 km circuit, 24 km and almost 300 hm collected. By Hamburg standards, that's terrific.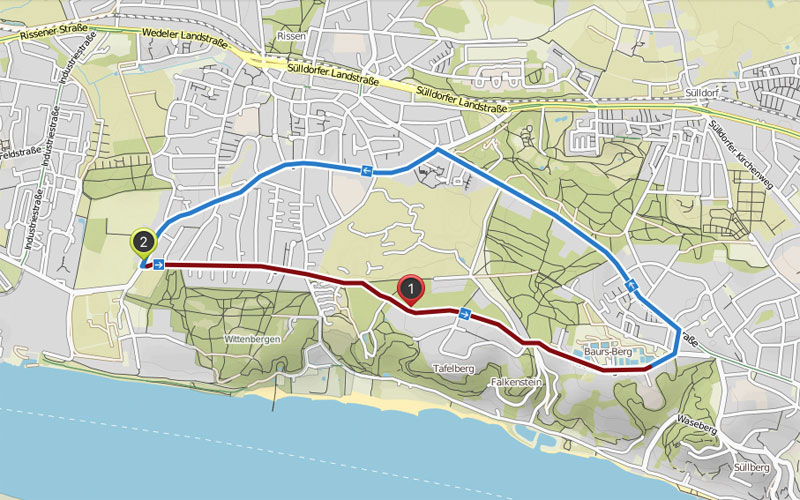 During my entire training, I then had 53 km with almost 400 hm on Starva, so a decent workout.

Summary
Apparently you can train on mountains and inclines in Hamburg, you just have to know where. Unfortunately, I can't tell you why it took me so long to discover this attractive training area. But I'm sure I'll do this round many more times for my Road bike training in Hamburg use!
I hope I could inspire you a little.