The Kickstarter campaign for that SpeedX Leopard and the SpeedX Leopard Pro caused a stir in 2016. I have my SpeedX Leopard Pro now 16 month waiting period finally got it. I will share my experiences, my ups and downs here in my long-term test report write down. I want to tell you honestly and as always directly about this First Smart Aero Road Bike inform and keep up to date. Join me on my SpeedX Leopard Pro adventure and I welcome feedback, questions and comments.
My long-awaited aero racing bike arrived in Hamburg, well packaged. Unfortunately, after having to wait 16 months for it (you can read the whole story here: SpeedX Leopard Pro delivery time), the shipment from Taiwan to Germany was damn fast. It took three days. I got the TNT tracking number and three days later the man from TNT was at my door. The big hit: I didn't have to pay anything! Actually, I would have expected at least 11% customs duty, but I didn't even have to pay that. I have no idea whether SpeedX did something right here and took on all the costs for the long waiting time out of goodwill, or whether I was just lucky. But I don't want to complain, it was to my advantage.
SpeedX Leopard Pro unboxing
I certainly haven't been looking forward to something like this package for over 30 years. Of course there was also some fear after all the stories of quality issues, wrong and faulty deliveries. But maybe it wasn't so bad that I had to wait so long for my SpeedX. Because the plant in Taiwan had to face a learning curve.
unpacking
The box was very stable and not damaged. Everything in great shape! I opened that assembly video, which SpeedX posted on Youtube for assembling the Leopard and started unpacking. First of all, get out the odds and ends and get on the bike.
Assembly took no more than 20 minutes. Everything could be put together as described by SpeedX in the video. Finally, I roughly adjusted the saddle to my height and mounted my pedals, done. The hammer, I was thrilled. Pretty sick, but then everything had to be charged first. the SpeedX Speedforce (the bike computer) and the Di2 circuit from Shimano needed electricity first. My kitten came into the guest room and was plugged into the power. According to the manufacturer, the charge of the Di2 circuit should last 2500km, the Speedforce should get by about 800km on one charge.
I let the batteries charge overnight and unplugged them the next morning and I couldn't wait to take the first test ride
test drive
I rolled my wildcat through the garage onto the street. Asphalt under the rubber for the first time, fresh wind on the carbon frame for the first time. My leopard was first rolled into the feedback stand for the first photo shoot. As soon as I pushed it, I noticed that my Leopard Pro is much lighter than my aluminum road bike. It would be funny if not, but I still found this feeling remarkable.
The first meters
Now I really had delayed the moment more than enough. Stand aside and get on the bike, grrrr..... Man, that was a really new feeling. The frame was pretty stiff and the power transmission from the bike to the road was almost 1 to 1. Not to mention the Ultegra Di2 Circuit. At this point I can already say that a Di2 circuit is awesome. It is simply a difference like shifting gears electrically day and night in contrast to mechanical shifting via Bowden cables.
Speedforce – The first attempts
In SpeedX Speedforce is the permanently installed one Bike Computer or on the Leopard Pro. I had read various things in the SpeedX forum beforehand and not all of the comments were good. I only drove a few kilometers that day, I just wanted to test it, according to Speedforce, the tracking also worked. When I got home I wanted to sync the route with the app, but unfortunately that didn't work. The Bluetooth connection between Speedforce and iPhone was not stable. The data that arrived in the SpeedX app was damaged and could not be synchronized to Strava. I could see on my iPhone that there was a GPS and firmware update, but unfortunately the Bluetooth connection didn't last for an update.
Speedforce update
Then I had an idea: I took my son's slightly older iPad, installed the app and paired the iPad with the Speedforce. whoosh! keep in touch! firmware Update made, GPS data updated and on the next ride everything worked. From now on also with my iPhone. My workaround is now also offered to users in the SpeedX forum.
Fitting – A road bike has to fit perfectly
I'm a big fan of professional fittings. Even if – for cost reasons – I ordered online and Crowdfundingproject, I love going to my local retailer. Unfortunately I had never found the really right store in the past. Once I got my racing bike back after maintenance, I paid and had the impression that nothing was done and the other appointments were not kept. Both can be very annoying. This time I've decided to by Hacht to go. For everyone who doesn't know Hacht cycling is from the Steven's founders was founded and of course only Stevens bikes are sold here. von Hacht's reputation is mixed. Some say "world's best bike shop" others say unfriendly and expensive. Since von Hacht is around the corner from me, I've been there several times to buy spare parts and my experience has been very positive. They always have everything in stock and the prices are like any other store. Nobody gives away anything anyway Bargains are a legend. So one thing in advance: Radsport von Hacht is a great shop with really competent employees. Many of the employees have a direct background in cycling and really know what they're doing, Stevens Bauer's background can only be an advantage.
So I drove mine SpeedX zu by Hacht in the Breitenfelder Straße in Hamburg, still unsure how I will be received there. I walked into the store and the employees were all open and nice. The colleague who takes care of that Fitting sucht also came right around the corner and didn't make any funny remarks, quite the opposite. He was very interested because of course he didn't know the bike. Of course, there were a few curious looks from the younger colleagues, who knew the bike very well. My bike came on the roller and I sat on it and started pedaling. Pause, measure, pedal. That's how it went a few times. I dismounted and the pro started to tweak a little here and there. He said that I'm lucky and the stem fits perfectly, otherwise I would have been unlucky because you can't easily swap it out. I kicked a little again and after 20 minutes everything was great! I'm always amazed at how much fitting brings. It's always only millimeters that are adjusted here and there and the driving experience changes immensely, for the better, of course. Afterwards, we both went to the master's workshop, who took a look at everything and readjusted the Di2 a bit. After a total of about 50 minutes I was, or my Areo road bike ready and perfectly adjusted to me. I don't know if I'm allowed to say that, but the specialist - due to the fact that not much had to be adjusted - EUR 20, - taken for everything. Hats off! Very fair and honest! By the way, I also asked another specialist shop and they wanted a flat rate of EUR 200. Hacht cycling definitely has me and my wildcat as new regular customers.
The first tour
As you can imagine, I couldn't wait to film my first tour with my new baby. In fact, I had already planned this before I went to the fitting, so I met up with my training partner the day after the fitting. As so often, we had planned the middle house tour, about 60 km to the east of Hamburg. I noticed very quickly that the seating position on a aero road bike because of his Ergonomics, A completely different one seating position requires. The upper body is even more bent than on a normal road bike.
Driving behavior of the SpeedX Leopard Pro
Now I got to feel all the properties of my Leopard Pro and I mean that in a positive way. As I already mentioned, the power transmission is a world of difference to an aluminum road bike due to the high rigidity of the carbon frame and carbon wheels. Every effort is immediately carried 1:1 onto the road. My Leopard seems much more agile than my previous racing bike. I still have to get used to riding while standing. It feels like the bike just tilts faster and with less effort from left to right. These are probably not typical SpeedX symptoms, much more that all racing cyclists who have switched to a carbon bike can confirm. The fact that the Leopard Pro is also an aero bike probably reinforces the effect a little.
Another change in handling is definitely due to the high-profile carbon wheels to establish. The height Agility I had already noted. Added to this is the smooth running on smooth and long distances. Of course, what is also clearly noticeable is the susceptibility to crosswinds. On days when some wind is blowing and I'm not talking about gusts or storms, I feel every side street I drive past. Not a catastrophe, but I notice the lateral pressure on the wheels, especially on the front wheel. I still have to get used to the higher susceptibility to wind, even though my body is now almost automatically compensating for it.
Time
Yes, I'm a bit faster than on my old racing bike. No, they are not worlds. However, I'm still missing the right comparison over a long distance. I'll probably be able to say a little more about it the next time I've driven the big house lap (about 100km above Geesthacht). Because what I definitely notice is that I need less power for the same speed. only the Aerodynamic seating position reduces this effect a bit, I just have to get used to it.
In the meantime I have ridden four training rides with approx. 240km on my Leopard Pro, still 60km and I will go to Radsport von Hacht for service and wheel centering and get first feedback. I've collected a lot of new PRs on Strava and I'm hoping to add a few more after I've really gotten used to my wildcat. When I go to the service, I also let my loved ones go to me Continental GP 4000 SII raise. I'm not really satisfied with the pre-installed Rubino tires. In my opinion, they don't have quite as good a grip as the Continental GP 4000 SII when leaning towards them.
Run in - first service for my SpeedX
The season is coming to an end and I was able to really use my nine carbon racers. First of all, of course, I had to get used to the aero ergonomics of my Leopard Pro during my training rides and the small difference in the load angles is clearly noticeable. However, after the first 300 kilometers of training, my body got used to the slightly different strain.
First race with my SpeedX Leopard Pro
At the end of September I drove my last race of the 2017 season and at the same time it was the first race for my Leopard Pro. That Schwerin Lakes Everyone's Cycle Race is a race over almost 100km, with just over 300 participants in this race. So everything is very manageable and there are no mass events, and Schwerin is just 90 minutes by car from Hamburg and therefore definitely belongs in the Hamburg catchment area for me. At the end of the race in Schwerin I reached an average speed of 41,2 km/h, for me: world class. My racing bike and I survived everything well and my Leopard had now a total of 470km down and deserved its first service.
First service at von Hacht in Hamburg
As I have already described above, I was already with my Leopard Pro to the Fitting at von Hacht. Since I was very satisfied, it was clear to me that I would also give my bike to the Stevens forge for the first service. Actually, you bring your racing bike to the first service after 300 km, when it is broken in. For me it was just that I had to wait two weeks for an appointment in the workshop. So of course I continued to train and also drove the race in Schwerin before my carbon racer was serviced.
Standing on the list
center the wheels
Check everything once
Check screws for tightness
Crank up the Continental Grand Prix 4000 SII
Of course, when I picked up my bike two days later, I still got feedback from the master. First of all, he said that everything was fine and that the bike was not defective. Only the tax rate had to be tightened, I have to keep an eye on that. For the service and the new Continental Grand Prix 4000 SII - the best tires there are, in my opinion - I then paid a smooth EUR 90. In my opinion, a fair price!
Further equipment
Lighting
As you know, there is nothing better than buying new equipment for your sport. As you may know, the Leopard Pro has a built-in rear light in the seat post. Only the front has no light, my old AXA lights don't fit the aero handlebars and since it gets dark early in winter, I need a lamp, of course. There Aero handlebars yes, nothing completely new, I thought I could buy a suitable lamp for it in a racing bike shop. puff cake! there isn't! I asked in three different cycling shops and none of them fit. I'll keep looking for something else and I'll probably have to make one.
SpeedX is insolvent
I've been able to mine for five months SpeedX Leopard Pro now call my own. I hardly rode it in winter - because of my running challenge - but so far I'm more than satisfied with the basis of my racing bike. I was lucky, others unfortunately weren't: SpeedX is insolvent!
Already in November one heard in the SpeedX Facebook groupthat no more answer comes from SpeedX. Of course, it's particularly annoying that there are still a lot of people who haven't gotten their bikes yet. The bomb went off in early December. The - now former - community manager spoke up in the Facebook group. Accordingly, he stated:
All employees, including himself, were fired... Unfortunately, Speedx had gambled away... Speedx had opened a bike sharing startup in China, which unfortunately didn't work out and the parent company Speedx went bankrupt with the daughter...
At first, the former employee tried to spread optimism that a solution was being sought so that supporters could still get their bikes. Unfortunately, after a few weeks, this optimism evaporated again. Many SpeedX customers who have paid several thousand euros are now empty-handed and their money is gone. Of course, some will now say that you have to reckon with that when you support a startup. Still sad!
The future for my Leopard Pro
What does bankruptcy mean for Leopard or Leopard Pro owners? It's not the case that riders who already have their bikes aren't affected. As you may recall, the title of the SpeedX Leopard Pro was: First ever smart aero road bike. Smart stands for the permanently integrated bike computer, the speedforce. Unfortunately, the Speedforce couldn't keep what was in it anyway Kickstarter campaign was promised, but it was still a good bike computer. Like most bike computers, however, the Speedforce synchronized with the Servers at Speedx, that means: Without a server at Speedx = Speedforce useless! The Speedx website and forum have already been taken down, I don't know, but I think the Speedforce servers are already down and if not now, then in the near future.
New cockpit with the Wahoo Elemnt Bolt
I got one for Christmas Wahoo Element Bolt granted, included cadence, speed and pulse sensor. When I started working on my Leopard Pro in the basement and had successfully removed all Speedx sensors, I arrived at Speedforce. There were actually a few screws loosening the Speedforce. Unfortunately I had a kind of double lance on my handlebars afterwards. The stem of the bike is a big piece and of course only made for use with the Speedforce. In addition, I couldn't get the Elemnt Bolt on the handlebars, but I shouldn't have ridden with the stem anyway.
Sure, I needed help from a specialist again, so I went to my workshop Hacht cycling. I also had my bike for a fitting and for the first service with them in the workshop. One of the masters really took a lot of time for me, we stood together in front of the jacked-up bike for at least an hour and he unscrewed part by part. This procedure was primarily about whether you could change anything at all, but in the end we were successful. In the meantime I've been there again and have chosen a new stem and handlebars. The mechanic enthusiastically showed me a lot of cables and the battery he pulled out of the seat post, just amazing. Really, he put in a lot of effort and my Leopard Pro has even been upgraded quite a bit. the wheel is at least 2 kg lighter become.
At this point I would like to say a big thank you again Hacht cycling and thank the mechanic for their effort and great work. You saved me!!!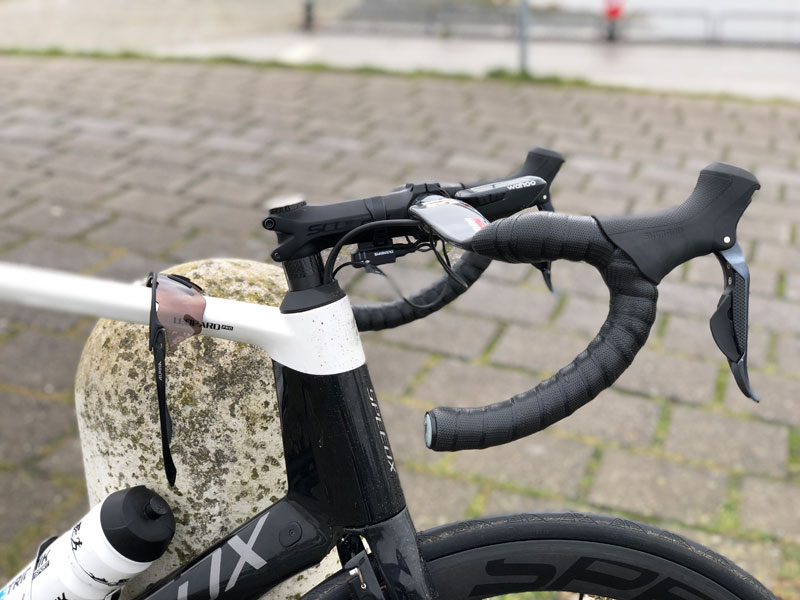 3000 km intermediate
With a mileage of exactly 3011,3km it's that time again Update to give to my SpeedX Leopard Pro.
For me as an ambitious but still a hobby rider, 3000km in August is a lot of kilometers. I never thought my 2018 would be so good and I only had to miss a single scheduled event. In January I got on my beloved racing bike for the first time this year, and then winter really set in in Hamburg. For me, it was supposed to be a snowboarding holiday in March, but mine disc prolapse in February ruined all my plans. As I already reported, I did everything to get back on my feet quickly and I did it. On April 6th I sat back on mine Leopard Pro and climbed into Training a. From there I was all the more motivated to get fit again and after I had firmly written off the Tour d'Energie, it was simply too dangerous for me to race with a broken disc, I really wanted to be fit again for the May 26th Mecklenburg Lakes Round MSR300 be. On this occasion I have to pat myself on the back, what I intend to do, that's what I'm going to do. But it's about my bike and not about me.
Training kilometers and longer tours
My training laps are usually between 40km and 60km, every now and then I mix in a 100km lap. On these laps my setup is with the Leopard Pro, my new cockpit and my Wahoo Element Bolt of course great and absolutely recommendable. I rode the Vätternrundan with my old racing bike in 2017 and had long distances planned for 2018: the MSR 300 and Burning Road. For these two 300km race, I wanted to be perfectly prepared and decided to make a long tour to my sister, who lives on the outskirts of the Harz Mountains. My interest in bikepacking on racing bikes has existed for a long time. I decided to buy a large frame bag for these long tours so that I don't have to do without anything. Enough food, the power bank and a few clothes and a toothbrush had to fit in. I chose the large frame bag from Apidura and here I chose the waterproof version from Apidura.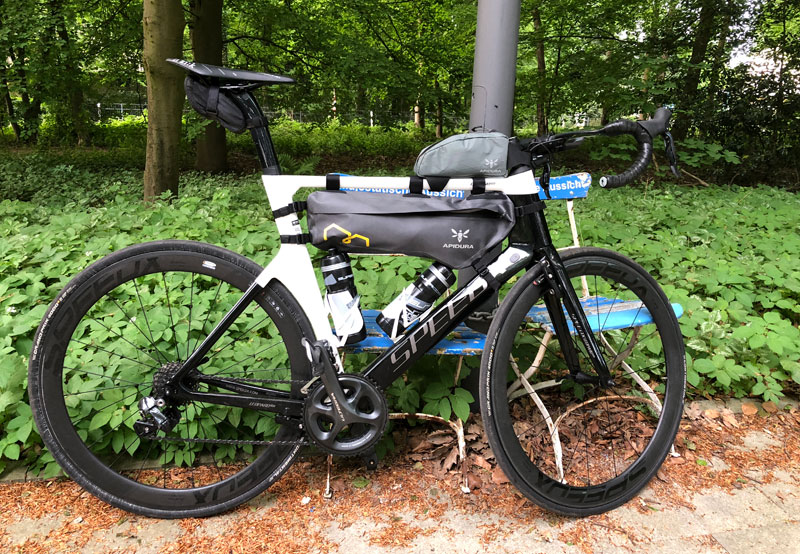 So on May 10th, I lightly packed my SpeedX and set off on my first long tour with the Leopard Pro. It should go 240km alone. The experienced drivers among you know that 240km alone is a really long distance. For the first time I had some luggage on my Leopard and it rode really well. My frame bag was packed, but the handling of my road bike hadn't changed. When I start bikepacking next year, I will also get a bag for the seat post. My Leopard mastered my first long-distance journey with light luggage with flying colors. The last 40km it got hilly, but the inclines with my Leopard were wonderful to master.
long distance race
Then on May 26th it went to MSR300 and this time I had my frame bag with me, just not so full. After my preparation, the MSR300 was a dream, after 300km I had an average speed of 31,2km/h. Really really fat and my SpeedX didn't even let me down. Two weeks later I went to Burning Roads and I was able to rely on my aero racing bike over these 300km.
More tours
In July I did two more 180km tours, I liked these routes.
3000km conclusion
My SpeedX Leopard Pro has not let me down yet. It drives so wonderfully agile and direct that it's a lot of fun. A Aero road bike Of course it's not necessarily made for extremely long distances, but I can handle it wonderfully and I'm already making plans for what's next.
There will be more in my test report soon!