On my Bikepacking tour with the Racer of Hamburg to Riva del Garda and back to Füssen I gained a lot of experience, for example what you need to have with you when you go with the Racing bike on a bikepacking tour goes. I only packed the essentials and only took one thing with me that I didn't use. Attention spoilers: It was the swimming trunks.
on my last Bikepacking road bike Tour in October 2020, I'm largely the Lake Konigsee Cycle Path drove and only slept in guesthouses. Of course, I was able to save some space with that, because I didn't have to take a tent or a sleeping bag with me. Because of the cooler temperatures, I had trainers with me instead of flip flops and unfortunately trainers take up much more space than flip flops, so you didn't really notice the luggage savings. Sneakers are just as big as a tent 😳
I just didn't use the swimming trunks!

The art of economical packing
The most important thing I find is what you put where in the bikepacking bags am Racer stowed away, that's why I want to address this post panniers shimmy along. As always, if you have any questions, feel free to ask them in the comments.
Which panniers where on the racing bike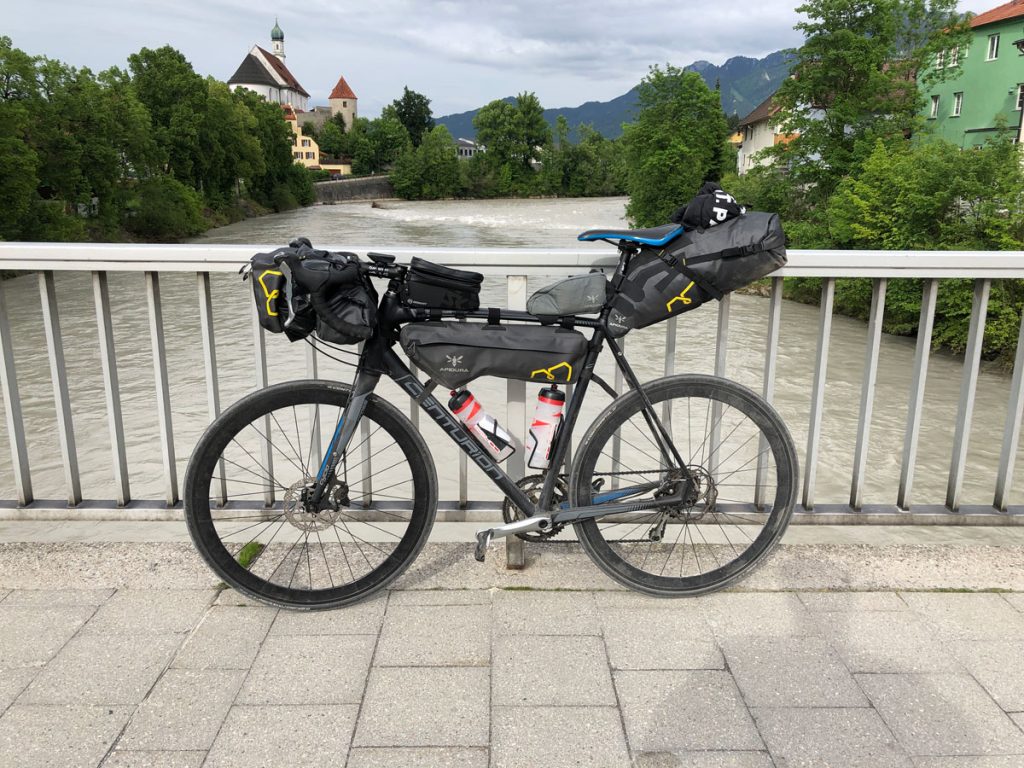 As already described in my travel report, I am with my racing bike 25 mm Road tires driven on my big tour. Due to my route planning, I would prefer to use wider tires next time, more so in the Gravel style, but 25mm and 28mm tires are also wonderful in any case. A bikepacking tour doesn't get nicer if you ride as many kilometers as possible a day, but because you take beautiful paths through forest and meadows.
The Bikepacking racing bike tempted to race on such tours, but after a few days I took more time for the stages and nature. Taking wider tires next time was one of the main findings of the tour, at least for me, but it also worked without any problems with the 25mm tires. Absolutely no no-go!
Addendum: After some back and forth I ended up with 28mm to 30mm tires. When bikepacking with my racing bike, I always enjoy the parts of the route where I can cover a good number of kilometers on asphalt. The forest paths are then a welcome change.
In the picture above you can see quite well which bag I put where on the bike, but of course I would like to get rid of which bags I used. Mainly I have the panniers from the Expedition series of Apidura used, that had the following reason.
Reports from other bikepackers were consistently positive
The bags of this series are very stable
The Expedition series is 100% waterproof
Specially made for road bike frames
In fact, the most important thing for me was that the pockets 100% Waterproof are and I can only confirm that. For my next tour I would like to have one or two food pouches and a larger top tube bag.
What was stowed in which bag
In order to make the list complete, I also have to write what I was wearing at the time of departure.
bib shorts
Base layer short
Arm
socks
trikot
vest
neckerchief
Expedition Saddle Pack 17L
The Saddle pack I had decided on the largest variant of Apidura. With a packing volume of 17L you get a lot in there.
1 x bib shorts
1x base layer short
1x jersey
2x socks
1x underpants
1x short pants
1x sweatpants
1x slippers
1x swimming trunks
1x long sleeve
1x down jacket (can be squeezed to approx. 5x8cm)
1x rain jacket
1 x t-shirt
1x tight for colder days
small microfiber towel
The Saddle Pack was already well filled with that, but there was still enough space to get my vest in.
frame pack
I've had my frame pack for a while and have used it for marathons as well MSR300 used to keep track of everything. Other road cyclists then ask me why I take such a large bag with me, but I just don't like doing without anything. That frame pack fits very well into the racing bike frame, doesn't bother at all and offers a lot of space.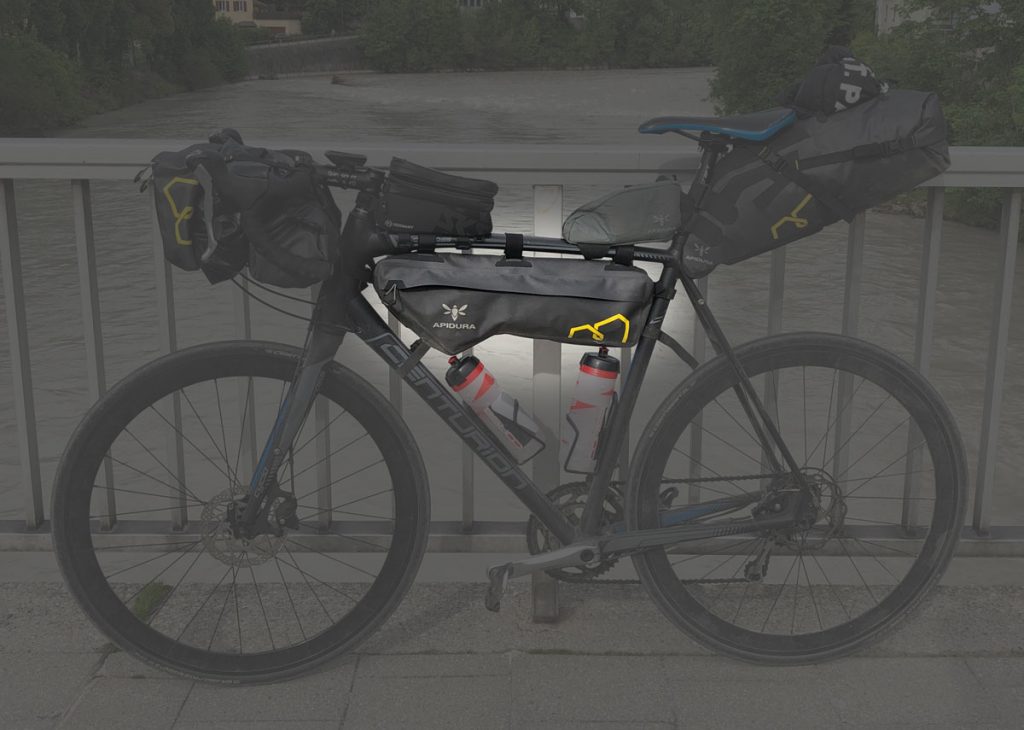 On my bikepacking tour with the racing bike I had stowed the following in the frame pack.
Continental GP 4000 S2 (25mm)
Chain oil
Sonnencreme
Toothbrush
toothpaste
Razor
a pair of bars
A bicycle chain lock
A cable lock
Ibuprofen
Apple connector
USB plug
multi-tool
2x Allen key
Cable Ties
Pferdesalbe
Top tube pack
I actually always have the top tube pack on my racing bike, also on my aero, but then on the front top tube. I always have a spare tube, air pump and self-adhesive patches with me on every lap. For my Bikepacking tour I aligned the bag on the seat post so that I can always get to my repair kit and there is space for another bag at the front.
2x hoses
3x tire levers
1x air pump
a pack of self-adhesive patches
Explorer Smart
In Explorer Smart of SKS I only bought it on the second stage of my tour. I had them before Vaude Carbo Glide assembled. But I have no idea who came up with this stupid cover on top, it totally interferes with cycling, real crap. So I exchanged and disposed of the Vaude at the first opportunity. As I said, I would have liked to write a letter to Vaude, but at the end of a tour I don't have the energy for something like that anymore 😉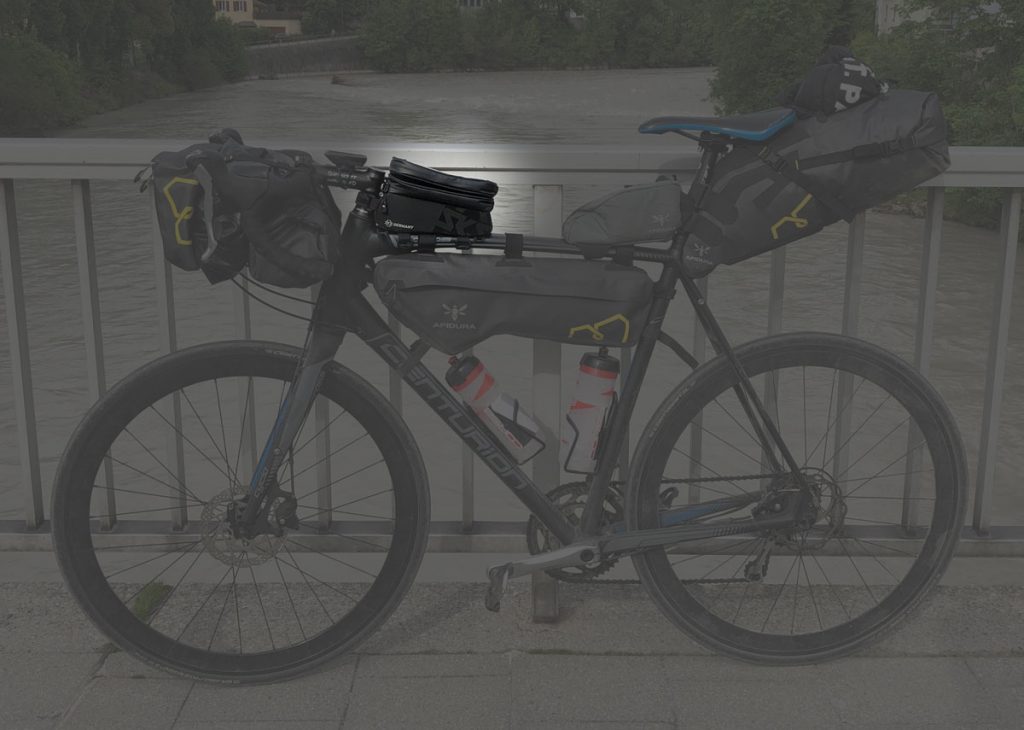 I stowed the following items in the Explorer Smart.
2x Power Bank
Mini USB cable
iPhone cable
Headphones (wired)
iPhone (in case on top)
Expedition Handlebar Pack & Accessory Pocket
Admittedly, I had loaded my handlebars heavily. In terms of pockets, I had stowed a total of three pockets. The handlebar pack, the accessory pocket and a waterproof bag that I simply stuck between the pockets. With these bags, your racing bike becomes more of a wind catcher, but everything has to be stowed away somewhere. In the event that you go without a tent, you can definitely make it a little more optimal.
Handlebar pack
Waterproof bag
Accessory pocket
Essen
Wallets
Small stuff I lugged around with me
That was all I had with me! Actually not much, but I still see some potential.
Things I would leave out next time
As already mentioned, the swimming trunks. In a pinch, you could just take your shorts for a swim.
The ones stowed in the bag Spare cycling clothes: 1x bib shorts, 1x baselayer short and 1x jersey. You can also wash your clothes in the evening and dry them again in the morning. During my bikepacking tour, I only ever transported clean clothes.
Next time I would too Tent Let at home. When I travel, I would always prefer a guesthouse or hotel, and if I really want to put in the miles, next time it will be the bivouac sack. I've never done it, but I'd like to learn.
Summary
I was on mine Bikepacking tour very well equipped with the racing bike. I can highly recommend the bags from Apidura (no, I'm not sponsored). They are stable and 100% waterproof. Now I want to go to the bivouac Business sniff and I'm curious how I'll start next time. As always, if you have any specific questions, feel free to ask them in the comments. I'll answer as soon as possible.